http://www.huffingto..._n_3460781.html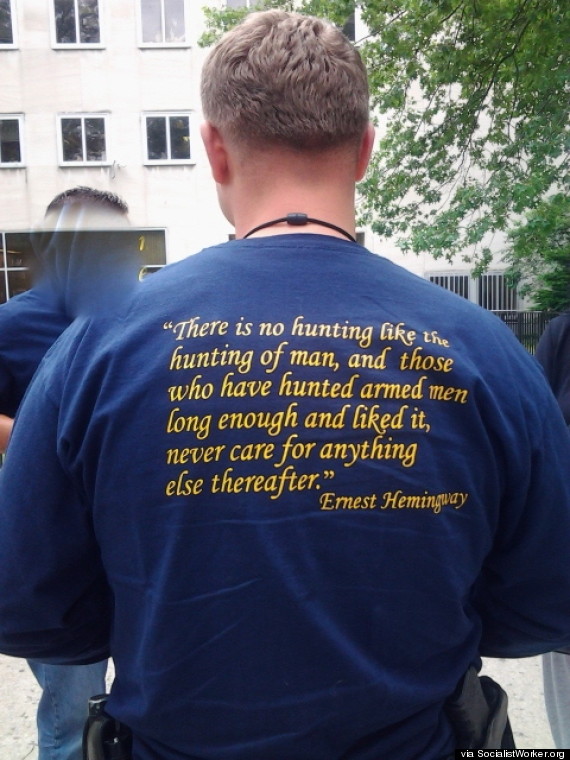 The Queens Warrant Squad was described by ABC News as "an elite team of parole officers whose job every day is to track down fugitive felons on the run."
The cops wearing the T-shirts were seen escorting a woman into the Queens courthouse at 125-01 Queens Boulevard on a misdemeanor charge.
As Gothamist notes, the T-shirts likely violate NYPD code, which prohibits "any item of apparel which contains a Department logo or shield, or in any way identifies its wearer with the New York City Police Department unless approved by the Uniform and Equipment Review Committee, prior to being worn by a member of the service, uniformed or civilian, on or off-duty."
It's also not the first time the quote-- taken correctly from Hemingway's 1936 essay, "On The Blue Water: A Gulf Stream Letter"- has been employed by NYPD brass.
Graham Rayman over at The Village Voice remembers:
In 1996, members of the Street Crime Unit, a plainclothes task force which roamed neighborhoods looking for guns, had T-shirts made with the same quote. In 1999, members of the Street Crime Unit shot unarmed Guinean immigrant Amadou Diallo 41 times and killed him. The unit was later disbanded.