Abandoning the Optimus branding for its highest-end devices, today LG finally announced their latest flagship - the LG G2.
At 5.2-inches, the LG G2 has a slightly bigger screen than the current crop of high-end smartphones. The resolution however, is the same at 1920 x 1080 px. The screen is a low power IPS unit with a brightness rating of 450nits.
What's particularly striking about the phone is ultra-slim bezel and the lack of any hardware keys on the front (or sides, for that matter).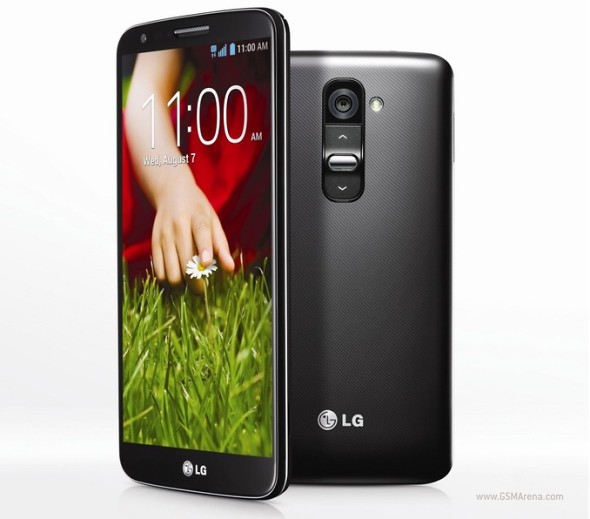 The only hardware key is actually positioned on the back. It's actually a combo of several buttons in one. That's the power/sleep key dead center along with the volume keys. The volume keys also double as shortcuts for the camera and Quick Memo feature. The reason behind this decision is to make handling extra large smartphones easier and less prone to dropping.
The LG G2 is based around a 2.3GHz quad-core Snapdragon 800 chipset with 2GB of RAM and an Adreno 330 GPU. The G2 is supposedly the first phone to launch on a world-wide scale with this processor.
The storage capacity is set at 32GB there is a microSD slot as well.
The 13MP camera is on par with the rest of the top notch hardware. It's got optical image stabilization (OIS) and can record FullHD 1080p videos in up to 60fps.
The LG G2 runs Android 4.2.2 Jelly Bean out of the box.
As customary for Android flagships, the LG G2 offers several proprietary features. You can double tap on the screen to wake it up, the phone will auto answer a call when you pick it up to your ear, there is an innovative guest mode and also you can activate the multi-tasking menu with a three-finger swipe on screen.
Speaking of multi-tasking, the G2 can store your app progress in up to three different apps. The screenshotting feature can capture a whole webpage or a long email, not just the content in your viewport.
For power backup, the LG G2 relies on a Li-Pol 3,000mAh battery, which however may not be available on all markets.
Source: http://www.gsmarena....0-news-6536.php
Christ this is a monster of a cellphone. 3,000mAh battery!!! me wants.