As some of you know, I have serious medical issues. Well, last month, I was recently diagnosed with what the doctors call a RARE condition named SCHLEROSING MESENTERITIS.
simply put, there is a membrane, a lot like an apron on our intestines, (Area inside blue box) is a film but also contains the nerves and blood vessels to the bowel that gets inflamed which mine is a calcification of mine.In time, it could make it hard and cause my bowel to rip open killing me. At this point, they tell me there is nothing they can do to make it better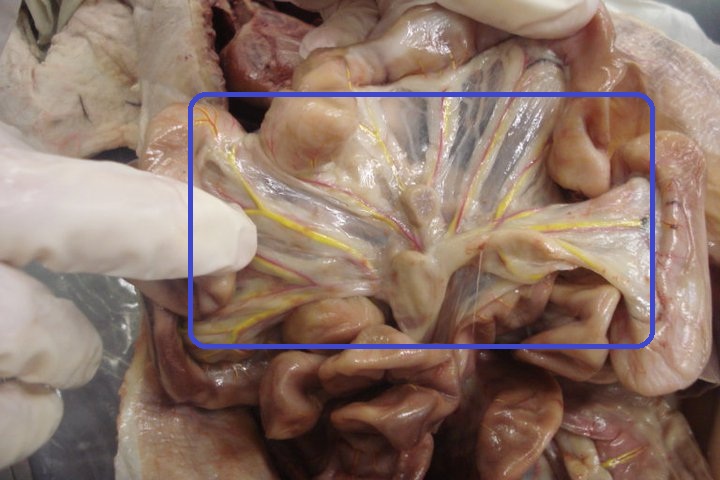 before I go on, with my other assortment of issues, I get alot of bloating, cramping pain, the kind where it leaves me lying down and stuck at home until the episodes
subside. when I end up in the ER, I'm asked about blood in my stools, pain etc. the norm for me.
So the doctors prescribe me a medication named AZATHIOPRINE 50MG tablets. To be taken 1/2 tablet by mouth for 5 days. then take 1/2 tablet twice a day for 5 days
My problem and i will NOT take this medication is because of the side effects. mind you in my case, I get chronic bowel pain associated with loose stools, the mesenteritis and short bowel syndrome as well. Here are the side effects that were never explained to me so I took it upon myself to say no due to the potential dangers.
common side effects
More common

Black, tarry stools
Bleeding gums
Blood in the urine or stools
Chest pain
Cough or hoarseness
Fever or chills
Lower back or side pain
Painful or difficult urination
Pinpoint red spots on the skin
Shortness of breath
Sore throat
Sores, ulcers, or white spots on the lips or in the mouth
Swollen glands
Unusual bleeding or bruising
Unusual tiredness or weakness
Rare side effects. as of late I've been affected by side effects from various meds given to me at this point and hospitalized for those so, I'm hesitant on taking anything I don't know about nor drugs doctors couldn't tell me about in the first place
Rare

Abdominal or stomach pain or tenderness (remember I get hospitalized for these pains already..)
Clay-colored stools
Dark urine
Decreased appetite
Fast heartbeat
Fever (sudden)
Headaches
Itching
Loss of appetite
Muscle or joint pain
Nausea, vomiting, and diarrhea (severe)
Redness or blisters on the skin
Swelling of the feet or lower legs
Unusual feeling of discomfort or illness (sudden)
Yellow eyes or skin
others
Incidence not known

Abdominal or stomach cramps
Diarrhea
Difficulty with breathing
Difficulty with moving
Fat in the stool
General feeling of illness
Pale skin
Sores on the skin
Sudden loss of weight
Troubled breathing with movement
Weight loss
my wife and I are NOT keen on this medication. I and my wife feel there are too many side effects and some rather serious looking that in my eyes, it is not worth the risk.Doctors did say there is nothing they can do to make it better, it is a rare issue I'm the first case in 20+ years they have seen. I'm not too keen on the fact the doctor who gave me this med couldn't tell me the side effects ahead of time so, he wasted both our time with this.
I can't safely say that I would take this medicine knowing all these side effects. too many negatives in my wife's and my eyes to risk it. would you?
thanks,
Chris