Hi all
so I want to change my Windows 8 Pro from Dutch to English.
I follow the regular steps to do so: by going to the control panel and clicking on the provided link (see screenshot below)
Source: eightforums (no, I didn't ask my question there as well, I just googled it)
Next, the update screen appears (or sometimes not) like this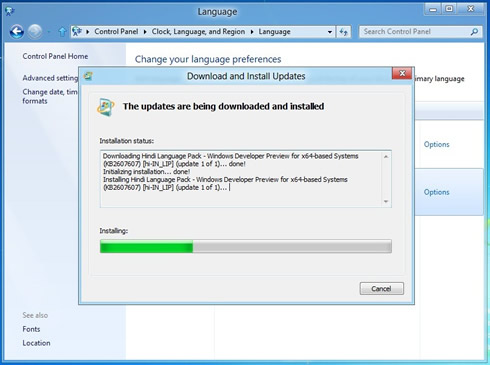 source: cdrinfo.com
It appears the language pack (KB2607607) is already downloaded to my computer as the installation status states that the installation is in progress (the picture above shows that a download is in progress first before the installation).
However, the installation fails every time. No details to be found, apart from 'some updates failed', "Engels (Verenigd Koninkrijk) taalpakket - Windows 8 voor x64-systemen - (KB2607607) [en-GB_LP]"
Any help on this issue?
Thanks