Win8china: Winodws 8.1 2014 Update(Spring GDR) Expected in March, Release in BUILD
Sometime ago, I posted a small comment in Neowin News: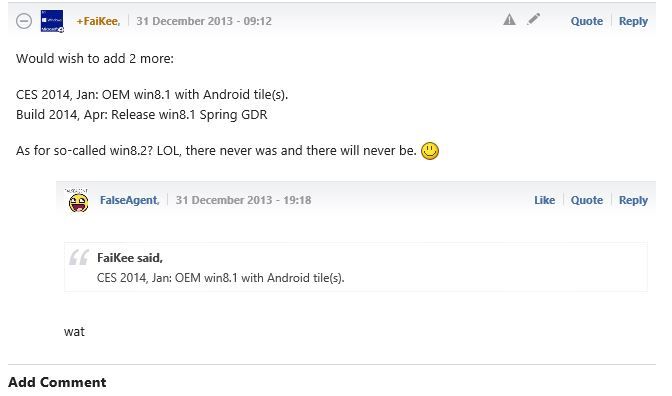 Now, we know about PC Plus(windows/android) for CES, and furthermore, win8china just reported about win8.1 2014 Spring Update, the "Spring GDR" like "PC Plus", had been whispered among OEM's after win8.1 release last year, hopefully we could get more infos later on, maybe a "leak" before it's official release in Apr(BUILD).

Note: win8china had stated the image is just a concept, not the real thing.

http://www.win8china.../html/9467.html

Bing translate:

Microsoft Open Win8.1 spring of 2014 Update logging update

Windows8 House (www.win8china.com): the Microsoft Open Win8.1 spring of 2014 Update logging update
Microsoft called Windows 8.1 2014 Update spring updates show up in advance!
Windows8 began, Microsoft Windows starts a new iteration mode, Vista, andWin7 time updating every three years, to present each year a jump. This spring, we will usher in a Windows 8.1 a big update, but it is not Win8.2(Note: detailed analysis see theWindows in spring, not Win8.2), but Windows 8.1 2014 Update, or Windows 8.1+.
Now IT House was informed of latest news, inside Microsoft have opened quietly surveying Win8.1 spring of 2014 Update update, its branches have emerged, such as a language pack on the Microsoft Connect Web site. Windows 8.1 2014 Update biggest improvement is the kernel performance optimizations for driver compatibility issues for which Microsoft is testing.


Above: Windows concept maps, only illustrations
The Win8.1 Update will be posted when? It is expected to be completed in March, many of Microsoft's closest partners, would be the first to get it. Microsoft will perhaps be turned on by the user known as "Preview" mode, but even if Microsoft does not provide a "Preview", we should also remember the practice of "leaking" mode. In other words, ordinary amateur in March will get Win8.1 Update 1.
Win8.1 Update 1 officially unveiled, it is Build2014 Conference in early April. Microsoft's Worldwide Developers Conference, held this year earlier than ever before, this points to the importance of Microsoft. At the Build2014 Conference at the beginning of April, Win8.1 spring Update 1 update,Windows Phone 8.1released, new CEO optional wait for Microsoft.
In fact, meaning beyond the Win8.1 Update 1 waiting for WP8.1, Windows and Windows Phone product line on the Build2014 can be synchronized in order to facilitate future integration of the Windows operating system.