Study: Xbox One, PS4 consume ridiculous amounts of unnecessary power
http://www.pcworld.c...sary-power.html
Both Microsoft's Xbox One and Sony's PlayStation 4 consume between two to three times the power of their predecessors—mostly waiting around for something to do.

The report, issued Friday by the nonprofit Natural Resources Defense Council, found that the Xbox One's power consumption was especially egregious, consuming a maximum of 289 kilowatt-hours per year, as opposed to the 70 kWh/year consumed by the last-generation Xbox 360. But the Nintendo Wii U went the opposite direction, actually consuming 37 kWh/y versus the 40 kWh/y consumed by the Wii.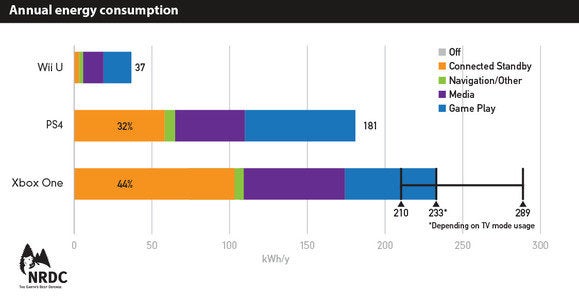 "Nearly half of the Xbox One's annual energy is consumed in connected standby, when the console continuously draws more than 15 watts while waiting for the user to say 'Xbox on,' even in the middle of the night or when no one is home," Delforge wrote. "If left unchanged and all Xbox 360 models are replaced by Xbox One consoles, this one feature will be responsible for $400 million in annual electricity bills and the equivalent annual output of a large, 750-megawatt power plant–and its associated pollution."
All told, the energy consumed from all three modern consoles will cost U.S. consumers an estimated $1 billion in energy costs this year, consuming enough electricity to light all the homes in Houston, the fourth-largest city in the country, the NRDC estimated.
In any event, only the Wii U comes off favorably in the report, earning praise for improving graphics while cutting power. Unfortunately for Microsoft, the One has been criticized for taking its focus away from playing games, including charging for free entertainment apps. Apparently that will hit One users in the pocket with higher energy bills, too.