Great artists steal: The iOS 8 features inspired by Android
A lot of the WWDC announcement seemed awfully familiar to Android users.
by Ron Amadeo - June 3 2014, 9:00pm EDT

Apple has taken the wraps off iOS 8, its newest mobile operating system, at its WWDC keynote. There were lots of new features added to iOS, but any observer familiar with Android saw quite a few things that seem... familiar. That's because many of Apple's announced upgrades were things the Android OS has boasted for years.

Typing suggestions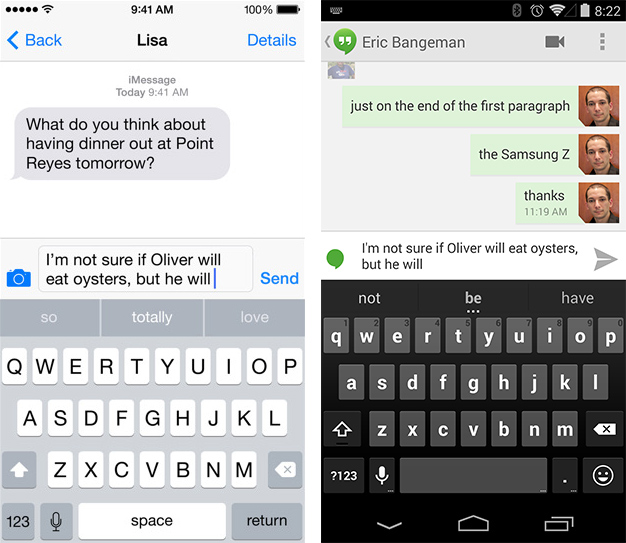 The iOS 8 Keyboard bar (left) looks just like Android.

Apple added a little bar of suggestions to the top of the keyboard, which Android had (initially as an option) since the introduction of the on-screen keyboard in Android 1.5. While Android's keyboard just blindly does word pairs, iOS 8 seems to be able to intelligently offer suggestions in response to an "A" or "B" question. In the example, a friend asks about "dinner or a movie." Without typing anything, iOS offers "A movie," "Dinner," and "Not Sure." If this actually works reliably, it's a big step above the Android keyboard. Of course, we're just comparing this to the standard Google Keyboardavailable through Google Play. That's not the only typing solution on Android, which brings us to...

Third party keyboards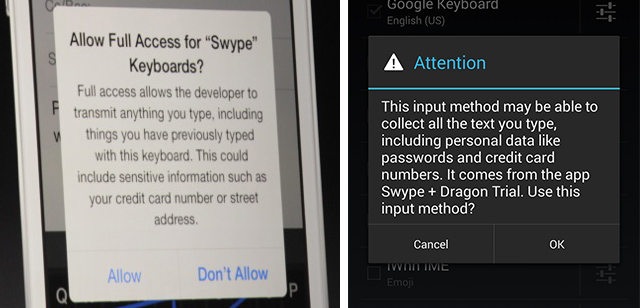 Even the warning messages are similar.

Apple finally relinquished its grip on the system keyboard, allowing third parties to replace Apple's solution with something of their own. This was another thing Android had with its initial implementation of on-screen typing in Android 1.5. Apple even showed off an iOS version of Swype, one of the most popular third-party Android keyboards. We've already heard from Swiftkey, the other most popular Android keyboard, that it is working on a system-wide iOS 8 version too.

Until now, third-party iOS keyboards could only work as a standalone app with their own typing interface. For instance, Flexy could only work in the Flexy app, not in any other app. Flexy made a workaround for this with an API that other apps could plug into, but this required developers to add support on an app by app basis. (Flexy has also announced that it will be adapting its keyboard to use Apple's new APIs.)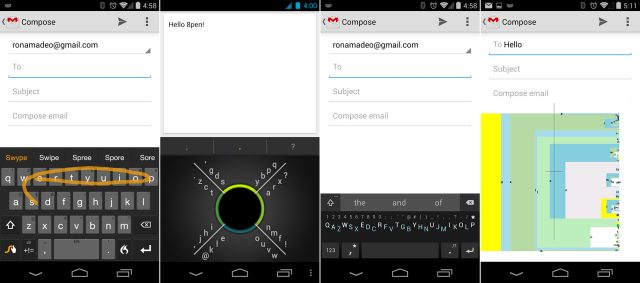 Android Keyboards: Swype, 8pen, Minuum and Dasher.

With user-replaceable system-wide keyboards, iOS users should be in for a wild ride of text input nirvana. Opening up the keyboard to third parties on Android has enabled tons of innovation, sometimes very useful (like Swype) and sometimes downright weird. Even users that don't switch to a third party keyboard will eventually see a benefit as, like Google, Apple will be able to see which keyboards become popular with users and adopt some of those ideas (like Swyping).
Go to Source (Ars Technica) for more...