http://arstechnica.c...le-web-traffic/

The folks over at ArsTechnica have compiled charts of the latest Internet Explorer market share numbers as of May 2014. Internet Explorer is at 47.86% Chrome is at 14.47% Firefox is at 13.72% Safari is at 13.43% Android Browser is at 3.93% Opera is at 2.21% Others is at 4.37%.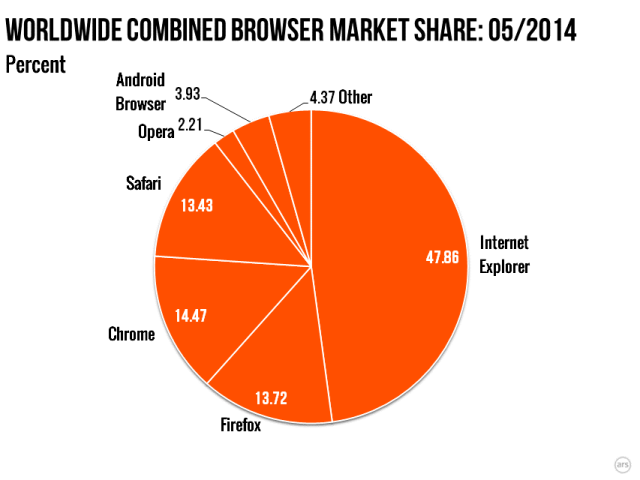 http://cdn.arstechni...-05-640x480.png

Considering desktop only browser market share in the last 12 months, IE has always been floating between 55% to 60%. Firefox started just under 20% and was surpassed by Chrome in February 2014. Both Firefox and Chrome float around 15% to 20%. Safari was been pretty stable at around 5%.
http://cdn.arstechni...-05-640x480.png

Internet Explorer version adoption for the past 12 months has seen IE6 slowly dropping from under 8% to under 5%. IE7 went from 2% to less than 1%. IE8 has had a slight drop but is pretty stable at over 20%. IE9 has had a slight drop from 10% to less than 10%. IE10 has dropped from over 15% to about 8% with IE11 growing from nothing a year ago to 18%.
http://cdn.arstechni...-05-640x480.png