I have started a thread about Win9, unfortunately in the OP the rumor from WZor was proved to be fake, hope Neowin Admin/mod would lock that thread, tks!
Back in May a MS guy had posted in PCBeta a list from his FB profile that brought some interests to the MS Products mentioned in the list:
Now, he made another post in PCBeta about current status of Win9 and Win365, but since he had wished to keep low profile and asked me not to post links, so here's a screen-shot: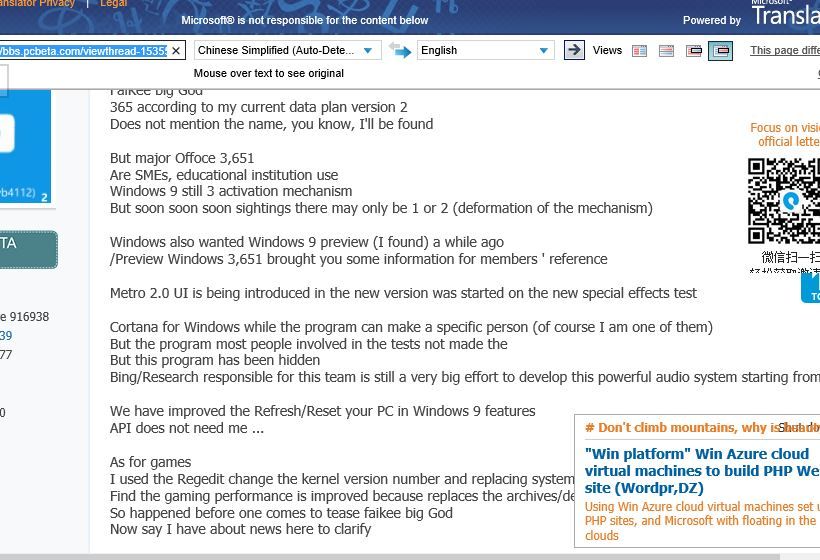 The Bing translation is terrible(as usual), so here's the proper translation:
(Windows) 365 my current info is 2 editions planned
Couldn't mention the names to avoid being caught.
Mainly it's like Office 365
Targeted to mid and small business, educational institutes
Windows 9 currently exists 3 activation systems
but very soon it would become 2, or even 1 (some sort of transformed system)
Internally, Windows Branch expect that before Windows 9 Preview release(I confirm Win9 Preview now exists)
There will be Windows 365 infos/preview announced.
Metro 2.0 UI is now available in new builds for testing.
Cortana for Windows now available in builds for special team to test(I am one of the team)
But general testing crews are unable to launch it
This feature is hidden for general testing
Bing/Research Team had developed this strong system since 07-08, and is now putting up full effort to improve this feature.
We also improved the Refresh/Reset-Your-PC features in Windows 9
But I am not going to talk more about API's.
About games:
I could replace system files and kernel version and launch some on-line or local games
But it seems not to be too stable, despite some improvments.
(Note: I believe he was refering to DirectX-12, as he had discussed about it quite a lot in another PCBeta thread)
Basically the current developed build is running well,
Unfortunately I am unable to provide screen-shots or build tag infos., sorry.
~~~~~~~~~~~~~~~~~~~~~~~~~~~~
I hope that if people wishes to quote this post, please don't refer me as "leaker" or even "MS leaker", I am just a messenger, translating between English and Chinese sites, thanks!.
Currently MS is holding tight security on their products, I would only post the brief general plans to avoid job risks to this nice guy or my MS friends, and let other guys with better resources to provide the details.