Here's a larger, more comprehensive online database:
http://www.cpuoverclockers.com/
Seemed like we could use one of these, stealing the basic format from other overclocking databases because they work.
Gives users an idea of what to expect or about where everyone else's chips are.
Please list:
Processor
Stepping
Week and code (found on retail box and processor, formatted as LXXXAXXX with LXXX being week and AXXX being code) (
optional
)
Vcore (idle CPU-Z)
Method of cooling and make and model of cooler
Make and model of motherboard with BIOS version
OS version
RAM brand, model number, frequency (actual not effective), and latencies
All submissions must include a CPU-Z or CPUID picture or a CPU-Z validation link.
All submissions must be 8+ hours Prime95 or Orthos stable, included picture would be nice if not we'll trust you.
I also want to add a section for motherboards here to help shed light on what motherboards are doing what kind of front side buses. The best method of doing this is pretty much just dropping the processor multiplier and pushing the front side bus as far as the system will stay stable.
Please indicate whether or not your submission accurately portrays the maximum FSB reached by your motherboard, if not we're going to assume your submission is for the processor section only
Please post:
Processor
FSB (actual not quad pumped)
Motherboard make and model (revision number if applicable)
BIOS version
Northbridge and/or Southbridge Cooling Method
Any mods
Same thing, with CPU-Z/CPUID, but we'll accept four hours of Prime or Orthos stable.
Any submissions without any of the listed information will not be included in database
Try to keep the thread clean of the "nice oc" and "what settings did you use" posts, use another method of communication.
Also, if you made an initial post but improved on that overclock later, go ahead and repost but link to your original post. You can make multiple submissions for processors and motherboards, such as overclocks for both an E6600 and E9450. However, if you change out the motherboard, but keep the chip I'm just going to change your submission for the chip. E.g. I post my E6400 + Abit IP35-E overclock, then change the board out to an IP35-Pro. The entry will be edited to just replace the motherboard.
I'll try to make updates as often as possible, but don't expect to have your submission show up three minutes after you post.
..alright, let's see how this goes.
Go ahead and PM me if anything needs to be cleared up or if I made a mistake somewhere that should be rectified.
Unconfirmed Stability Test
Stable/Claimed to be Stable
Updated 13 February 2009 @ 1557 EST
Results:
Processors: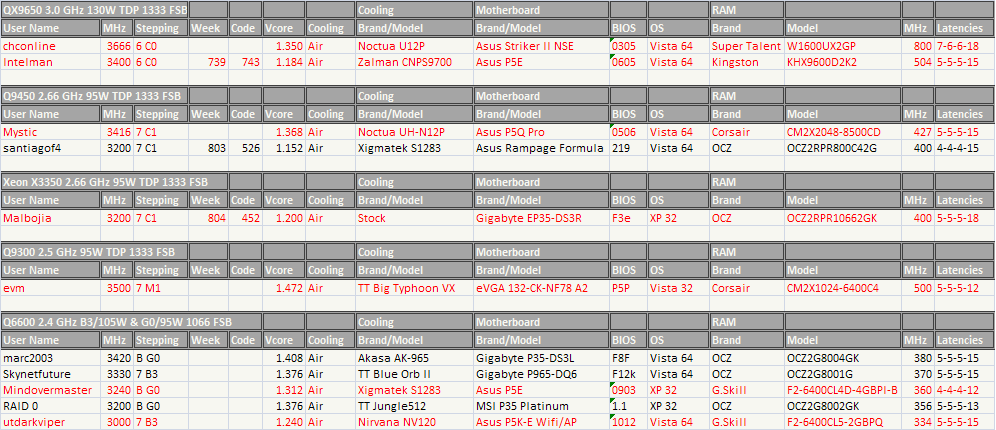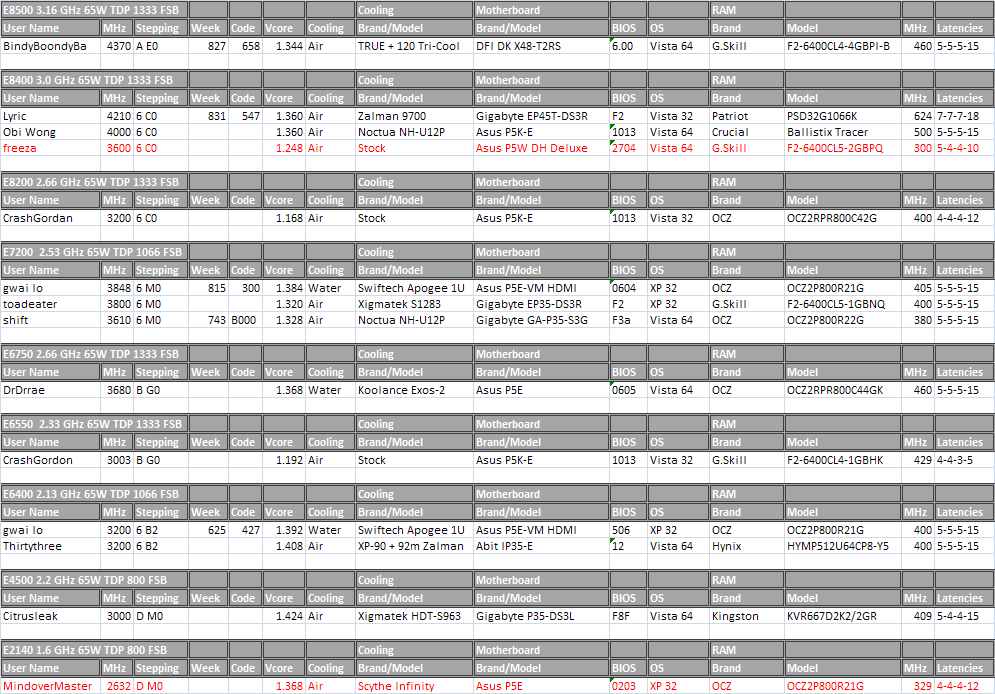 Motherboards: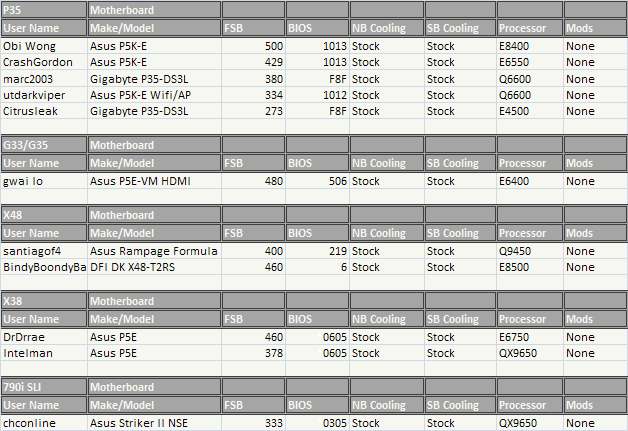 Edited by gwai lo, 23 June 2009 - 23:58.