Nearly two years ago, I wrote an editorial that was based on the rumors that were surrounding Valve at that time; those reports claimed the company behind great game titles like Half-Life, Portal and Left 4 Dead were working on plans for a "Steam Box". At that time, those stories claimed that Valve was chatting with hardware makers to develop a PC that would be small enough to connect to a living room TV, much like a game console, and would use Valve's Steam download service to deliver games. In that editorial I wrote, "It should be able to combine the best aspects of a PC (open system, upgradable hardware, more games and game innovation) with the advantages of a console (small form factor, playable on big screen, more easily affordable)."
In the fall of 2013, Valve revealed more information on their PC hardware plans, which are now being labeled as Steam Machines (I prefer the term Steam Box but that's just me). It has also shown off its prototype Steam Controller, with its touch pads replacing the typical analog sticks. The most interesting development is the fact that Valve is making SteamOS, its own operating system for running games based on a Linux variant.
Since then, Valve has launched the first public version of its SteamOS for anyone to install and try out on their own PC. It also shipped 300 Steam Machine and Steam Controller prototypes it created in-house to a select few beta testers. This past week at CES 2014, the company announced that 14 third party PC makers would release Steam Machines of their own sometime in 2014.
All in all, the announcements that have come out of Valve in the last few months have been something of a disappointment to me compared to my optimistic hopes in 2012. While the Steam Controller looks like it will be a cool and different way to play PC games in a living room setting, the third party Steam Machines, and especially the push for SteamOS, feels like Valve is a long way away from getting PCs to be a staple of the big screen compared to dedicated game consoles like the Xbox One and PS4.
Costs and features of Steam Machines
One of the big problems is the prices and hardware specs for Steam Machines that have been announced. While not all of the third party companies are willing to reveal just what will be inside their cases or what their costs will be like (most notably the Steam Machine coming from Dell's Alienware division), the range of prices so far are between $499 and $6,000 (Valve has not indicated if it has a minimal set of hardware specs for the third party product). In other words, the cheapest Steam Machine that we know of is the same price as the Xbox One and $100 more expensive than the PS4. Granted, you have access to many more games with Steam Machines under the Linux-based SteamOS, but none of them are the current bestsellers that the PS4 and Xbox One already offer and it's unlikely that games like the Grand Theft Auto, Call of Duty or Battlefield series will support SteamOS.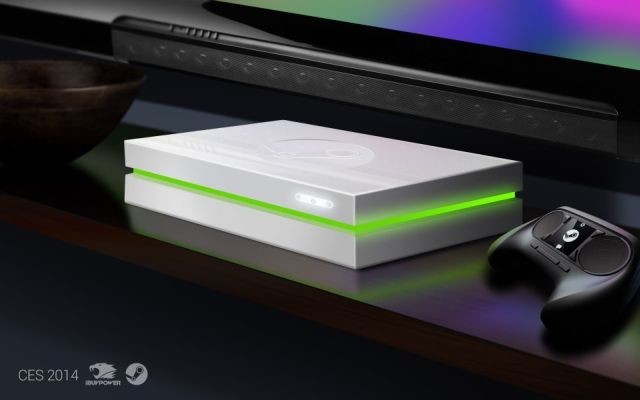 Valve has also announced that Steam Machines will be able to stream Windows PC games from a local networked desktop or laptop, but we would imagine that kind of set up is less than ideal for gamers who don't want to experience lag issues. That's maybe why many of the third party Steam Machine makers have already announced that users can have the option to dual boot to a Windows OS on these products.  In other words, the best Steam Machines will have Windows already installed, which means that if these PCs turn out to be popular among consumers, the biggest beneficiary might not be Valve, but Microsoft. The folks in Redmond would love to see many new Windows desktop PCs sold in homes, especially now, and if a lot of Steam Machines are sold, that likely means more people are using their OS.
Steam Machines no different from small form factor PCs
Based on what we currently know about the Steam Machines that are coming out, they seem to offer nothing new, in terms of hardware and prices, than the many small form factor PCs that have already been out in the market, running Windows, for quite some time. Indeed, many of the Steam Machines announced at CES 2014 are simply boxes that have already been sold as Windows PCs, such as Falcon Northwest's Tiki model.
The ideal "Steam Machine" will be small PCs running the Windows client of Steam in Big Picture mode, with access to thousands of games, including many of the big releases that will also be ported to the Xbox One and PS4. Those PCs will also offer a way to access even more games that are not available on Steam, such as many titles from Electronic Arts (which has their own Origin service), the best selling games from Blizzard and the hit MOBA game League of Legends. Indeed, one of the biggest indie PC games of all time, Minecraft, is still offered as a simple download via an old fashioned web page and is not available on any games download service, including Steam.
All of this can be accomplished right now with the many small desktop PCs that are readily available. The fact that there has been little movement in this area of PC hardware shows that the public needs to be convinced that having such a system hooked up to their big screen living room television is a good idea, and so far Valve has not done anything to change this mindset.
Does Valve see Microsoft and Windows 8 as a threat?
So why is Steam pushing so hard for these third party Steam Machines and SteamOS when history tells us there's little interest in living room-based gaming PCs? In his very brief address during the Steam Machines CES 2014 press event, Valve co-founder Gabe Newell indicated that the PC ecosystem was an open one and the company wanted it to remain that way. That would seem to hint that Valve is concerned that Microsoft has moved towards a closed garden approach with the launch of Windows 8 in 2012 and its Windows Store, where Modern UI apps and games can be directly downloaded, much like the iOS App Store and Android's Google Play. That would also suggest that Valve sees such a system as a threat to Steam's online store.
There's one small problem with that scenario happening for PCs; there's no indication at all that Microsoft is going to move to a completely closed system where Windows would fully control the app download experience. Indeed, I strongly suspect that if Microsoft even hinted at such a move, there would be such an outcry among both software developers and consumers against that kind of system that the company would be forced to do a 180, much like it did with the Xbox One DRM and used games policies.
Valve will try to convince game developers to port their games to SteamOS later this week when it holds its Steam Dev Days conference in Seattle. This event is closed to the public and press, which means Valve will likely be revealing lots of development information to prospective game creators that it hopes won't be revealed on the Internet. We suspect that Valve will be trying to convince game developers that working with SteamOS is better for them than Windows because it is supposed to be an "open" platform.
What's interesting about this idea is that the current Steam download service itself is anything but open. That's actually one of the reasons why Steam now has over 65 million accounts and over 7 million concurrent users playing games every day. Valve chooses which games to publish on Steam and offers game developers an easy way to update their games automatically, much like the Windows Store does. It also makes it easy for consumers to purchase, download and update games and form communities around those titles in one place. In other words, Steam is a closed system.
Steam's massive success is due to the fact that Valve gained most of those 65 million users by working inside Microsoft's Windows ecosystem. It offers a Windows client to download and purchase games and the vast majority of titles on Steam are offered exclusively on Microsoft's operating systems, with just a small fraction available via Mac or Linux. In fact, it was recently revealed that Steam users who have either Windows 8 or 8.1 installed now take up just over 20 percent of all Steam users, despite repeated statements by Newell slamming Windows 8.
Yet, Newell and Valve now want to work outside Windows with SteamOS and the 14 third party Steam Machines and, based on their CES 204 announcement, they would be much better off releasing a Modern UI Steam client, which we think would be a massive hit on the Windows Store.
Did Valve already run into issues with a Steam Machine maker?
There's some evidence that Valve's approach for SteamOS and Steam Machines didn't work for a company that Valve actually worked with to create a prototype PC. At CES 2013, a PC maker named Xi3 announced that Valve had invested money in their company to help develop a "Steam Box" and Valve showed one of Xi3's prototype PISTON cases. The tiny enclosure seemed to be the perfect design for what Valve had in mind for its hardware. A couple of months later, Valve said it was no longer involved with Xi3 or their PISTON PC. In response, Xi3 said their computer was designed specially for Valve but that it would launch with a version of Windows. Xi3 did indeed launch the PISTON PC in November with Windows 7. It would appear on the surface that Xi3 didn't have much confidence in Valve's Linux-based SteamOS and would rather work within the much bigger, and more established Windows ecosystem.
Valve needs to step back and start small, like they did with Steam
Valve's SteamOS and third party Steam Machine announcements at CES 2014 last week offered little in the way of why anyone would want to break away from Microsoft's Windows platform to play games in the living room. There's no indication that PC developers will be switching over from Windows to SteamOS and Valve has said that it has no plans to offer its own Steam Machines for sale. In other words, Valve is going to let the many PC makers, and presumably the software developers who make games for SteamOS, take a lot of the risk up front.
There has been some Internet chatter that Valve has a long term plan for SteamOS and the third party Steam Machines. If that's indeed the case, Valve would be much better off by just offering one Steam Machine, either made in-house or created by one third party company under Valve's supervision, that has SteamOS installed. Valve started the Steam service in the same way 10 years ago; it only offered Half-Life 2 and Counter-Strike Source for purchase and download. It learned from the mistakes made by that small launch and now it has grown the service so that it has become the single biggest supplier of downloadable PC games.
This idea of flooding the market with tons of different third party Steam Machine models all at once, some of which will run Windows as well as SteamOS, is the exact opposite of how Valve handled its Steam launch. In my opinion, its new approach is doomed to fail and quite frankly it feels like Valve is desperate to get SteamOS and these outside Steam Machines sold as quickly as possible. Slow and steady moves generally win races over the long haul, but at the moment, Valve seems to be racing to get Steam Machines out the door and it could easily trip before the finish line is reached.