Microsoft today announced the new titles that will be added to the list of games available through Xbox Game Pass in January. The service offers access to over 100 games for $9.99 per month, but next month, there will be 10 more.
In fact, for the time being, you can get started with the service for just $1. On top of that, Microsoft has partnered with GameChanger, "a non-profit who helps to positively impact the lives of children facing threatening illnesses." If you purchase an Xbox Game Pass between now and January 4, $10 will be donated to hospitals around the world.
Here are the games coming to Xbox Game Pass on January 1:
Classic NBA arcade action is back! Take your "A" game to the playground and beat the best in high-flying 2-on-2 basketball action. Practice your skills offline, play with up to three others on your Xbox or take your talents online to posterize your opponents with acrobatic jams and ridiculous displays of skill. Collect your favorite players from a massive roster of current and retired NBA superstars from every team. Travel to playgrounds across the globe to compete in online matches against the very best with your massive arsenal of dunks and moves. Use your fine-tuned skills to take on the master of the playground himself – Allen Iverson.
What if our greatest heroes became our greatest threat? Injustice: Gods Among Us introduces a bold new franchise to the fighting game genre from NetherRealm Studios, creators of Mortal Kombat. Featuring DC Comics icons such as Batman, The Joker, Green Lantern, The Flash, Superman and Wonder Woman, the latest title from the award-winning studio presents a deep original story. Heroes and villains will engage in epic battles on a massive scale in a world where the line between good and evil has been blurred.
Devil May Cry 4: Special Edition
The smash-hit stylish action game DMC4 is back and better than ever, boasting new playable characters and game modes!

-- Vergil is back and better than ever! Trish is easy to handle, but turns up the heat with her combos! And Lady is playable for the first time in the series!

-- Take on hordes of enemies in Legendary Dark Knight Mode!

-- Enjoy stunning 1080p visuals at 60FPS!

-- Other improvements, including auto-save, to enhance your playing experience!
Fuzion Frenzy® combines the continuous, frenetic action of a futuristic street sport with the action-packed fun of mini-games set in a dynamic 3-D urban environment. Six arenas and more than 45 mini-games provide plenty of competitive fun for up to four players.
Metal Gear Solid V: Ground Zeroes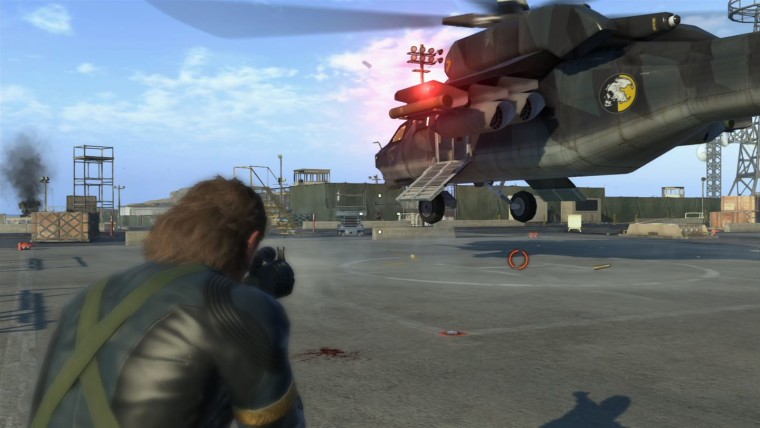 World-renowned Kojima Productions showcases the latest masterpiece in the METAL GEAR SOLID franchise with METAL GEAR SOLID V: GROUND ZEROES. METAL GEAR SOLID V: GROUND ZEROES is the first segment of the 'Metal Gear Solid V Experience' and prologue to the larger second segment, METAL GEAR SOLID V: THE PHANTOM PAIN launching thereafter. MGSV: GROUND ZEROES gives gamers the opportunity to get a taste of the world-class production's unparalleled visual presentation and gameplay before the release of the main game. It also provides an opportunity for those who have never played a Kojima Productions game, and veterans alike, to gain familiarity with the radical new game design and unparalleled style of presentation. Kojima Productions once again raises the bar with the FOX Engine offering incredible graphic fidelity and the introduction of open world game design in the Metal Gear Solid universe. This is the experience that core gamers have been waiting for. For a limited time, purchase of this game grants the user access to ""Mother Base Staff"" content in the forthcoming METAL GEAR SOLID V: THE PHANTOM PAIN.
Set in an apocalyptic 1986, a zombie outbreak has brought humanity to its knees. You play Randall Wayne, a father searching the destroyed streets of Seattle for his family. You'll encounter many life-threatening situations, but combat isn't always the answer against the undead, fight back using scarce resources or hide and sneak past them utilizing the environment. Deadlight: Director's Cut is the ultimate Deadlight experience, now with improved gameplay, controls, and extra game modes.
Features:

Fight or run from zombie encounters in tense combat and platforming
Uncover the fate of Randall's family as he searches Seattle
Full 1080p with enhanced controls and improved animations
Survive the 'Nightmare' difficulty mode, on console for the first time
Fight for your life in the new 'Survival Arena' mode. Use new weapons and tactics to overcome waves of zombies, scoring in online-leaderboards
Zoo Tycoon Ultimate Animal Collection
"The wildly popular Zoo Tycoon series gets fully-remastered and set to crank up the excitement, challenge, and fun of building the ultimate zoo. Let your imagination run wild with Zoo Tycoon: Ultimate Animal Collection! Choose from almost 200 visually stunning animals and the largest, most detailed selection of environments ever, then build, manage, and maintain your dream zoo alone or with up to four players on Xbox LIVE. This zoo simulation will charm animal lovers of all ages.

Easy to start and easy to play, Zoo Tycoon gets you up close and interacting with the animals and zoo, offering intuitive controls and fun tutorials that allow players of all ages to have fun. Play smart as animals and guests will react to your creative choices and ultimately decide your chances to become a Zoo Tycoon."
WRC 5 FIA World Rally Championship
WRC 5: the best rally simulation. Find all the cars, all the drivers and all the official rallies of the 2015 FIA World Rally Championship in THE racing simulation standard. Feel the impact of the different road surfaces on how your vehicle handles thanks to a brand new physics engine that faithfully recreates the sensations of driving on gravel, snow, asphalt, dirt, ice and sand. Experience the spirit of the 13 rallies held around the world! Drive both night and day in sunshine, rain and snow. Learn the basics with the new Rally School mode, perfect your skills in Career mode, customise settings, compete against other drivers online and become a true rally champion!
From the creative geniuses behind Devil May Cry and Resident Evil comes Bayonetta™, a game of 100% pure, unadulterated, climatic action. With powers far beyond the comprehension of mere mortals, our heroine Bayonetta fights countless enemies, evil forces and giant foes in brutal yet graceful ways.
The legend is back! Tecmo Bowl® Throwback is a remake of the classic Tecmo Super Bowl, with the same rules and fast-paced gameplay as the original, but with the option to play it in brand new high definition 3D graphics. Switch it back to old school in real time with the same graphics and music from back in the day! Tecmo Bowl® Throwback brings back the gameplay you loved, and stays true to the Tecmo Super Bowl legacy!
You'll notice that some games, such as Zoo Tycoon Ultimate Animal Collection, have been enhanced for the Xbox One X, and that title does include both 4K UHD and HDR. Others, such as Fuzion Frenzy, were made for the original Xbox, for which backward compatibility was only recently added.
If you're looking to build up your library of games though, don't forget about this month's Games with Gold, which offers free games to Xbox Live Gold subscribers. You can get Warhammer: End Times - Vermintide (Xbox One) and Marlow Briggs (Xbox 360) until the end of the month, and you can claim Back to the Future: The Game - 30th Anniversary Edition (Xbox One) until January 15.