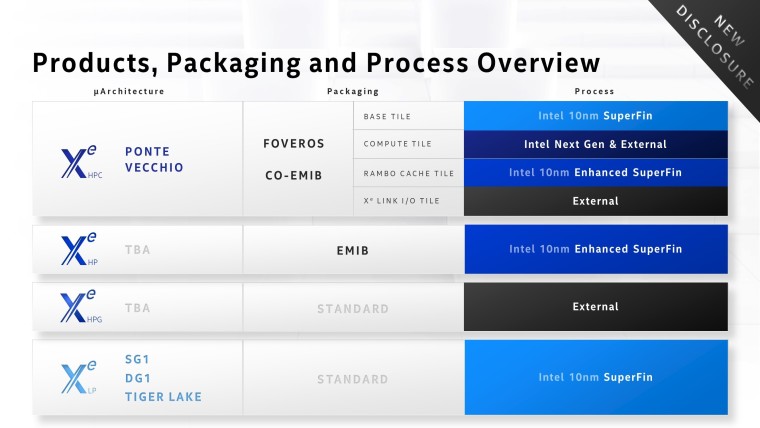 Back at Architecture Day 2020, Intel outlined its roadmap (image above) for its Xe (Gen 12) graphics architecture. Among the several variants of the Xe is Xe HP, which will be used to build next-gen Intel server and data center GPUs. Today a report has surfaced (via igor'sLAB) which claims it has the alleged details of those upcoming server GPUs that Intel is designing.
It was first leaked in February 2020 (via Digital Trends) that going forward, Arctic Sound, as well as other such high-performance GPUs from Intel, will feature a tile-based design, a finding that was later confirmed by the company at its 2020 Architecture Day. Adding to that, we learn today from the new igorLAB's report that each such tile will pack up to 512 graphics execution units (EUs).
For now, at least, we have the alleged details on two such Arctic Sound SKUs, the first being the Arctic Sound 1T (where the 'T' presumably indicates a tile) and Arctic Sound 2T. The 1T allegedly is a single-slot card and has 384 EUs out of the 512 EUs functioning properly, while the dual-slot 2T variant has 480 EUs in each tile working properly. So the 2T has 960 functioning EUs in total.
In December last year, Raja Koduri, the GPU chief at Intel, had announced that his company was already sampling Xe HP to its potential customers. As such, it's possible that the information igorLAB's received today has leaked out from such a source. In his tweet, Koduri had shown the image of a disassembled Xe HP graphics card alongside its forerunner, a Xe LP-based H3C XG310 quad-GPU.
Exciting to see these next to each other. Intel's first data center GPU that's in production, between Xe HP GPUs that are sampling to customers. We have ways to go, but an incredible journey so far. 🙏 the incredible team at Intel🙏 2020 is a memorable year for GPU technology pic.twitter.com/2fsJvVeDOK

— Raja Koduri (@Rajaontheedge) December 8, 2020
Below is a table detailing the rumored specifications of Arctic Sound alongside 2020's H3C XG310:
| | H3C XG310 | Arctic Sound 1T | Arctic Sound 2T |
| --- | --- | --- | --- |
| Execution Units (EUs) | 4x 96 EUs | 384 EUs | 2x 480 EUs |
| Micro-architecture | Xe LP | Xe HP | Xe HP |
| Memory | 4x 8GB LPDDR4-4266 | 16GB HBM2E (2.8G) | 2x 16GB HBM2E (2.8G) |
| PCIe bus width | PCIe 3.0 x16 | PCIe 4.0 x16 | PCIe 4.0 x16 |
| TDP | 150W | 150W | 300W |
Interestingly, while Intel had mentioned up to a four-tiled Xe HP behemoth, it seems there are only two tiled GPUs in the making so far. In its report, igor'sLAB speculates that Intel may have given up on the bigger designs as the current 2T Arctic Sound allegedly already is a 300W product. And for adding another couple of tiles, the TDP is estimated to reach close to 500W.
So ultimately Arctic Sound may prove to be not much of an upgrade over the current Xe LP-based H3C XG310 offering unless Xe HP gains enormously per TFLOP and per watt over what Xe LP already offers.
---
Update: Added an image showing Intel's Xe HP one-, two-, and four-tiled designs.