Even the most die-hard Android fan would struggle to define Google's tablet strategy as a success. Disclosures this week in the Google vs. Oracle trial revealed the company's lofty ambitions for the tablet space, and while it hasn't yet made available any recent sales or revenue data for its Android tablets, most observers agree that so far, it's likely failed to meet its objectives.
While Apple continues to overwhelmingly dominate the tablet space with its one-size-fits-all iPad (albeit with both a new and 'old', cheaper version concurrently on sale), the multiplicity of Android tablets on the market from numerous manufacturers hasn't yet helped Google to capture a significant chunk of market share.
In an interesting twist, though, it's emerged that Google's Android market share isn't entirely its own, as figures from market analysts comScore (via PR Newswire) reveal that, as of February 2012, Amazon's Kindle Fire had grabbed an impressive 54.4% of Android tablet market share.
Why is this significant? Well, the Kindle Fire doesn't use Android in the strictest sense. At its heart, the OS is based on Android 2.3 Gingerbread, but Amazon ripped out just about everything that it could. More than just the kind of custom user interface overlay that you'd see on other Android devices - such as HTC's Sense UI or Samsung's TouchWiz - the Kindle Fire user experience is built entirely around Amazon's own services, actively restricting and excluding access to services like Google's Play Store for apps and music.
As a result, Google's services simply don't get a look-in on the Kindle Fire, which instead features Amazon's own offerings - buying apps, browsing the web, watching video, downloading music, buying e-books and all the other stuff you might want to do on your Fire, is designed first and foremost around what Amazon has to offer you.
This means that Kindle Fire sales do little to enhance Google's bottom line; in fact, if anything, each purchase of a low-priced Kindle Fire is a thorn in the side of both Google and its 'mainstream' Android partners - it's one missed sale of higher-priced Android tablet hardware for Samsung, Motorola et.al; and one less opportunity for Google to generate revenue from a user of its suite of software and services.
More worrying still for Google is that the Kindle Fire's share of the Android market has been growing at a phenomenal rate - comScore's data show that the Fire almost doubled its slice of Android's pie in just two months, shooting up from 29.4% to the most recent figure of 54.4%.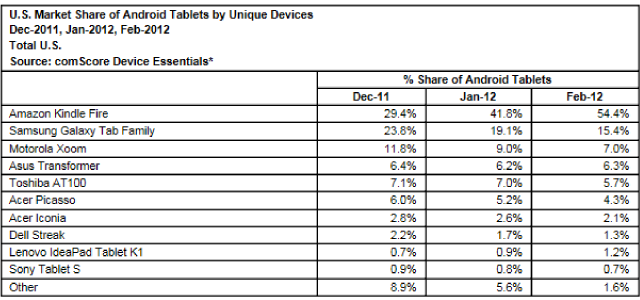 Google will of course be focused on growing the size of the overall pie, not just maintaining its portion of it. But if the only way that the Android market grows significantly is through Kindle Fire sales, it ultimately won't matter very much to Google how big that pie is: its relatively meagre slice will continue to leave it with a very bitter taste.