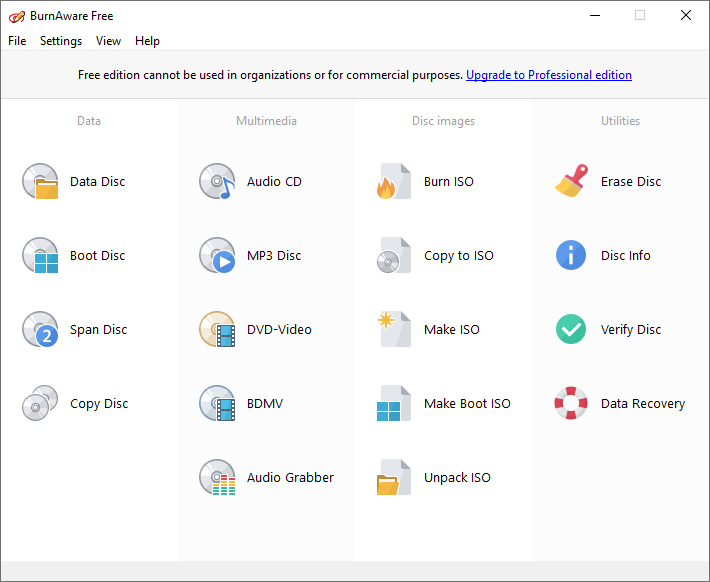 BurnAware Free is a full-fledged disc burning tool – fast, lightweight, feature-packed and, most importantly, 100% free. The program burns all types of CD, DVD and Blu-Ray discs containing data, digital photos, music and video. With BurnAware Free, you will be able to create bootable or multisession CDs and DVDs, high-quality audio CDs, make and burn disc images, copy and backup discs.
Features
Burn Data, Bootable and Multisession discs
Burn Audio, Video and MP3 discs
Create and burn ISO/CUE/BIN images
Copy discs to discs or to ISO images
Erase rewritable discs
Extract tracks from Audio CDs
Extract data from unreadable or multisession discs
Supports
All media types (CD/DVD/Blu-ray Disc) including Double Layer
All current hardware interfaces (IDE/SCSI/USB/1394/SATA) including AHCI
UDF/ISO9660/Joliet file systems (any combination)
On-the-fly writing (no staging to hard drive first)
Verification of written files
Multisession DVD-RW/DVD+RW
Unicode CD-Text (tracks and disc)
Windows NT/2000/XP/Vista/7 (32 and 64 Bit), .Net framework is NOT required
What's new in this version:
Added new user interface to all tools.
Added option to set read/write speed.
Added option to apply skin for form.
Added multi-erase tool to erase discs simultaneously.
Updated Multiburn SDK and user interface.
Updated translations.
Updated burning and shell libraries.
Built-in File Browser replaced with external file manager.
Improved program performance and stability.
Improved all dialogs.
Resolved problem with recorder detection in Multiburn.
Resolved problems with verification and tray opening.
Fixed bug with offering multisession for closed discs.
Fixed bug with possible date encoding error.
Some other fixes and improvements.
Note: BurnAware includes 3rd party (optional) software.
Download: BurnAware Free 7.0 | 11.7 MB (Freeware)
View: BurnAware Free Website