CEnhancer is a small tool which adds support for over 500 new programs into the popular program CCleaner. The tool uses the winapp2.ini system built into CCleaner to easily add new rules and definitions for programs.
The rules were sourced mainly from the Piriform Support Forum, with several sourced from other places around the internet. Directly download the winapp2.ini file here.
CCEnhancer now has a debugging feature, that allows you to scan your CCEnhancer definitions for hundreds of possible syntax errors. CCEnhancer can simultaneously update multiple CCleaner installs, has better portable CCleaner support and even supports BleachBit.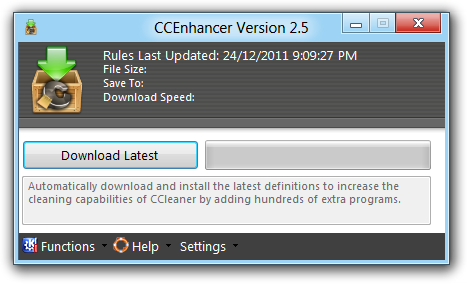 What's new in this version:
CCEnhancer 3.7 is now available. We've added a new trim feature that reduces the size of CCEnhancer definition file, increasing CCleaner's overall speed.
Added winapp2.ini trimming tool
Added a Danish translation
Added Portuguese translation
Improved Dutch translation
Improved CCEnhancer startup performance
Download: CCEnhancer 3.7 | 269 KB (Freeware)
Link: Home Page