CintaNotes is a small and easy to use personal note management application. It is designed to be your indispensable assistant in the daily task of collecting numerous pieces of information, whatever they may be: your own thoughts and ideas, book and article excerpts, job postings, famous quotes, research data, curious facts, Wikipedia definitions, blog posts, important news, you name it.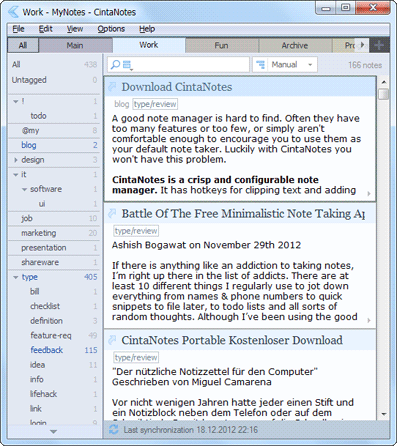 CintaNotes is a totally portable application, meaning that you can put it on a flash drive and run it directly from there - in this way, your notes will always be with you.
What's new in this version:

Enhancements:
Links to notes: show tooltip with target info on mouse hover
Added option "Window/Minimize on Esc"
Improved usability of "select next action" message boxes
Editor: Improved block indent/unindent behavior
Editor: Ctrl+Alt+S to save note without changing modified date
UI for notebook upgrade process and ability to create backup before upgrading
Passwords to proxy and Simplenote are now stored in encrypted form
Fixes:
Section view state not always proreply saved and restored
Note links couldn't be copied and pasted
Editor: Backspace working incorrectly in bullet list
Editor: Shift+Enter working incorrectly in bullet lists when line is empty
Notes list not always updated after deleting a section
Possible error on deleting section
SimpleNote sync: possible crash while syncing notes containing raw HTML
Notes list and tag sidebar not updated after deleting all notes with a certain tag
Parent tag not created on open/import old db file
"Create New Note" shortcut didn't use the Inbox section
Editor: note link commands should be disabled if text formatting is disabled
Import: parent tags not created when hierarchic tags are entered into the "Tags to add" field
URL not recognized when it contains ":"
Download: CintaNotes 2.0.3 | 2.5 MB (Free for personal use, paid upgrade available)
Download: Portable CintaNotes 2.0.3 | 2.0 MB
Screenshots: >>Click Here<<
View: CintaNotes Website