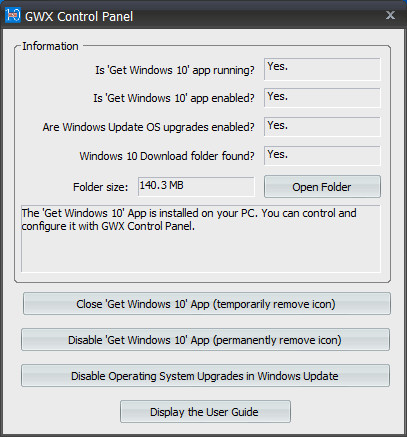 GWX Control Panel (previously named GWX Stopper) is a free program that you can use to configure and exit the "Get Windows 10" system tray application which continually pops up on PCs that are still running Windows 7 and Windows 8. GWX Control Panel really works, is safe and easy to use, and gives you the option to re-enable the icon and upgrade notifications if you're ever ready to move forward with Windows 10.
Why GWX Control Panel is better than other solutions:
Some methods are only temporary fixes. They make the app go away until you restart Windows, or maybe until you do another Windows Update, but they don't truly stop the Get Windows 10 app from bothering you- they just postpone it.
Some methods are unsafe (especially the ones that involve you disabling Windows Update).
Some methods have potential to result in unexpected or undesired behavior if you're not completely sure what you're doing or if you apply a change to the wrong files or folders.
And some just went way beyond what was truly necessary to keep the Get Windows 10 app from bothering you.
GWX Control Panel doesn't do anything special. It's just simple and safe, and it works.
GWX Control Panel is a standalone executable, doesn't require to be installed.
GWX Control Panel is digitally signed.
What's new in version 1.2:
Can now restore normal Windows Update behavior if it has entered 'Upgrade to Windows 10' mode.
What's new in version 1.3:
Additional detection to determine if Windows is configured to allow OS upgrades via Windows Update. Now locates and reports the total size of the hidden Windows 10 download folder (usually C:\$Windows.~BT) and gives you the ability to open the folder in Windows Explorer.
Note: I've noticed that lots of people are still downloading the original "GWX Stopper" file (must be from direct links instead of people finding my downloads page), so I have replaced the version 1.0 GWX_stopper.exe file on the server with a renamed copy of version 1.3 of GWX Control Panel. It is the same program now, with the same checksums, just with a different filename.
Download: GWX Control Panel 1.3 | 4.2 MB (Freeware)
View: GWX Control Panel Home Page | Video Tutorial