Microsoft finally began rolling out the Windows 10 April 2018 Update a few days ago, and there are numerous ways to install it on your PC right now. While the update has gone smoothly for most, and the build does pack some new interesting features such as Timeline, a portion of users are also experiencing problems such as hardware malfunctions, BSODs, and the operating system randomly freezing when using certain apps like Chrome.
Although Microsoft has promised solutions for some of these problems, if you're one of the unfortunate few who can't have issues like the ones mentioned above interrupting their workflow, you can roll back to a previous version of Windows 10. Here's how to do it:
Prerequisites
Ensure that you haven't deleted the Windows.old folder while cleaning up your files to free space after upgrading to the April 2018 Update. If you have a portable device, check that you have plugged in your machine to a reliable power supply, otherwise, you won't be allowed to roll back. It is also advisable to backup all your important files locally or to the cloud. Lastly, make sure that you remember your password as you may be required to enter it when you have rolled back.
Step 1: Open the Settings app
There are numerous ways to open the Settings app, but the simplest way to do this is to navigate to the search icon on your taskbar and type "Settings".
Step 2: Navigate to Recovery
There are two ways to this: either you can type "Recovery" in the Settings' search bar and navigate to the specific setting or you can go to the Update & Security tab, and then navigate to Recovery using the pane on the left side.
Step 3: Go back to the previous version of Windows 10
Now that you're on the Recovery page, click the "Get started" button under the "Go back to the previous version of Windows 10" heading.
After clicking on this button, if you haven't plugged in your PC, you'll be asked to do so now. If you don't, you won't be allowed to continue further, as is evident from the screenshot above.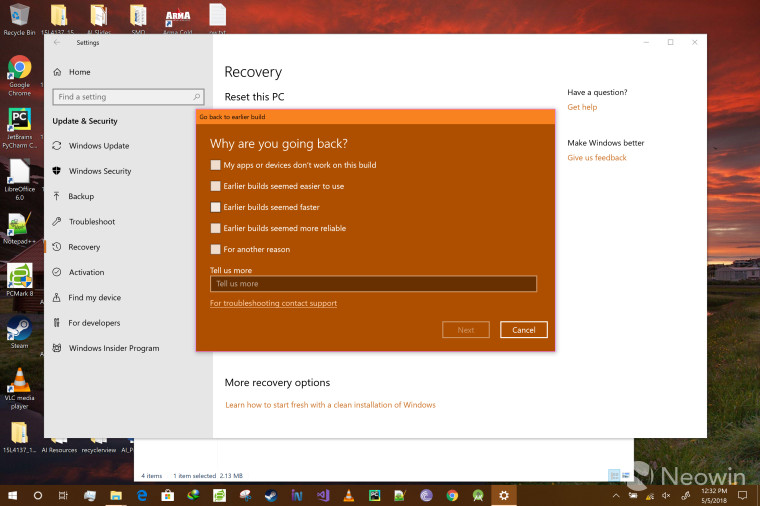 You'll then be asked why you're going back to a previous version, you'll have to give at least one reason, and the "Next" button will remain grayed-out until you do so.
You will then be cautioned that you should check for updates, but if you simply want to roll back to your previous version of Windows, click "No, thanks".
Microsoft will then give some final warnings regarding rolling back. Make sure you understand them fully before you continue. You won't be able to use your PC while it's rolling back, and you should leave it plugged in and turned on. Remember that you might have to reinstall some apps and programs, and that you'll lose any changes made to the settings after installing the April 2018 Update. Microsoft will also caution you to backup your files just in case.
When you have read all of this, click "Next".
As mentioned in the prerequisites, make sure you remember your password before you click "Next" on this final check.
Step 4: That's a wrap!
That's basically it. Microsoft will thank you for using this build after which you'll click "Go back to earlier build" to initiate the rollback process. Your machine will restart a couple of times when rolling back. The rollback process can take a few minutes - don't interrupt it - but once it is complete, you'll be asked to review your privacy settings, enter your password, and voilà! You'll now be back on your previous version of Windows 10, which is likely version 1709, if you've been regularly updating your PC.
Note that the next time you check for updates, you will still be asked to upgrade to version 1803 - which is the April 2018 Update - but if you're using Windows 10 Pro, you can defer it, if not, you can keep clicking "Remind me later" every time the operating system offers you to upgrade, until you're sure about the reliability of the latest build.