If you're not familiar with InFocus, you may at least have heard of one of their products - the Kangaroo, a portable, pocket-sized, low-cost Windows 10 PC with its own battery. But the company's range is a good deal larger than that.
Among its various products, InFocus has been offering giant touchscreen PCs for business and education scenarios for a few years now. The latest in that line of PCs has now arrived: the 70-inch Mondopad Ultra.
The new device is described as an "all-in-one video conferencing, interactive whiteboarding, presentation, and data sharing display for teams", aiming to boost workplace and learning collaboration for groups working in the same room, or in different locations around the world.
If that all sounds a bit familiar, you may well be thinking of the Surface Hub, Microsoft's giant collaboration touchscreen, which went on sale earlier this year after a couple of delays and a $2,000 price hike.
The 70-inch display of the InFocus machine uses "projected capacitive touch technology", as the company explains:
Projected capacitive touch, the touch technology that is used on leading smartphones and personal tablets, eliminates the need for a stylus and enables a more intuitive and natural user experience. Unlike IR touchscreens, capacitive touch technology allows more touch points with faster response and bezel-free edge-to-edge glass, allowing for a brighter and sharper display, a sleek industrial design, and remarkably fluid multi-touch capabilities.
The Surface Hub runs on Windows 10 with a specially customized interface designed by Microsoft to suit the unique requirements of its users. The Mondopad Ultra runs standard Windows 10 Pro (although it can also be ordered with Windows 7 Pro if desired), along with its own finger-focused user experience. Both devices can also run other Windows applications, including Microsoft's Office suite.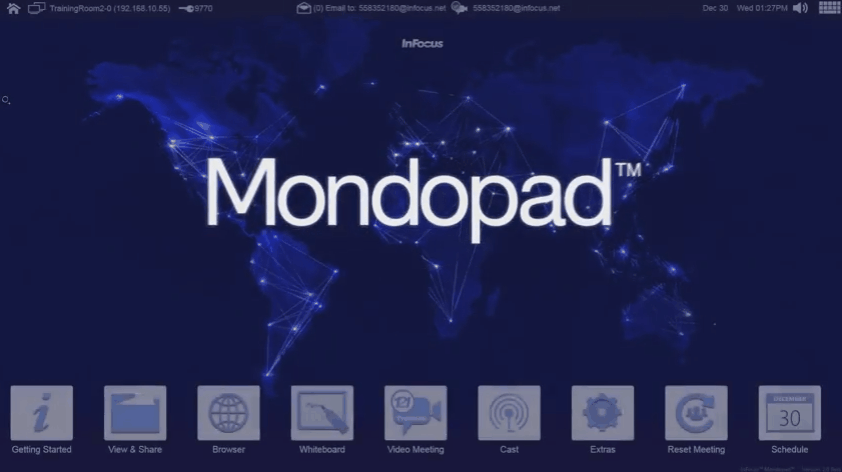 In a promotional PDF comparing the Mondopad range with the Surface Hub, it promotes its system as "more flexible, more configurable, more enterprise friendly [and] more affordable" than that of Microsoft (although the prices on that info sheet refer specifically to the non-4K versions of InFocus' giant displays).
The 70-inch Mondopad Ultra with 4K resolution will be available next month, priced at $13,999 USD. That compares with $8,999 for the 55-inch Surface Hub with Full HD (1920x1080px) resolution; and $21,999 for the 84-inch Hub with 4K resolution.
InFocus also offers 80- and 85-inch versions of its display with 4K resolution, which it launched a month ago - but of course, they'll cost a good deal more than the 70-incher.
Key specs of the new 70-inch Mondopad Ultra include:
70-inch LED edge-lit LCD with 4K (3840x2160px) resolution and 16-point edge-to-edge projected capacitive touch
Intel Core i7-6700T (Skylake) processor
8GB RAM
256GB SSD
Dual-band Wi-Fi 802.11 a/b/g/n
Bluetooth 4.0
HDMI 2.0 x 2; HDMI 1.4 x 1
USB Type-A x 5
USB Type-B x 1 (for touch control
RS232 in
RJ45 x 2
Component input
VGA input
Display Port 1.2 x 2
3.5mm audio in
RCA stereo in; and RCA stereo out
Built-in 720p camera with three microphones
Integrated stereo speakers - 10W x 2; external stereo speakers - 25W x 2
1631 x 963 x 107mm; 49.1kg
You can find out more about the Mondopad Ultra series via the manufacturer's website.