One could easily describe the design of Apple's iPhone as iconic. If you asked someone to draw you an iPhone, even a child, they would draw a rectangle with rounded corners, with a rectangle on it for the screen, and a small circle underneath the screen for the Home button.
But this year, Apple is resolving to change all of that, as the iPhone X features a radical redesign. The Home button is gone in favor of stretching the screen across the device, and the aspect ratio has changed.
This also means that the entire user experience has changed, as the Home button has been replaced by swipe gestures and facial recognition. But Touch ID was so good; can Face ID really measure up? Can users really be trained to use their iPhones in an entirely new way when they've been using it one way for ten years?
And most importantly, what the heck does it mean for the future of the iPhone lineup?
Uncertainty for the future
Normally I kick off a review with an introduction followed by specs, but there's something that I feel I need to get out of the way first.
Apple released three new iPhones this year, which is unprecedented. The company used to be predictable; there was one new iPhone every year, and every two years there would be a redesign with an 's' model in-between. The firm changed that up when it introduced the iPhone 6, offering two phones every year with the Plus. The 6s came and went, and then Apple changed it up a bit.
The iPhone 7 and 7 Plus offered no meaningful design change over the 6 and 6s. This year, the company introduced two more iPhone 6 clones, the 8 and 8 Plus. There are some minor changes, such as a glass back, but the design remains the same. They fit the more cost-effective price point, starting at $699, whereas the iPhone X comes in at $999.
It's easy to make a decision between the three, as we've talked a lot about the difference between the three devices. But what exactly does it mean for next year? The future of the iPhone has never been this hard to predict.
Typically, Apple's new iPhone costs about the same as last year's model, with the old one dropping by $100, so let's assume that the iPhone X drops to $899. The firm could produce another couple of iPhone 6 clones, although that seems quite ridiculous given how dated the design already is, especially when Apple has already introduced something new.
The other option is what's currently rumored, that Apple will introduce multiple new phones with the iPhone X design, and all of them will include more powerful internals than the current X. If this is indeed the case, charging $899 for the X seems quite unreasonable. But whatever the case, it seems likely that you'll be able to get something similar to this next year for a substantially cheaper price.
In other words, it's hard to make a recommendation as to whether or not you should buy a device, when it's so hard to predict what's coming next.
Specs
| | |
| --- | --- |
| CPU | A11 Bionic, Hexa-core 2.39GHz (2x Monsoon + 4x Mistral) |
| GPU | Apple GPU (triple-core) |
| Display | 5.8-inch, 1125x2436, 458ppi, Super AMOLED |
| Body | 143.6x70.9x7.7mm (5.65x2.79x0.30in), 174g (6.14oz) |
| Camera | Dual 12MP, Front: 7MP |
| Video | 4K - 60fps, Front: 1080p - 30fps |
| Aperture | f/1.8, f/2.4, Front: f/2.2 |
| Camera features | PDAF, dual OIS, quad-LED flash, 2x optical zoom, Portrait Mode, Portrait Lighting, Front: Portrait Mode, Portrait Lighting |
| RAM | 3GB |
| Storage | 64GB/256GB |
| Battery | 2,716mAh |
| Color | Silver, Space Gray |
| Price | $999/$1,149 |

Design and display
Design and display are going under the same category this time around because the two things are so closely related in this case. Despite the fact that I've made dozens of "top notch" jokes about the iPhone X, I really do like it.
The iPhone X has narrow bezels all around, except for a small area at the top of the screen. In the corners, you'll find your battery indicator, cellular status, and things like that. And here's the thing: while I don't love or hate the notch itself, I'll still take it over the massive bezels of the iPhone 8 Plus, which I also reviewed.
Another thing that I really appreciate is that while the bezels are very slim, Apple didn't go overboard, which is something that I'd argue that Samsung did. Samsung uses its 'edge' display, so it can actually make it hard to hold properly.
Samsung makes the Super AMOLED display, and just as you'd expect from a Samsung OLED screen, it looks awesome. The colors are vibrant, and the blacks are black.
If you're not familiar with OLED, it stands for organic light-emitting diode. Compared to LCDs (liquid crystal displays), OLEDs produce true black colors because individual pixels can be turned off. LCDs are entirely backlit, which is why when your TV shows you something black, you can still tell that it's on.
There are different kinds of OLEDs, and AMOLED is active matrix. All you really need to know is that AMOLED is better than alternatives like P-OLED, but that's very broadly speaking. There's plenty of material online if you want a really deep dive on this stuff.
As for the rest of the design, it's 70.9mm wide, making it much smaller than a Plus model iPhone. It feels much more like a standard iPhone 8 when holding it, which is great. I've always preferred the non-Plus iPhone for the form factor, but have used the Plus for the battery life.
The frame of the phone is stainless steel, so it will certainly scratch, although you should be able to polish it out using old iPod tricks like, you know, using polish. I got the silver model, so the back is white (rather than silver) and covered in glass, which allows for wireless charging.
On the right side of the device is the power/sleep/wake/Siri button, and on the left is the volume rocker and toggle to turn sound on or off. On the bottom, you'll find a Lightning port, microphone, and a pair of speaker grilles, just like you'd expect.
Apple switched up the camera design for this model. The dual camera configuration is now vertical instead of horizontal, probably just so it stands out from the iPhone 8 from the back.
UX
Just as much of a change as the design is, the user experience is completely different, and there are parts of it that I just don't understand, but we'll get to that.
There's no Home button anymore, so to return to the Home screen, you'll need to swipe up from the bottom. To get to the multitasking screen, you need to swipe up from the bottom, and hold the middle of the screen for a second. Since you can no longer access Control Center by swiping up, you need to swipe down from the top-right corner to do that. The notification center is the same, and you can get there by swiping down from the top.
So, here's where it gets a little weird. If you go to the multitasking screen to close apps, you can't just swipe them away anymore, for some reason. Now, you need to hold the tab for a second, and then you can swipe them away or tap the new '-' icon.
There are other things that have changed for seemingly no reason as well. There's now a line at the bottom of the screen that represents where you should swipe up from, and if you swipe to the right from there, you can go to the last app that you used. Because of this, you can no longer 3D Touch from the left side of the screen to switch apps.
And that 3D Touch action seems like it should have been the logical way to launch multitasking and switch between apps, as it was already built into the app. But it would seem that Apple has chosen otherwise.
Siri can be launched now by holding the power button, which makes sense and is easy to get used to. In fact, everything is pretty easy to get used to; it's just that some of the changes seem unnecessary.
Face ID
I had very low expectations for Face ID, mainly because I've never seen facial recognition work well on a phone. It's great on laptops, since your face is already positioned in front of the screen, but that doesn't work out as well with a phone that might be in different positions. I really thought that I was going to buy the iPhone X, miss the Home button, and return it for an 8 Plus.
But that's not the case. It actually really works well. In general, the bar for biometric authentication for me is whether it ends up being more convenient to use a PIN over time, and the iPhone X does very well in that area. But this is an iPhone, and Apple set the standard for fingerprint sensors on phones with Touch ID on the iPhone 5s.
And no, Face ID still has a bit of a way to go before it's as fast as Touch ID. For me, it's really only a matter of speed, as accuracy is about the same. There's the occasional time that the X doesn't recognize me, such as when I'm in bed and looking at it with my eyes squinted at a weird angle, but it doesn't happen any more often than when Touch ID didn't recognize me, such as if I just washed my hands in the bathroom. When it comes to accuracy, they both have their faults.
I was pleased to see that Face ID does work from various different angles. I was very afraid that I'd have to position the phone as awkward angles just to get it to unlock, similar to Microsoft's iris recognition on the Lumia 950.
If Apple can speed up Face ID a little bit, I think that this can actually be better than Touch ID. Facial recognition is awesome when it's implemented properly on anything. Because when it works, it's like having no security at all, and that's what we all want. We want the ease of no security, but with actual security.
Animojis
When Apple first announced this phone, I thought that Animoji were the stupidest thing in the history of stupid things. As it turns out, they're slightly less stupid than that.
They're actually a lot of fun, at least as a novelty. I'm pretty sure that I won't be using these things at all within the next six months, but for now, it's a fun way to send messages to friends. You can record messages of up to 10 seconds, using any of 12 emoji.
The above message was one I sent to a friend after getting tickets for Justice League. You can download the video after you send it, although it only seems to be 480p.
It really just feels like it's a showcase for the new face sensors that are included in the iPhone X. It uses those sensors to capture your facial expressions and then put that on an emoji. It's also something that can almost certainly be done with just a standard front-facing camera, but again, Apple is showing off its new technology.
Animoji aren't exactly a reason to shell out $1,000 for an iPhone X, and really shouldn't even make your top five reasons. Still, they can be a lot of fun.
Rear camera
You'll never hear me say that a certain smartphone camera is the best. That's simply an impossible determination to make. The truth is that different things are important to different people. A great example of this is the Nokia Lumia 1020; with its 41MP camera, it took some of the best pictures of its time, but could take over five seconds to launch the camera app and snap a picture, so while the shot came out great, you might have missed your kid's first steps.
Other features come into play now, such as speed, and the ability to focus quickly. The reason I bring all of this up is because Apple has a new feature called Portrait Lighting, which doesn't make the camera better at all, but it does add some cool effects to your images.
It builds on top of Portrait Mode, which was introduced with the iPhone 7 Plus. Using the dual cameras, a depth effect is created. With Portrait Lighting, you can choose different lighting scenarios.
Portrait Lighting is available on the iPhone 8 Plus and the iPhone X. Unfortunately, the feature hasn't been added to the 7 Plus, which just seems odd to me. You don't even need to shoot the photo in a certain Lighting mode. As long as you shoot in Portrait Mode, you can change the filter after the fact.
Also, Portrait Mode still uses the 2X lens on the camera. This always disappoints me because I end up having to move back to take a picture. Also, it's a lot better than it used to be in different lighting conditions, but sometimes I found myself struggling to get the shot I wanted.

As far as the rest of the camera goes, it works the same way as it did with the 7 Plus. There are two lenses, one of which offers a 2X zoom.
Typically, the way zoom works on smartphones is a digital zoom, meaning that the camera can see a certain amount of the scene, so the more you zoom, the more quality that you lose. Having a second lens for a 2X zoom means that you're not losing quality.
That secondary lens has been improved for the X (not for the 8 Plus), and it has a larger f/2.4 aperture, compared to the former f/2.8. This means that it's better in low-light scenarios, which is great news, especially since it's the lens that you have to use for Portrait Mode.

As you can see, I did use Portrait Mode for some of those images too, although I didn't mess around with Lighting. Also, it's worth noting that Apple still only lets you take pictures at a 4:3, at least through conventional means. You can take a 16:9 picture by capturing still images while recording video (on a side note, those 16:9 images are of an act called The Red Trouser Show, and you should totally check them out if they come to your neighborhood).
I was impressed with the pictures I took. Even Portrait Mode, which used to be terrible, is a lot better than now. The wider aperture on the secondary camera makes low light images look much better, although they're still not as good as I had hoped.
I was also disappointed at how blown out street lights looked. This is, of course, a common problem in smartphone cameras, and you can adjust the exposure, but then the whole image comes out darker.
One more thing to note is that Apple's new iPhones all record 4K video at 60fps. While they currently have the honor of being the only phones in the world that do that, the video files aren't compatible with much. I couldn't edit them in Adobe Premiere Pro, and converting them to another format lowered the frame rate.
This has been an issue with other phones before, because it uses the new HEVC format. Apple added a toggle between high efficiency and most compatible with iOS 11, and unfortunately, 'most compatible' isn't an option if you select 4K 60fps.
Fortunately, YouTube has adopted support since the last time we wrote about this.
The good news is that more software will adopt support eventually. It's only an issue for now.
Front camera
The front camera is a major selling point of the iPhone X, because the sensors used for Face ID do a lot more than that. It allows for Portrait Mode and Lighting for selfies, and it also enhances regular images.

One thing that I always feel the need to point out in an iPhone review is that there's a really annoying bug. When I upload images taken with the front camera, they show up as upside-down, so I had to open some of these images in third-party software and save them as separate files. Oddly, this is not an issue with Portrait Mode images.
The front-facing camera itself hasn't really been improved; it's mainly the sensors around it. As you can see, it's still pretty bad at night-time. You can, of course, use the screen as a flash.
Battery life, fast charging, and wireless charging
One of the reasons that I've always loved the Plus-sized iPhones is because they get great battery life, and I never have to worry about getting through the day. Despite a larger 2,716mAh battery in the iPhone X, I found that it's not quite as good.
Ultimately, the X will get you through the day on moderate usage, and for me, that's probably about 85% of the time. When I'm using more features more frequently, such as on a long trip where GPS and Bluetooth are being used for hours on end with a lot of screen-on time, it doesn't make it.
This year's round of iPhones is the first to support fast charging and Qi wireless charging. Unfortunately, your new thousand-dollar device comes with a charger supporting neither of those things. It comes with a standard 5W USB Type-A adapter, and a USB Type-A to Lightning cable.
For fast charging, you'll need to replace both of those, for a minimum price of $74. The Lightning cable needs to be swapped out for a USB Type-C to Lightning cable, and the adapter needs to be at least the 29W USB-C Power Adapter.
For the above tests, standard charging used the 5W USB Type-A adapter that comes in the box, fast charging used a 29W USB-C Power Adapter, and wireless charging used a Samsung Wireless Fast Charger. The device was running iOS 11.2 beta 4.
As for wireless charging, the fun thing about that is that the Qi standard has been around for years, and there are chargers around at all price points. With the upcoming iOS 11.2 update, fast wireless charging should work as well, which is great news because as it stands now, wireless charging is actually slower than using the standard 5W power adapter.
Despite that, I do find myself using wireless charging most often. It's just so nice to be able to use the same charger for all of my phones. I make this same argument for USB Type-C on laptops.
Audio quality
I'm really not the guy that walks around listening to music on his phone speakers; you know, like that guy on the train. Right, that guy, but I digress...
I did try though, since some have reported crackling issues, and overall poor sound quality. This was not my experience with the device. I thought that it sounded just fine, like any other modern iPhone.
One issue that I did have was that it would randomly change the volume when my hands weren't anywhere near the volume rocker. It wasn't a major thing, as the volume indicator would only move by a couple notches, but it was just weird.
Known issues
When I reviewed the iPhone 8 Plus, I said that I've never had so many issues with a phone. That's not been the case with the X, but there are certainly some things to be aware of.
For one thing, GPS is still absolutely terrible. Apple says that it's working on a fix, but it can be a real pain when you're trying to get walking directions and your phone thinks that you're jumping back and forth between a two-block area like you're Superman (jumping tall buildings in a single bound, and you should be ashamed of yourself if you didn't get the reference).
As I mentioned earlier, 4K 60fps video recording is certainly an issue. Apple's new trio of iPhones are the only smartphones in the world that record 4K video at 60fps, but there's only one problem: the videos aren't really compatible with much. You still can't import them into Premiere Pro, and if you try to convert them into a compatible format it will likely get scaled down.
This was a huge disappointment for me, as I'm a big fan of recording in 60fps, so I'd get the best of both worlds with 4K resolution and the higher frame rate. Sadly, this will require better third-party support before it's a viable option.
One last thing that I really want to point out is that not all apps have Top Notch support. These apps can be pretty mainstream too, like Skype, and I quickly found myself getting slightly annoyed by apps that are letterboxed when I open them.
Performance
The iPhone X includes the same A11 Bionic processor and custom six-core GPU that you'll find in the iPhone 8 and 8 Plus. It's easily the most powerful mobile chipset on the market.
I review a lot of Android phones, and even those powered by Qualcomm's latest flagship chipset, the Snapdragon 835, can struggle to play games with a lot of moving parts. The iPhone is always very smooth.
One thing that's an issue with the X, as I mentioned above, is that not all apps support the notch yet, which means your favorite game won't fill the screen. For example, if you're a fan of Plants vs Zombies and don't care for Plants vs Zombies 2, you're probably not going to get proper support. This might be a poor example, but there are plenty of games that don't get updated after a time.
Performance is one thing that you never have to worry about in a new iPhone, as Apple's custom chips stay far ahead of the competition, and have been doing so for some time. Still, I ran some benchmarks using AnTuTu, Geekbench 4, and GFXBench.
First up is AnTuTu, which tests a bit of everything.
The above score of 236,063 can be compared to the Snapdragon 835-powered Samsung Galaxy Note8, which scored 173,562. The iPhone X outperformed Samsung's flagship in all tests except UX Image Process.
Next up is Geekbench 4, which tests the CPU.
This again can be compared to the Note8's single-core score of 1,866 and multi-core score of 6,539. Apple has always done well in this area though, particularly single-core.
Finally, GFXBench tests the GPU.
This is actually the first year that Apple has made its own custom GPU, and it performs quite well.
Conclusion
I'm going to be honest here; I really love this phone. Most people I know get a new iPhone and their number one complaint is that it just doesn't feel like a new phone. After all, why would it? The form factor is the same, as is the software. You probably even restored from an iCloud backup.
The iPhone X actually feels new, in a good way. My two main concerns with the phone were the UX changes and Face ID.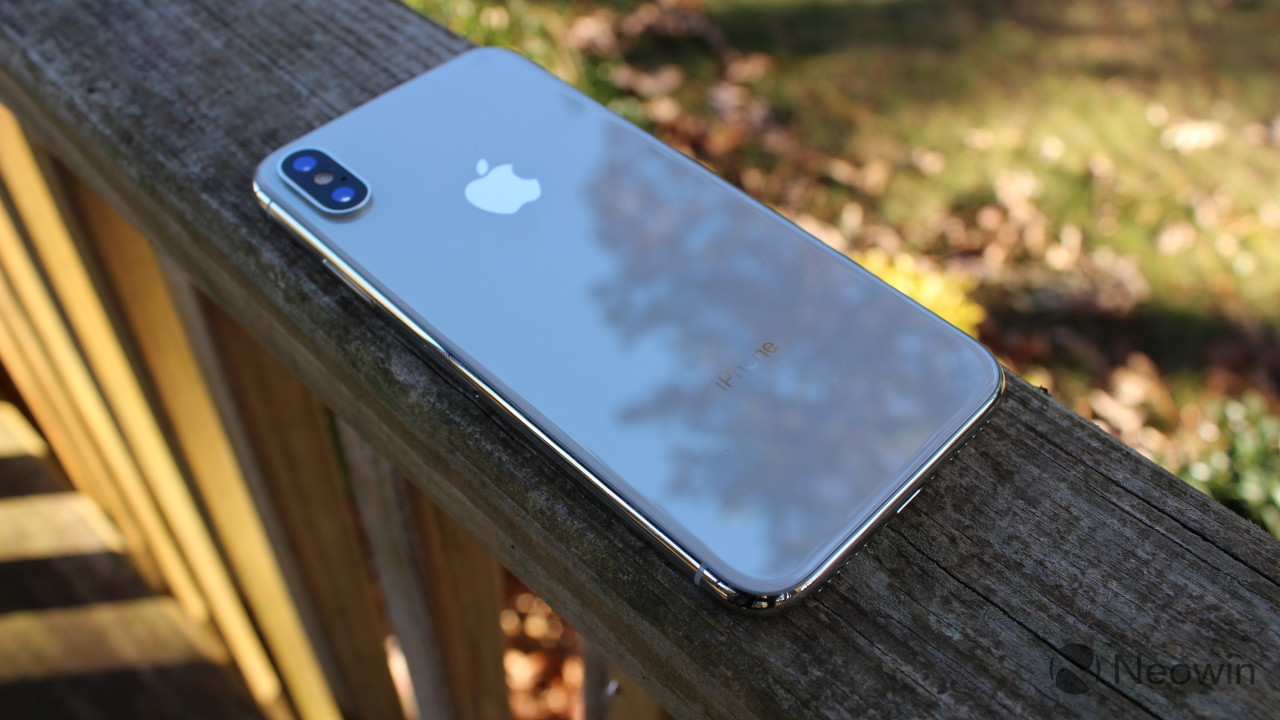 As it turns out, it took very little time to get used to how to interact with my new phone. Sure, maybe once every few days I try to hit a Home button that isn't there, but it happens less and less.
And Face ID is really good. I was so afraid that it would force me to hold the phone in front of my face at an awkward angle, but it works as advertised. It's accurate too, as accurate as Touch ID, in my experience. It's not quite as fast, but that should be something that Apple can speed up with software. And still, it's not exactly slow.
Aside from those two things, the phone is great. The AMOLED display is top notch (pun intended), it has an excellent camera, and performance is unparalleled.
Most of the issues that I've had have to do with software, and Apple has been fixing them. As for 4K 60fps video support, that's going to be up to third-party vendors like Adobe. Until then, I'll be sticking with 1080p 60fps.
The other issue, of course, is the price. The iPhone X starts at $999, and if you plan on recording a lot of videos, you'll probably want the 256GB model for $1,149. I actually don't think that's unreasonable with Samsung selling the Galaxy Note8 for $930, but it's really not cool that Apple doesn't at least include a fast charger.
Indeed, it seems that the time is gone when you could buy an Apple product and have everything you need in the box. Still, Apple products have always been for those that don't mind paying a bit more to get the best.
And the iPhone X actually is the best overall phone, as far as hardware goes. The display is on par with anything else out there, as is the camera, which can record 4K 60fps video. Performance is far and away better than anything else on the market too.
Pros
Performance Camera features Display Design Face ID Wireless and fast charging
Cons
Software issues Fast charger not included 4K 60fps recording Price