The Lenovo IdeaPad S940, also known as the Yoga S940 in other markets, might be my new favorite laptop. It's just stunning, and the display is incredible. It packs a 14-inch UHD Dolby Vision display and it has curved glass on the sides.
Lenovo also used what it's calling AI sensors. This PC can give you an alert when someone is looking over your shoulder, or it can automatically move content to another screen when it sees that you've looked away. A more practical use case would probably be that it can wake up when it senses that you're in front of it.
AI sensor features aside though, this is just a great laptop. Read on.
CPU
Intel Core i7-8565U (1.8GHz)
Graphics
Intel UHD Graphics 620
Body
12.57x7.77x0.48-0.55" (319.3x197.4x12.2-14.2mm), 2.64lb (1.2kg)
Display
14" UHD (3840x2160), 500 nit, HDR VESA400 w/ Dolby Vision
Storage
256GB NVMe PCIe SSD
RAM
8GB LPDDR3 2400MHz
Audio
Dual-array microphones 4 x 2 Watt
Dolby Atmos Speaker System
Ports
(2) USB Type-C (Thunderbolt 3, Power Delivery, DisplayPort)
(1) USB 3.1 Gen 1 Type-C
Headphone/Mic Combo
Windows Hello
IR camera
Battery
52Wh
Material
Aluminum
Color
Iron Grey
OS
Windows 10 Home
Price
$1,799.99

This PC starts at $1,399.99, and that gets you a 1080p display and a Core i5-8265U. Of course, you can also spec it out with 16GB RAM and a 1TB SSD, which will run you $1,999.99.
Day one
Design
The Lenovo IdeaPad S940 is definitely one of the sexiest devices around. I've only used this reference a couple of times before, but it reminds me of a 2008 Cadillac ad where Kate Walsh asked, "When you turn your car on, does it return the favor?" The S940 definitely returns the favor.
This PC is made entirely out of aluminum, and the color is called Iron Grey. It's fairly common across Lenovo's consumer portfolio, along with the Lenovo logo on the bottom-right corner of the lid. There would also be a Yoga logo if Lenovo chose to have consistent branding.
And let me clarify that, because this was announced at CES as the Yoga S940. There was a time when Yoga meant convertible and IdeaPad meant clamshell. This isn't the case anymore. Yoga now means premium, and IdeaPad means budget or mainstream. Prefixes on the numbers tell us the form factor; 'C' means convertible (like Yoga C930), and 'S' means a slim clamshell (like Yoga S940). But despite that rather major branding change, Lenovo just tossed whatever logic was left away for this product, and the company is calling it the IdeaPad S940 in the U.S.
Confused? Good, that means you're paying attention. So no, there's no Yoga logo on it.
Back to the design of the product, it's just 12.2mm thin; that's less than half of an inch. On top of that, it weighs in at 2.64 pounds, still packing a full U-series processor and a 4K Dolby Vision display.
One thing that you'll miss out on is USB Type-A. On the right side of the device, there are two Thunderbolt 3 ports, so you can hook up some 4K displays if you want. On the left side, there's a USB 3.1 Gen 1 Type-C port and a 3.5mm combo audio jack. The nice thing about that additional USB Type-C port is that you can charge this PC from either side. Too often, a PC comes with two Type-C ports on one side, which always gets in the way sooner or later.
On the bottom of the IdeaPad S940, you'll find two speakers with Dolby Atmos. It's interesting, since there are also two speakers next to the keyboard that fire up. Having speakers on both sides of the device is rare for something that isn't a convertible, since that bottom side will never be firing at you.
Display
Let me be clear about something. The Lenovo IdeaPad S940 could possibly be the most beautiful display I've ever seen on a laptop, and I've reviewed OLED PCs. If it's not at the top, it's close.
The model that Lenovo sent me is the 4K one (14 inches), although it also comes in 1080p, neither of which have touch support. It also has 500-nit brightness and it supports Dolby Vision and meets the VESA400 HDR standard. With these two things, Lenovo says that it can decode a 12-bit PQ signal from a video and adjust the content to the capabilities of the display.
Aside from the bright display and the vibrant colors, the S940 has contoured glass on the sides, creating really smooth bezels. And those side bezels are just 2.4mm, with a 3.6mm bezel on top and a 4.4mm bezel on the bottom for a 90% screen-to-body ratio. Ultimately, it's just a very pleasant display. The curved edges, glossy glass, and vibrant colors remind me of a smartphone screen, but obviously larger.
On the top bezel, the S940 also has what people are referring to as a 'reverse notch', which is exactly what it sounds like. It's a notch that sticks out above the screen. This is where you'll find the webcam and the IR camera for Windows Hello facial recognition, and it's an impressive design when most PCs with this kind of screen-to-body ratio sacrifice webcam placement and sacrifice the IR camera altogether.
The nice part is that the reverse notch serves as a tab to open up the laptop. The bad news is that if you frequently use your webcam, you'll find yourself frequently cleaning it. Opening it that way means touching the webcam, and that means fingerprints.
I really can't say enough about the display, as it's so good and it's the best part of the IdeaPad S940. It's very immersive, and streaming videos that support Dolby Vision look amazing. In fact, the screen itself just looks amazing all the time, and we'll leave it at that.
Keyboard
The Lenovo IdeaPad S940 has a very shallow keyboard, which is not surprising for a laptop that's this thin. What surprised me was how much I enjoyed the keyboard. I never found myself complaining about how shallow the keys are, ever.
It's also remarkably quiet. Typically, it's business laptops that are aimed at quiet keyboards, so it was nice to see it on a consumer model. There's no clacking sound on this device, and you're not going to annoy the people around you, as I often do as a loud typist.
Other than that, the keyboard is pretty standard. It's the same size as you'll find in any 14-inch laptop. There's a power button above it, and a trackpad below it. But while the keys are shallower, one sacrifice that wasn't made to make the device thinner is the clickable trackpad. On top of being clickable, it also uses Microsoft's Precision drivers, something that should be a given in this day and age (looking at you, HP).
As I noted earlier, there are speakers on the left and right sides of the keyboard, and they sound great. Lenovo has been focusing on audio quality a lot of the last couple of years, packing a soundbar into the Yoga C930. Naturally, a rotating soundbar wasn't necessary for this one, since it's not a convertible. But there are still four Dolby Atmos speakers, and combined with the Dolby Vision display, the media consumption experience is phenomenal.
AI sensors
You can skip over this part of the review if you'd like, because frankly it's not that interesting. The S940 has what Lenovo calls AI sensors. The idea is that it can sense what and who is around you, and it even has eye tracking.
There are a few use cases here. For one thing, it can tell when you sit down in front of your PC and wake it up. That means that you can sit down, your IdeaPad S940 will wake up, and it will log you in via Windows Hello facial recognition. This works fairly well, but it also kills the standby battery life. If you have this PC, I'd recommend always turning it off when you're done with it or leaving it connected to power.
The eye tracking feature is weird, because it can switch content to a secondary display by looking over at the other display. I say it's weird because I don't think that anyone ever asked for this.
Other things that it can do is darken the display when you step away from it, saving your work. Or it can warn you when someone is looking over your shoulder. As you can see, some of this stuff is somewhat useful, and some of it isn't.
At the end of the day, you probably won't end up using any of the AI sensor stuff. It's there if you want it, but if you're not interested, just take the IdeaPad S940 for what it is, a great laptop.
Performance
The model that Lenovo sent me includes an Intel Core i7-8565U CPU, 8GB RAM, and a 256GB SSD. And real-world performance is - wait for it - fine. Yes, it has the components that you'd expect from a premium ultrabook.
For something like this, you might have expected a fanless design and a Y-series processor. While no one likes the sound of a fan, Y-series processors are awful. When looking at an ultrabook, you really want the 15W U-series chip, instead of the much less powerful 5W Y-series, so I'm glad Lenovo didn't make a sacrifice here.
This is a productivity device, and I want to emphasize this more than I do on other laptops I review that don't have a dedicated GPU. The S940 is thinner, lighter, and more compact, which means that the cooling isn't as good. While those productivity tasks do just fine, it will start to choke up a bit more than normal when trying to do heavier tasks like photo or video editing.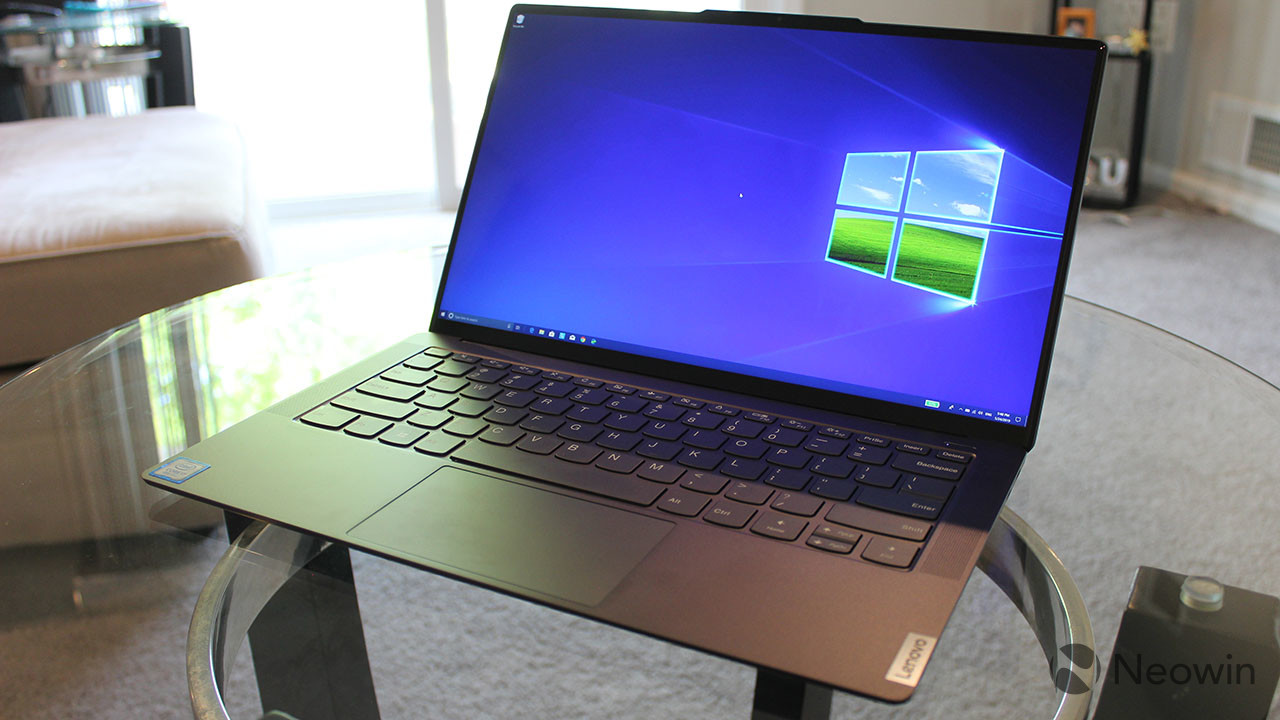 As far as battery life goes, screen-on time is pretty good, considering the 4K display. If you really want the best battery life, go for the 1080p model. In general, it gets five or six hours of screen-on time without going near a charger. The issue with 4K is that it has about 8.3 million pixels, or four times as many as 1080p, so it always uses more power.
The real problem with battery life is standby, and it's the only major drawback to the IdeaPad S940. If you close the lid on the laptop and throw it in a bag while it's at 80%, it could drop by anywhere between 20% and 50% by the same time tomorrow. By the day after that, the battery might be dead. It's not good, and I'm guessing that this has to do with Lenovo's AI sensors, trying to detect if you're nearby to wake it up. I'd also assume that this can be fixed with a firmware update to only activate those sensors if the lid is open.
For benchmarks, I used PCMark 8 and PCMark 10, as usual. PCMark 8 has three tests: Home, Creative, and Work. First up is the Home test, which checks common things like web browsing, video chat, and more.
The benchmark scores seem to come in a bit lower than other PCs I've used with a Whiskey Lake Core i7 and 8GB RAM, and I'm guessing that's due to the design of the device. Next up is the Creative test, which checks more GPU-intensive tasks like video editing and mainstream gaming.
Finally, the Work test checks productivity-related tasks like writing and spreadsheets.

The Work test is what really surprised me. I would have expected it to show a score beating at least 90% of other results, but that's not the case. I ran the test a few times to be sure, but got similar results.
PCMark 10 also provides an all-in-one benchmark test.
I really don't pay attention to benchmarks much, and I only include them in reviews because I know that there are people that like to keep score with these things. Truthfully, I've used enough machines with a Whiskey Lake Core i7, integrated graphics, and 8GB RAM to know what to expect.
Conclusion
To put it simply, the Lenovo IdeaPad S940 is a lovely device. Like I said in the very beginning, when you turn it on, it returns the favor. It definitely has one of the most stunning and beautiful displays that I've ever seen.
It actually first caught my eye at CES. Lenovo had announced the Yoga S940 and the Yoga C730, the latter of which offered a 4K OLED display. I walked in expecting to be impressed by the C730, and then the S940 blew me away.
And of course, the biggest downside is the standby battery life. Maybe I'd mark the lack of a touchscreen option as a con, but at the same time, not being able to touch it keeps the screen clean and free of fingerprints. I wouldn't call the AI sensors a downside; they're more of a feature that you just won't use.
Other than that, the IdeaPad S940 is pretty much perfect. It has an amazing display, and the reverse notch provides an innovative solution to the old problem of narrow bezels and moving the webcam to below the screen. That also offers an IR camera for Windows Hello. And of course, it has an awesome keyboard.
It's not cheap though. The model that Lenovo sent me will run you $1,799.99 (there's actually a sale right now marking it down to $1,295.99 on Lenovo.com), and if you spec it out with more RAM and storage, it will be even more. I think it's worth it though.
Pros
Beautiful Dolby Vision display Comfortable keyboard Dolby Atmos sound Performance
Cons
Standby battery life No touch