Like most mid-range devices, Lenovo's Yoga 730 looks to offer high-end features at a reasonable price, and it does a pretty good job of it. The convertible comes with quad-core Intel Core processors, pen support, and more.
The device has a feature-set that you'd expect from premium devices, including a full HD display, Thunderbolt 3, and a fingerprint sensor. It also has far-field voice microphones, with Alexa support coming soon.
Ultimately, it has everything that the average user needs in a premium PC. Here's our review:
Specs
CPU
Intel Core i5-8250U (1.6GHz)
GPU
Intel UHD Graphics 620
Display
13.3" (1920 x 1080) IPS, Anti-Glare Multi-Touch
Body
293x203.4x15.75mm (11.53x8.01x0.62in), 1.12kg (2.47 pounds)
RAM
8GB DDR4-2400
Storage
256GB NVMe Samsung
Battery
48Wh
Ports
(2) Thunderbolt 3
(1) USB 3.0 Type-A
(1) 3.5mm audio
Windows Hello
Fingerprint
Material
Aluminum
Color
Platinum Silver
Price
$849.99

This is the model that Lenovo sent me. You can get it configured with up to a Core i7, 16GB RAM, and 512GB SSD for $1,299.99.
Day one
Design
While the Lenovo Yoga 730 is definitely a pretty device, there's nothing that's really original about the design. It's the typical aluminum unibody with a silver color that we've seen from countless other mobile PCs. It also doesn't have the watchband hinge that Lenovo has included in various Yoga PCs, such as the flagship Yoga 920.
It's very light though, weighing in at 2.47 pounds. This makes it a great device to carry around, as when it's in your bag, you barely feel it. In my opinion, this is definitely a plus when it comes to a mobile PC.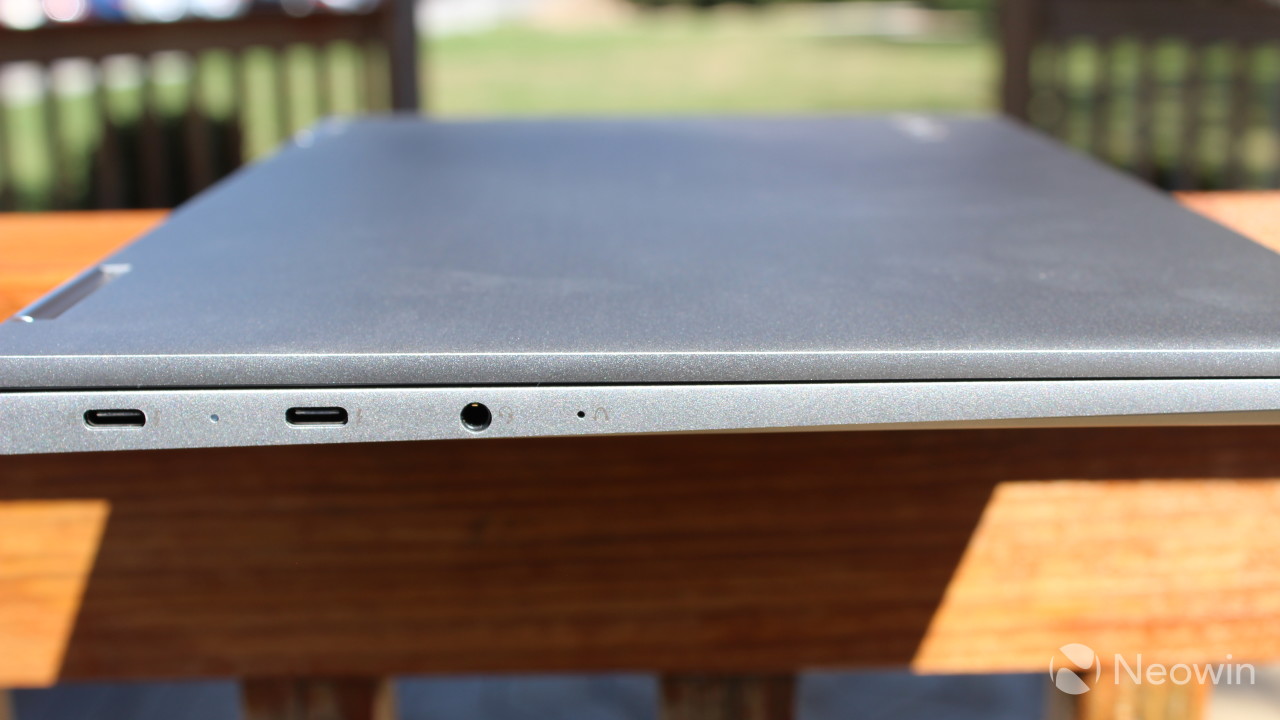 Aside from that, the Yoga 730 doesn't have an abundance of ports. On the left side of the device, you'll find two Thunderbolt 3 ports and a 3.5mm audio input/output jack. Thunderbolt 3 should typically support data transfer of up to 40Gbps, whereas a typical USB 3.1 Gen 1 is 5Gbps (Gen 2 is 10Gbps). A single Thunderbolt 3 port can support two 4K monitors, or one 5K monitor. Naturally, there are various docking stations that you can purchase to go along with this.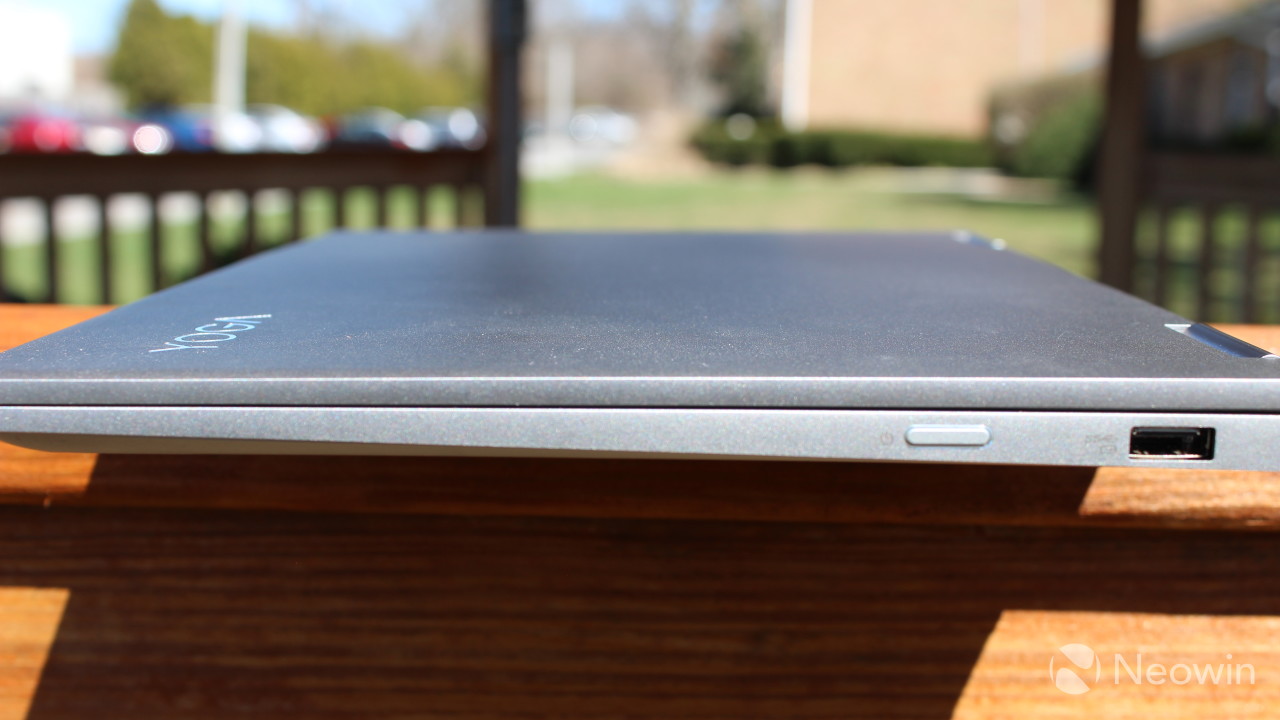 But you might not need a docking solution, because on the right side is a single USB 3.0 Type-A port, along with the power button. Many thin and light devices have moved away from USB Type-A, but I find that it's still very useful to have at least one port, as they're still useful for plugging in various peripherals.
One thing that I feel is missing is a volume rocker. To be fair, Lenovo hasn't adopted this into any of its convertibles (and they're still usually my favorite convertibles), but it is a feature that I appreciate in such a device.
The keyboard is just as you'd expect it, with Lenovo's rounded keys. Below that is an oversized trackpad, and to the right is where you'll find the fingerprint sensor.
Display
Unlike last year's Yoga 720, the 730 isn't offered in a 4K UHD option, so you're stuck with 1080p. I find this disappointing, since I still think that full HD is a bit low on a 13-inch display, but it does result in better battery life. The 48Wh battery size hasn't changed, despite the Yoga 730 being about a half-pound lighter than its predecessor. And indeed, I don't have any complaints about how long the battery lasts on this device.
Other than that, the specs say that the screen is anti-glare, although to me, it seems way too glossy for that to be the case. If you're looking for a true anti-glare screen, this is not it. Still, the glossiness gives it a premium look and feel.
Another thing to note about the display is that it does have pen support, which is great for a PC that comes in at this price point. It doesn't come with the pen though, which is fine. After all, that allows Lenovo to lower the price of the PC without sacrificing quality. Pen support is there if you want it, and you can always buy the pen separately, or just use one that came with another device.
The bezels on the sides of the screen are pretty slim, and the bezel above the display is a bit larger to make room for the 720p webcam. The bottom bezel is still quite large. I actually don't hate a wide bottom bezel, as it leaves the screen a bit higher from the desk, and it makes for a bigger footprint that Lenovo can use for a larger trackpad.
Keyboard
As always, Lenovo's keyboards are lovely to type on. The Yoga 730's keyboard is comfortable, and it's quiet, albeit a bit shallow.
In fact, there are some notable differences between this keyboard and one that you'd find on a ThinkPad Yoga. The obvious ones are the lack of a TrackPoint and other business-centric features, but the keyboard is also a bit more shallow than on a ThinkPad convertible. Personally, I think this is fine in a consumer mobile PC, especially when a huge chunk of the rest of the market is making shallow keyboards that are decidedly not comfortable at all.
One big difference is that Lenovo's consumer convertible keyboards don't retract into the device when you fold back the screen. On ThinkPad convertibles, the keys become flush with the palm rest, making it more comfortable to hold as a tablet. I've never understood why Lenovo doesn't adopt this method into its consumer Yoga PCs, because it's really one of my favorite features on any convertible.
The glass trackpad is quite large for a 13.3-inch device, and it's also comfortable to use. I have to say that Windows trackpads have gotten much better over the past few years, and if you're upgrading from a laptop that's a few years old, you're in for a massive improvement in terms of responsiveness, reliability, and accuracy.
Dolby Atmos audio and media experiences
The Lenovo Yoga 730 is actually a great machine for consumption. The speakers include Dolby Atmos audio, so the sound experience is great when listening to music. But being that it's a convertible, it's great for watching movies in tablet or tent mode as well.
At 2.47 pounds, the Yoga 730 is one of the lightest 13-inch convertible PCs around, so it's quite comfortable to carry around as a tablet. And those movies sound great due to the Dolby Atmos sound.
Tent mode is another popular use for a convertible. This means that the display is folded back to where you can prop it up and it looks like a tent. Personally, I'll use this in the kitchen while I'm cooking, whether it's for entertainment purposes, following along with a video, or even just displaying a recipe.
With pen support, there's an additional method of input when using it as a tablet, instead of just touch. You can use the pen to draw, take handwritten notes, leave reminders, write on photos, draw routes in Maps, and more. You can hover over a video and then use it to scrub to where you want the video to play.
The audio quality of the Yoga 730 is actually a huge feature. Many thin and light convertibles end up with a tinny sound that doesn't get very loud at all. With Dolby Atmos, you're in for a great experience listening to music or watching TV shows and movies.
Performance
The performance on the Yoga 730 is more than adequate for what you should be using it for. In other words, it's not a gaming machine, or a video editing workstation. It's fantastic for productivity and consumption.
The machine I was sent includes an Intel Core i5-8250U, and it can also be configured with a Core i7-8550U. This is pretty standard for what you'll find in a modern ultrabook or convertible. The new 15W chips are quad-core, whereas previous generations were dual-core, and that means an increase in performance of 30-40%, depending on your workload. Of course, you won't be using Hyper-V virtual machines on this, as it ships with Windows 10 Home.
For benchmarks, I used PCMark 8, which offers three tests: Home, Creative, and Work. First up is Home, which checks common tasks like web browsing, photo editing, casual gaming, video chat, and more.
As you can see, the Yoga 730 does quite well on the Home test, which is excellent for an $849 device. Next up is Creative, which focuses more on GPU-intensive tasks like video editing and serious gaming.
The Yoga 730 actually performed quite well on the Creative test for a machine with integrated graphics. Finally, the Work test checks productivity-related tasks, like writing and spreadsheets.
As you can see, this PC really shines in productivity areas, which is no surprise.
Conclusion
As I mentioned earlier, the Yoga 730 that Lenovo sent to me includes a Core i5-8250U, 8GB RAM, and 256GB SSD. This is the base model that you get for $849. If you ask me, this is the perfect PC for someone that's looking to get a great new PC, but doesn't want to spend too much money.
It's great for home uses, and that includes a great keyboard for typing, as well as great audio and video for media consumption. It even comes with pen support, for that extra layer of productivity.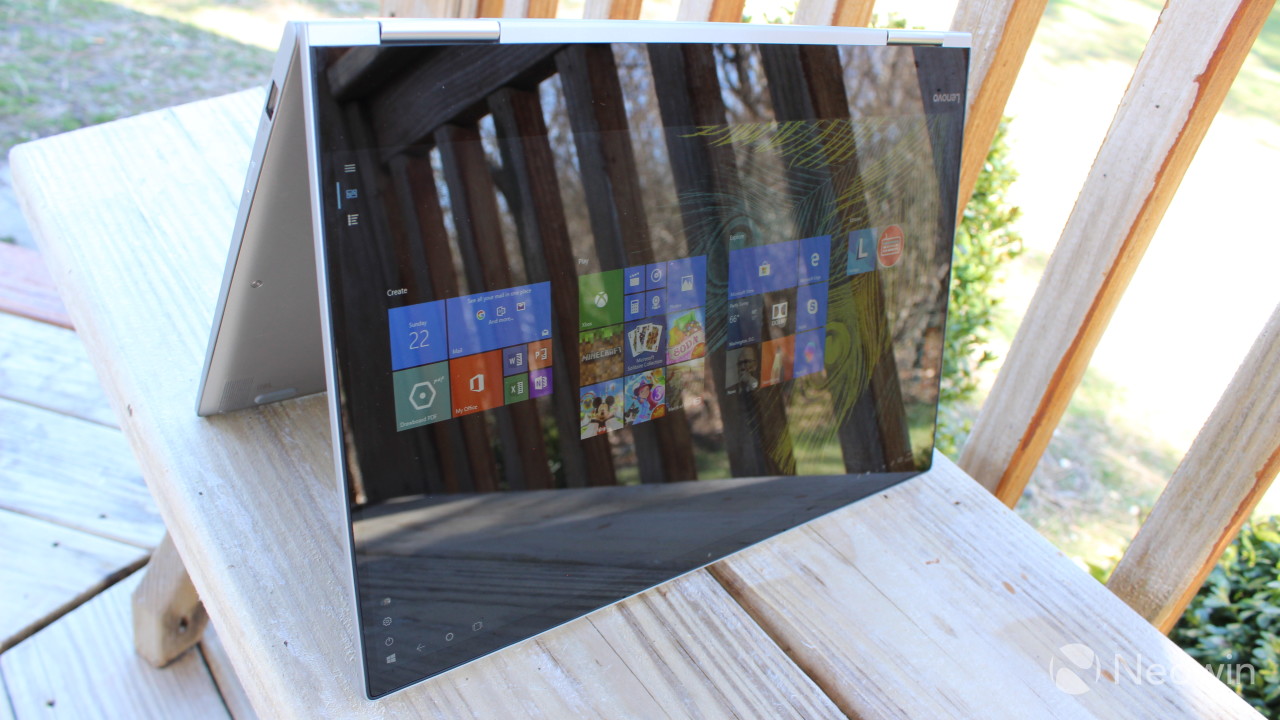 I really have very few complaints about the Lenovo Yoga 730, but if I had to think of a couple of cons, it would be that there's no 4K option for the display (you'll need the Yoga 920 for that), and that there's only one USB Type-A port.
There's also a 15-inch model if you need more power. That has the same processor options (a downgrade from last year's Yoga 720, which included 45W H-series processors), but with a 4GB Nvidia GeForce GTX 1050 GPU, an upgrade from its predecessor's 2GB GTX 1050. If you're looking for something with a larger display along with some GPU power for video editing or playing some games, take a look at the 15-inch model.
But for the average user that thinks its time for a new PC, you can't go wrong with the 13-inch Yoga 730. It's only 2.47 pounds, so it's perfect to take with you on the go.
Pros
Audio quality Keyboard Value Pen support Performance 2.47 pounds
Cons
One USB Type-A port No 4K option