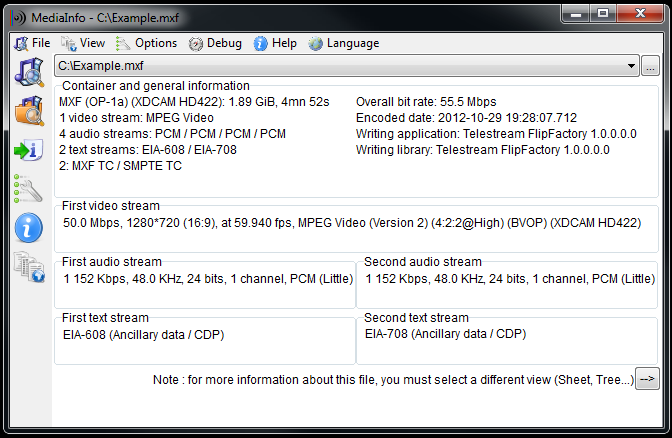 MediaInfo supplies technical and tag information about a video or audio file. MediaInfo provides details about a both video and audio details, including an tag information. Links are provided to Web locations for download of most video codecs and applications. File data is exportable in a variety of formats including CSV, text and HTML. Note: MediaInfo tries to install sponsored OpenCandy software during installation, make sure to cancel that before continuing.

What can I do with it?
Read many video and audio file formats
Different methods of viewing information (text, sheet, tree, HTML...)
You can customize these views
Exporting information as text, CSV, HTML...
Graphical Interface, or Command Line, or DLL
Integration with MS-Windows shell (drag 'n' drop, and Context menu)
Internationalization: any language display on any version of your Operating System
Localization capability (but volunteers needed)
What information can I get from MediaInfo?
General: title, author, director, album, track number, date, duration...
Video: codec, aspect, fps, bitrate...
Audio: codec, sample rate, channels, language, bitrate...
Text: language of subtitle
Chapters: number of chapters, list of chapters
What format (container) does MediaInfo support?
Video: MKV, OGM, AVI, DivX, WMV, QuickTime, Real, MPEG-1, MPEG-2, MPEG-4, DVD (VOB)... (Codecs: DivX, XviD, MSMPEG4, ASP, H.264, AVC...)
Audio: OGG, MP3, WAV, RA, AC3, DTS, AAC, M4A, AU, AIFF...
Subtitles: SRT, SSA, ASS, SAMI...
What's new in this version:
Turkish translations updated thanks to Burak
QuickTime: new field ScanOrder_Stored, displayed when display and Stored orders are not same (replacing ScanOrder_StoredDisplayedInverted field)
IMF: better support of IMF files having more than 1 ressource per track
IMF: better support of IMF files EntryPoint and SourceDuration fields
MPEG-TS: EBP detection
Excel VBA example (32 and 64 bit), in contrib directory
Node.js examples added, in contrib directory
GXF: support of DVCPRO HD
GXF: Media Type is reported
HEVC: added support of scaling_list_data
HEVC: deactivated general_profile_compatibility_flag validity test because some encoders do not implement it correctly
MPEG-4/MOV: Speed improvement, especially for full parsing of 100+ GB files.
File reading: Speed improvement of big files, especially for full parsing, with the help of a dedicated reading thread
Java binding: adding support of memory buffer as input, example with InputStream class (from RandomAccessFile or from FileUrl, including Amazon S3 authorization)
PTX: more files are supported
Ancillary data: more fomats are detected (OP-47 WST, OP-47 Multipacket, WSS, CEA-608, MPEG-2 Recoding Information...)
EBUCore output: update, with EBUCore 1.5 support
MXF: detection of Sony RAW SQ (by reverse engineering, not sure)
F432, AVI: detection of MPEG Video with Codec Id 0x02000010
AVI: detection of captions inside MPEG Video
MPEG-4/MOV: showing non-media streams (e.g. hint/rtp tracks)
#P81, HEVC: raw stream frame rate info, thanks to Kurtnoise
AIFF/Dolby E: detection duration of hidden Dolby E increased from 0.1 second to 1 second
#B833, FLV: some (out of specs) files were no more fully detected
#B828, HEVC/H265: parsing of final specification (vui_parameters() specs were modified)
#B835, HEVC/H265: bug fixes, thanks to KP Lau
#B838, AVC/H264: bug fixes, thanks to KP Lau
#B831, MPEG Audio: files with MusiFile header/trailer are correctly detected (but header/trailer are currently discarded)
#B836, XCode 5.1 compilation issue fixed, thanks to masterkain
STL: better support of non-English characters during decode
MXF: some properties were not displayed with OP-Atom files
JPEG-2000: wrong implmentation of COD parsing, with undefined behavior for some files
MXF: potential crash with small files
AAF: potential crash with small files
HLS: potential crash with small files
MXF: some video streams were wrongly detected as MPEG-2 video
MXF: better detection of some weird cases with interlace JPEG-2000 content
MXF: better support of files with more than 16 MB per frame (2.5 Gbps bit rate)
configure.ac: removal of problematical typos, thanks to Dmitrij D. Czarkoff
Files with the wrong extension: the file was sometimes fully read (very slow!)
AVI: Huge files (2GB+, with OpenDML) were sometimes parsed slowly
MOV: better display of metadata when tvsh atom is present
AC-3: some dependent streams ere not correctly detected
configure.ac: removal of problematical typos, thanks to Dmitrij D. Czarkoff
#B834, OpenBSD port: correction of compilation failure, thanks to Dmitrij D. Czarkoff
Note: MediaInfo includes 3rd party (optional) software, you should pay close attention to avoid installing unwanted products or just download the ''lite'' version without OpenCandy.
Download: MediaInfo 0.7.68 | MediaInfo Lite | 2.4 MB (Open source)
Screenshots: >>Click Here<<
View: Homepage