Meta has announced a new AI tool called Few-Shot Learner that it is already using on its platforms, such as Facebook, to fight back against misinformation and other harmful content. With Few-Shot Learner, Meta's systems can more quickly adapt to new threats and requires fewer, and sometimes zero, labelled examples to learn.
Aside from quickening up the AI learning process, the Few-Shot Learner AI works across more than 100 languages meaning that some French-language COVID-19 misinformation would be stopped in its tracks before someone could come along, translate it to another language, for example, English, and allow it to run rampant in English-language conspiracy circles. Much like some of Meta's other AI systems, the Few-Shot Learner is capable of learning from different kinds of data including images and text.
Discussing the new technology's potential, Meta said:
"We believe that FSL can, over time, enhance the performance of all of our integrity AI systems by letting them leverage a single, shared knowledge base and backbone to deal with many different types of violations. There's a lot more work to be done, but these early production results are an important milestone that signals a shift toward more intelligent, generalized AI systems."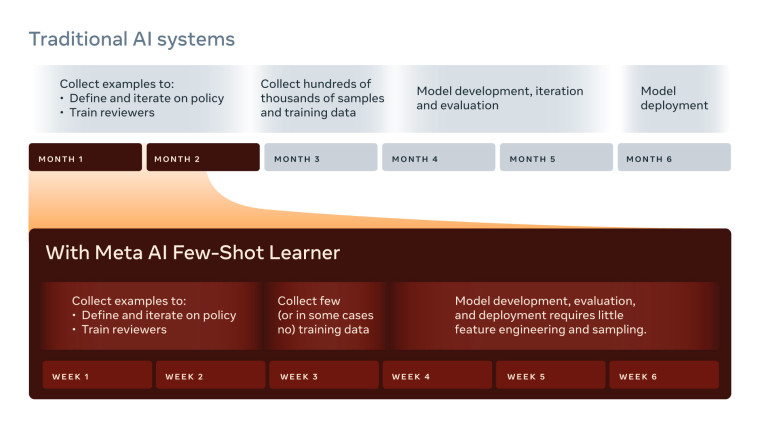 From training to deployment, Meta said that FSL can be deployed in around six weeks whereas traditional AI systems designed for the same task take as long as six months to deploy, making it easier for misinformation and harmful content to spread. If you'd like to find out about the gritty details of Few-Shot Learner, be sure to check out Meta AI's technical blog post.