Today, Microsoft announced Lists, its latest app to be included in Microsoft 365 commercial subscriptions. It's made as a way to track information across your business, sort of like a Trello competitor. You can use it to keep track of "issues, assets, routines, contacts, inventory and more".
Lists will come in the form of a web app and a mobile app. Lists home, as the web app is called (oddly, since it's not being offered to the Microsoft 365 subscription formerly known as Office 365 Home) can be access through the Microsoft 365 portal. From there, you can create your own list, or you can start from a template.
The Lists web app is coming this summer, and for Android and iOS later this year. It's also getting Teams integration though. Obviously, Teams is meant to be a one-stop shop for workplace collaboration, so you can view, manage, and create lists from right within the app. In fact, features within Teams seems to be in parity with the other apps, so you can even create rules, pin favorites, and so on.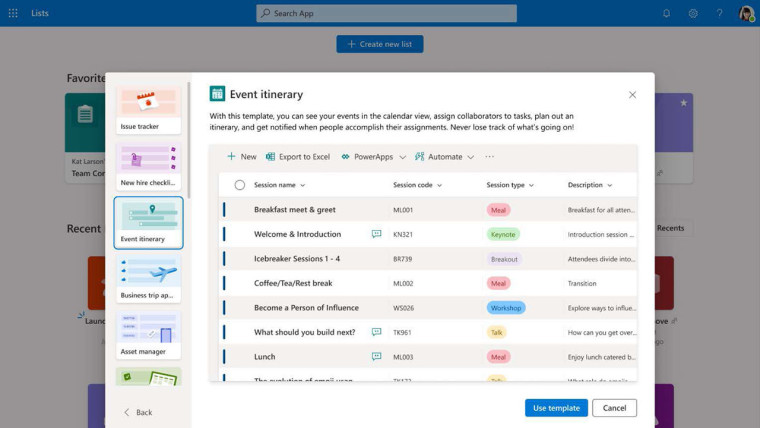 As mentioned above, there are a bunch of pre-made templates. Examples that Microsoft used are issue tracker, new hire checklist, event itinerary, and recruiting. These templates have different structures, related forms, and more. And if that's not enough, you can also use an existing list as a template, or make a list from an Excel spreadsheet.
As mentioned above, you can set different rules for lists with various if/then conditionals, and it will update values throughout the list. There are three different views for lists: grid, gallery, and calendar, but you can also create your own.
We'll start seeing the first of Microsoft Lists this summer.