Back in April, Motorola announced the Edge+ and the Edge, heralding the company's return to the flagship space after a few years of absence. I reviewed the Edge+ at the end of April, and now it's time to take a look at the device's less-expensive sibling.
The Edge comes with a Snapdragon 765 instead of an 865, 6GB RAM instead of 12GB RAM, and has the same 90Hz display. But there are two key selling points here. The first and most significant is that unlike the Edge+, the Edge isn't exclusive to Verizon, and that means that you'll actually be able to make use of its 5G capabilities outside of a few key areas.
The other is that at $699, the Edge costs $300 less than the Edge+, and the more I use Snapdragon 765 devices, the more I think that there's no actual reason to spend a thousand dollars on a phone. Moreover, if you order the device between now and August 2, it's just $499.99, half the price of an Edge+.
Specs
CPU
Octa-core Qualcomm Snapdragon 765, single 2.3GHz, single 2.2GHz, hexa-core 1.8GHz Kryo 475
GPU
Adreno 620
Display
6.7 inches, 1080x2340, 19.5:9, 385ppi, OLED, 90Hz
Body
161.6x71.1x9.3mm (6.36x2.80x0.37in), 188g (6.63oz)
Camera
64MP f/1.8 + 16MP f/2.2 117-degree ultra-wide + 8MP f/2.4 2x zoom, Front - 25MP f/2.0
Video
4K - 30fps, 1080p - 60fps, Front - 1080p - 30fps
Memory
6GB
Storage
256GB
Battery
4,500mAh, 18W TurboPower charging
Audio
Dual stereo speakers tuned by Waves, 3.5mm audio jack
Connectivity
Bluetooth 5.1
NFC
Wi-Fi 802.11ac
Networks: 5G: NR Sub-6GHz | 4G: LTE (UL Cat 13 / DL Cat 18) | 3G: UMTS / HSPA+ | 2G: GSM / EDGE
Bands: 5G: 1/3/7/28/38/78/78(HPUE)
4G: LTE band 1/2/3/4/5/7/8/12/17/20/26/28/32/38/40/41/41(CHINA)/41(INDIA)/66
3G: UMTS band 1/2/4/5/8
2G: GSM band 2/3/5/8
Colors
Solar Black, Midnight Magenta
Price
$699.99

Day one
Design
The Motorola Edge comes in Polar Black and Midnight Magenta. You can see my disappointment in the video above when I see that Motorola sent me the boring old black model, and then you'll see genuine delight when I opened the box and saw the phone for the first time. Yes, Motorola did the unthinkable: it made a black phone sexy.
Sure, it's a black phone, but it refracts light in a way that shows rainbow-colored reflections. It depends on the lighting, so it never looks quite the same, but it's the most beautiful black phone that I've ever seen. Seriously, talk about over-delivering on a product design. This is how you delight customers, by delivering something better than what they expected.
Also on the back of the device, you'll find the Motorola logo right where it usually is, etched under the glass. Motorola went for vertical camera lens alignment with this device, found in the top-left corner. It's nice that Motorola didn't go for the rectangular with rounded corners camera housing that we're seeing from Apple, Samsung, Huawei, and Google.
On the bottom of the device, you'll find both a USB Type-C port for charging and a 3.5mm audio jack. Yes, this is one of few premium devices with a headphone jack, and along with LG, Motorola seems to be the only one doing it. You'll also find the headphone jack on the Edge+.
The power button and the volume rocker are both on the left side of this device. And thankfully, Motorola didn't add any nonsense Google Assistant buttons like LG did with the Velvet.
I also find this to be a really comfortable phone to use. It's 15g lighter than the Edge+ and it's 0.3mm thinner. It still feels solid, and all of its curves and dimensions seem to be well thought-out. I noted this when I reviewed the Edge+, but I really don't think that Motorola took its return to the flagship space lightly.
Display
One thing that's exactly the same between the Edge and the Edge+ is the screen. Both have a 6.7-inch FHD 90Hz OLED display, and it's beautiful. Higher refresh rates have become common over the past year, and it's a good thing. All animations just feel smoother, and if you haven't used a 90Hz or 120Hz display, go to a store and play with one for a bit.
It's also a pretty display with vibrant colors. Indeed, I've always enjoyed Motorola's OLED screens. This one also has waterfall edges on the sides, which are either a good or a bad thing, depending on who you ask. While I don't love how curved edges tend to affect usability, I love the way this one looks. The curve is so steep that it feels like the display just sort of fades away, rather than ending at a bezel.
There's no always-on display, but as usual, it comes with the Peek Display that are common on Motorola devices. This shows the time, date, and notification badges for a little while before fading out. What's cool is that there's a bit of an animation on the Edge too, with a dark blue color swirling around the screen when this happened. It's quite nice.
The screen has a hole-punch cut-out for the front-facing camera, and it's tucked away in the corner so it doesn't feel very intrusive. It's also smaller than the cut-outs I've seen on some Motorola phones, like the One Action. Also found in the display is a fingerprint sensor, and it's quite good. I found the fingerprint sensor to be both fast and accurate, a far cry from the ones we saw hitting the market just a couple of years ago.
Motorola also has some more fun display features in its Moto app. For example, you can set up Edge lights, which shows lighting on the edge when you get a notification. There's also Edge touch, which shows a little bar on the side of the screen that can be set to do different things. You can swipe in for shortcuts, swipe up or down on it for recent apps or notifications, respectively, and you can double-tap on it to either turn the feature off or go to your most recently used app.
Camera
To be clear, just about every area of the Edge has some level of compromise when compared to the Edge+, except for the display. That includes the camera, but the camera is still pretty great. Instead of a 108MP sensor, there's a 64MP sensor that's paired with a 16MP ultra-wide lens and an 8MP 2x zoom lens.
As you'd expect, the 64MP sensor used quad pixel binning to produce 16MP images, and there's no option to take full 64MP images. I found the low light performance to be pretty solid, with or without night mode on, and night mode only seemed to serve a purpose when it was absolutely impossible to take a clear picture in normal mode.
Video capture includes support for 4K 30fps on the rear camera, and the lack of 60fps support is one of the key camera features that you'll miss out on by not going for the Snapdragon 8 series. Unfortunately, the front camera is limited to 1080p 30fps video capture.
While low light performance is pretty good, at least in terms of brightness and noise, there is an issue of stability. This is common in smartphones, because they have to leave the shutter open for longer to compensate for the lack of light. Unfortunately, that means that any movement can cause blurriness. Some companies are better at resolving this than others.
Performance and battery life
The Motorola Edge includes a Snapdragon 765 chipset and 6GB RAM. In fact, when it was announced, Motorola said it would have 4GB RAM, just a third of its Edge+ sibling. The RAM boost came later, along with a storage boost. The Edge was originally set to arrive with 128GB of storage, and ended up with 256GB.
The Snapdragon 765 is relatively new, at least in North American markets. I've been using it for about a month though, first with the LG Velvet and now with the Motorola Edge. I have to say, I kind of love it. With either device, I never found myself wishing I had something more powerful under the hood.
In fact, what I do find myself doing is wondering if there's any actual point to spending over a thousand dollars on a phone. Sure, thousand+ dollar phones are faster with better cameras, but is it worth it? With the Motorola Edge, the performance is all I need, and the camera is solid; also, it supports sub6 5G.
The biggest problem, and indeed my only real problem with the Edge, is that it doesn't support wireless charging. Battery life is actually excellent, so I didn't truly miss being able to let my phone sit on a Qi pad throughout the day. But still, it's a must-have feature for me, and I'm sad that it's not there.
For benchmarks, I used Geekbench 5, AnTuTu, and GFXBench. First up is the CPU test in Geekbench 5:
As you can see, the Snapdragon 765 falls somewhere between a Snapdragon 845 and 855 in both single- and multi-core. I've been saying for years that the Snapdragon 8 series offers a lot more than anyone actually needs, but the problem was that Qualcomm wasn't offering anything that did quite enough. I think the Snapdragon 765 checks that box nicely.
Next up is the all-in-one test in AnTuTu:
This score does come in a bit below the LG Velvet, which got 321,441. It seems to have lost to the Velvet in the CPU, GPU, and UX categories. Of course, the Velvet has the Snapdragon 765G, which is just slightly overclocked over the 765. Finally, GFXBench tests the GPU.
Conclusion
The Motorola Edge is an excellent device, and it's something that I'd be happy to keep in my pocket on the regular, if it had wireless charging. I can forgive that modest lack of performance by using a Snapdragon 765 instead of a Snapdragon 765G, but not having wireless charging is just something that I wouldn't put up with in a $699.99 phone.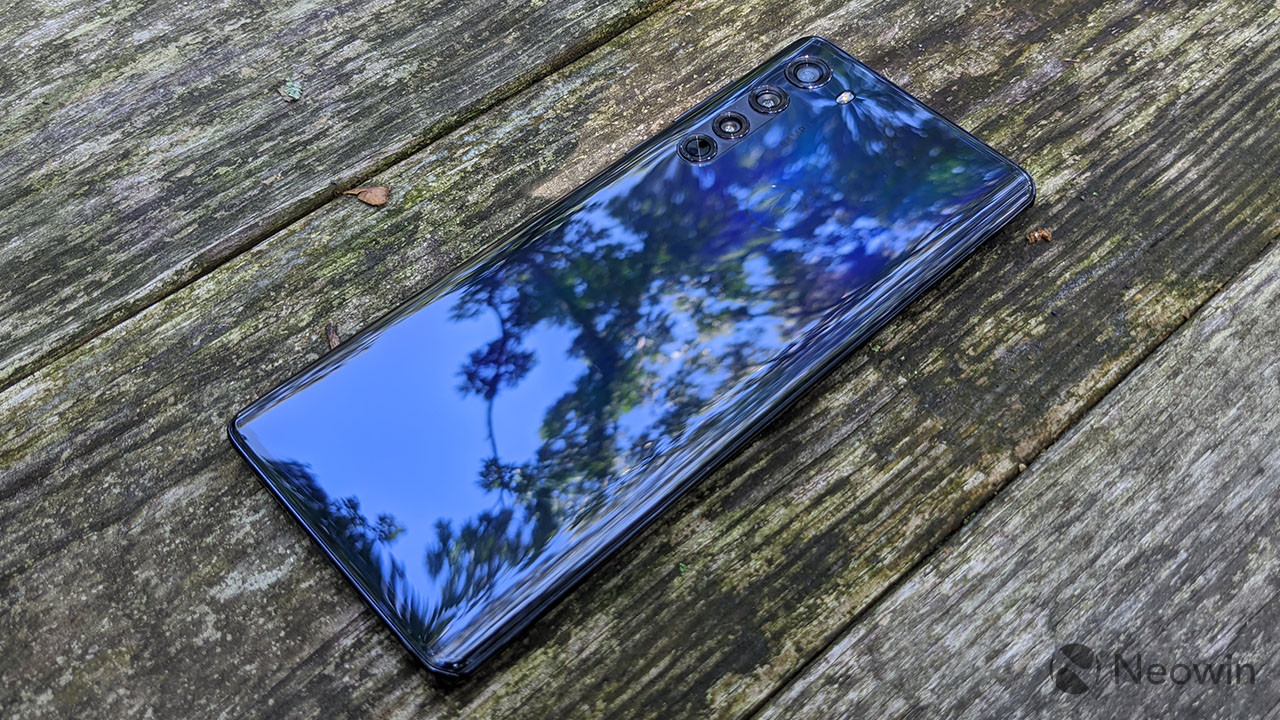 But the thing that really excites me is that you don't have to spend over a thousand dollars to get a great experience from a smartphone. The Edge has a stunning 6.7-inch 90Hz OLED display that looks great and feels good to use. It also supports sub6 5G, so you'll get a speed boost from any carrier that you use it on (except Verizon, but that's where you'd go for the Edge+).
If you're looking for a solid phone and you're not looking to pay 2020 flagship prices, the Motorola Edge is a great choice. Moreover, if you order now, it's $499.99, which is just crazy good. You can find it on Amazon here or Motorola.com here.
As an Amazon Associate, Neowin may earn commission from qualifying purchases.
Pros
90Hz OLED display Beautiful Polar Black color Solid camera Sub6 5G Snapdragon 765 perf