The Windows Phone community has long bemoaned the absence of new flagships running Microsoft's OS but that may soon change. Elephone is reportedly launching a new flagship that will feature both Windows 10 and Android as operating systems.
An unnamed Elephone was on display at a Hong Kong trade fair and as the image clearly shows, the upcoming device will be launching with both Android and Windows 10. Though dual-booting is a possibility it's far more likely that there will be two versions of the device with the same specs but different operating systems.
And speaking of specs this device boasts some fairly impressive ones including - please see below for even more specs:
An unnamed Intel SOC
2K display, 2560 x 1440 pixels
4GB RAM
Fingerprint scanner
A 21-megapixel Sony IMX 230 shooter
Elephone might not be familiar to many of you, but we recently took a look at one of their other flagships, the P7000, and the combination of powerful specs and affordable prices left us impressed.
When will this unnamed phone hit markets? That remains to be seen but it's obvious that the Windows 10 version will likely ship later rather than sooner, as the OS doesn't yet have a firm launch date.
Update: Neowin received some exclusive info and images on these upcoming devices. And yes there seem to be two versions coming, one specifically designed for Android with a Mediatek CPU, and a second one with an Intel CPU that will feature Windows 10 as well as Google's OS.
We also have the launch dates for the devices with the Android version shipping this May while the Windows version will supposedly come later this June.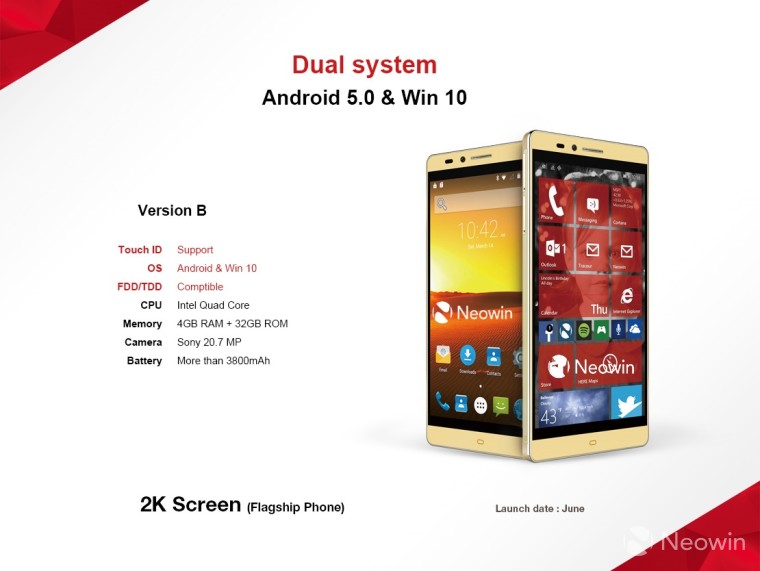 Source and some images: GizChina | Thanks Faikee for the tip!