Just after Christmas, Microsoft announced details of the three retail versions of Halo 5: Guardians that will go on sale this year, and opened pre-orders for each edition. The company didn't reveal too much about the three versions, although it did confirm pricing, with the Limited Collector's Edition set to cost an eye-watering $249.99.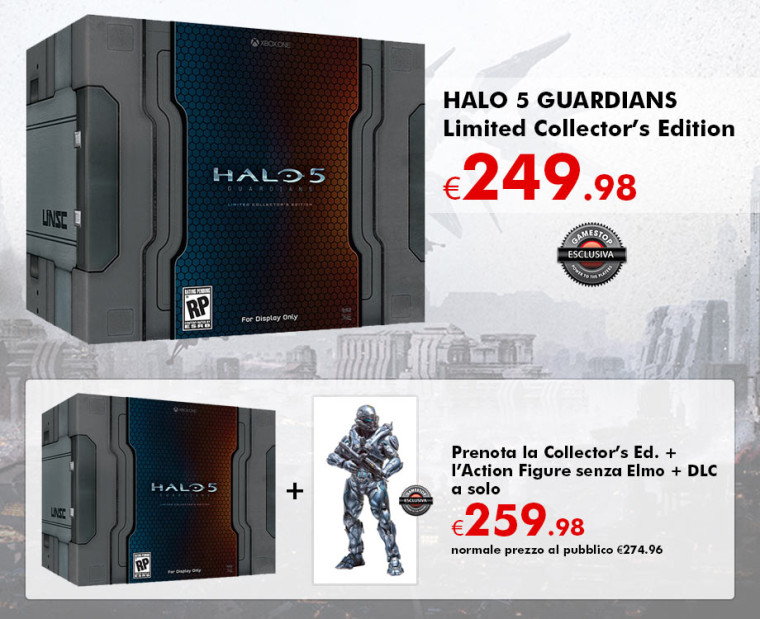 Now we've got our first look at the Limited Collector's Edition for the first time, thanks to GameStop Italy. Unfortunately, we still don't know exactly what's inside the box, as the retailer stopped short of letting that cat out of the bag.
Microsoft has previously stated that this special retail pack would include "new digital content to enhance Spartan combat and exclusive items wrapped in a uniquely designed steel book" (which are also included in the $99.99 Limited Edition pack), along with "additional content such as a commemorative numbered statue designed by 343 Industries".
This statue is likely different from the action figure shown in the images above; three of these figures will be available, and the Spartan Locke version will be exclusive to GameStop in Italy. They can be pre-ordered separately for €24.98 EUR each, or the Locke figure can be added to the Limited Collector's Edition pack for only €10.
Microsoft recently revealed official artwork for the new game, along with what the company called an "animated poster". Halo 5: Guardians is set to launch on October 27.
Source: GameStop Italy via BGR