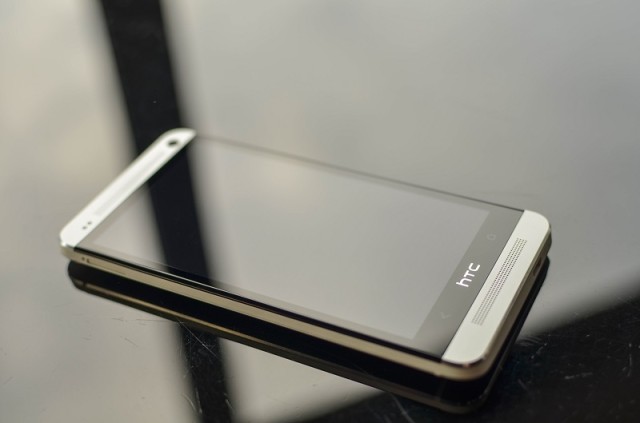 HTC has been struggling for a long time now. The Taiwanese company, once being a prime contender in the Android and Windows Mobile space, has seen its marketshare eroded by other, bigger and much more invested companies such as Samsung and Nokia. 
HTC has been trying to claw back some of that lost marketshare and they have finally started producing higher quality hardware with inspiring designs and interesting software. And though most of their recent handsets have received critical acclaim, such as the HTC One X and the 8X, none has seen commercial success in a big way.
Struggling with abysmal financial reports, the company has launched their brand new Android flagship phone: the HTC One. And they desperately need this one to be a hit.  
I have used the HTC One as my primary phone for over two weeks now. The device has an interesting design and impressive specifications but is this enough to win in the marketplace? Read on to find out.   
Design 
HTC used to be famous for very good design sense. Their older phones used to look alike one to another due to the company settling on a very beautiful, highly functional design. However, too many devices using the almost exact same blueprint led to fatigue and lack of differentiation in the store. Consumers couldn't grasp the slight differences in internal components or Android versions that all those phones had between them. To most people they all looked like the same device, and not a very interesting one at that. 
So HTC took a different approach with this phone, and in my opinion, they did an absolutely fantastic job. 
The first time I saw press pictures of the HTC One I said it looked somewhat like an iPhone. And so I wasn't impressed at all. However, with more pictures coming out and finally getting to see the phone in person my impression changed radically. The HTC One is one of the most beautiful devices I have seen. 
The One is a 5-inch slate, with a curved aluminum back. The curve on the back makes the phone comfortable to hold and gives users a proper grip on the device. It also helps to make it appear thinner than it actually is. This trick was also used on the HTC 8X but this time the aluminum is much more gently curved giving a more refined and "professional" look. 
The silver flow of the aluminum is broken by hard-plastic lines to allow the antennas to function better. These are thin, elegant and they drive away the monotony of a monochrome back cover. Also on the back there's the camera, about which we'll talk more later, the LED flash, a very small microphone, the HTC and Beats Audio branding as well as the usual quality assurance logos. 
On the bottom the device has a micro-USB Port that also doubles as an HDMI port via and MHL adaptor.  
Up top users can find the 3.5mm audio headphone port as well as the power button. The power button is positioned somewhat awkwardly on the left side of the device rather than the more traditional right side. I'm not sure why exactly this is, but it occasionally makes for some weird finger stretching when trying to turn the device on or off. However, this is not a big deal as I got used to it fairly quickly. The Power button also doubles as an infrared blaster that can be used to control TV sets and set-top boxes. 
On the front there's the 4.7-inch screen. It goes from side to side with no bezel and it's perfectly flush with the top and the bottom aluminum panes. On top you can find the front-facing camera as well as the proximity sensors. Both on the top pane and on the bottom one there are tiny holes making up a grill covering the speakers. The speakers themselves are a thing of marvel but more on that later. 
If we talk about size this phone is big. It's not huge, nor uncomfortable, nor heavy, but it is nonetheless big. The screen is 4.7 inches while the phone itself is just over 5 inches. It weights 143 grams (0.3 pounds) but the weight is very well distributed and the phone ends up feeling lighter than it is. It's also 9.3 mm (0.37 inches) thick, but as I mentioned earlier the curved back helps with this, making the phone appear even thinner. 
Finally, this phone has style. It looks gorgeous and the aluminum and compact feel of the device make it very clear that this is not a toy. The superb build quality, at least on par with the iPhone 5, lets you know that this is a piece of precision engineered technology. Very powerful technology that says something about you as an individual. 
Display 
Though we usually integrate this in the Design or Specifications part, the HTC One's display gets a separate section, as well it should.
The display on this device is quite simply the best display I've ever seen. It comes in at 4.7 inches diagonally and packs a full HD resolution, 1920x1080, into those few inches. This leads to approximately 469 pixels per inch, which makes this the clearest, most crisp display on the market today. For comparison the iPhone 5 has 326 ppi and Samsung's Galaxy S4 has about 441 ppi. 
The HTC One screen uses Super LCD3 technology. This gives it superb viewing angles and near perfect color reproduction. It's also pretty bright. It's not the brightest display out there but it definitely gets the job done even in full, middle-of-the-day, direct sunlight. The screen is clear and very readable even in those conditions. 
The glass on the display is Corning's Gorilla Glass 2. This gives it very high resistance when it comes to bumps and scratches and considering the screen is boxed in by aluminum and high quality plastic I'd venture a guess and say that it is in fact very hard to damage this display.
By the end of my first day with the device I was desperately trying to find something wrong with the display. But I couldn't. I couldn't find a single thing wrong with it. It is the best display on the market and I am deeply in love with it.  
Specifications  
The HTC One is a very, very powerful device. We go into detail in the Performance section but to give you and idea of the power of this device you just have to read the spec sheet. From the full HD resolution of  the screen to the brand new quad-core Qualcomm Snapdragon 600 to the full 2GB of RAM this device is packed with power. You can also see a ton of connectivity options including Bluetooth 4.0 and NFC as well as something interesting in regards to the camera: only four megapixels. I elaborate on all these features below so keep on reading.
 
HTC One
Product Codes
PN07100
3G/4G Bands

HSPA+ Quad-Band (3G) 42 Mbps ↓ 11 Mbps ↑

LTE 100 Mbps ↓ 50 Mbps ↑

Display

4.7-inch Super LCD3 display at 1920x1080  469 ppi pixel density

Processor
Qualcomm APQ8064T Snapdragon 600 Quad-core 1.7 GHz Krait 300
Graphics
Adreno 320
RAM
2 GB
Storage
32/64 GB internal storage
Connectivity

Wifi 802.11 a/ac/b/g/n
Bluetooth 4.0 with A2DP
A-GPS and GLONASS
NFC
IR

Camera
Rear: 4Mpx| 1/3'' sensor size, 2µm pixel size| 1080p/30fps/60fps video, OIS, HDR| LED flash
Front: 2.1 Mpx| 1080p/30 fps | HDR
Simultaneous HD video and image recording
Ports
MicroUSB
3.5 mm audio jack
micro-usb
HDMI via MHL adaptor
Sensors
Accelerometer
Gyroscope
Light sensor
Proximity sensor
Compass
Battery
Li-Po 2300 mAh non-removable
Launch OS
Android 4.1.2 Jellybean, upgradeable Android 4.2.2
Launch Date
March 2013
Size & Weight
137.4 x 68.2 x 9.3 mm
143 g
Price
Unlocked $700
On 2-year contract $199
Performance  
When it comes to performance the HTC One shines. As noted earlier it is powered by the brand new quad-core Qualcomm Snapdragon S 600 which runs at 1.7Ghz. The phone also has 2GB of RAM memory so even when you're using large and powerful apps there's little or no lag.  
In fact the phone is so powerful that I haven't found a single instance of lag that's not directly attributable to Android. I'm referring to the usual scrolling issues in certain apps like Twitter, problems that Android has had for many years now and that still haven't been fixed. However these issues are device agnostic so they are not relevant when it comes to how well this particular phone performs. 
When it comes to the Quadrant benchmark the One blows past the competition and scores an average of 12.300 points. The only phone that probably comes close right now is the Galaxy S4 because some of its variants use the exact same CPU. 
The Futuremark Peacekeeper test is a multi-platform benchmark that's run in the browser of the device. We always run it in the default browser. The benchmark varies wildly because of browser optimization, and as such no phone has ever come close to Apple's iPhone 5.
The HTC One manages to beat out all other device in the Vellamo benchmark. That's due to the brand new new Snapdragon S 600. Other factors that influence this test are how well the OS is optimized for the chipset and which OS version the device is running.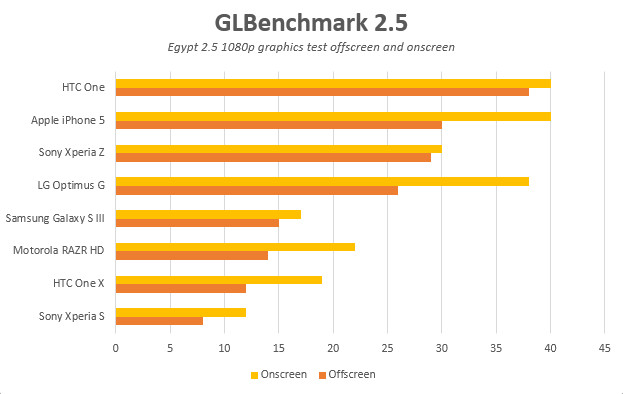 The last synthetic benchmark we ran is the GL Benchmark 2.5 which focuses on graphics rendering. The HTC One blows past everybody with very close result both on and offscreen due to the 1080p resolution of the display. You can see a clear difference betwen the One and the Sony Xperia Z. Both devices have the same resolution and GPU but the new Snapgradon S600 CPU shows its power over the older S4.
The HTC One does well even in graphic intensive games such as the latest iteration of Asphalt, which usually makes other devices drop frames and even freeze. The One never had such issues and made for a great gaming experience. 
The same goes for media playback. I have consistently played HD movies on the device and they look absolutely amazing. I have yet to see a frame drop or stutter when playing media. Couple that with the amazing screen and the great speakers you've got yourself a very good package when it comes to consuming media. I  have to say that the HTC One is the only handset that I would actually use to watch movies. 
I mentioned the speakers above but that needs to be expanded upon. Loud speakers are not generally a feature most people care about and that's because most speakers on handsets are very bad. But the speakers on the HTC One with their special positioning on the front of the device are pretty incredible by mobile phone standards. 
Most of the time the sound is very clear and loud and the Beats Audio feature actually helps by adding some depth to the low end of the sound that wouldn't be there otherwise. This can be especially powerful when viewing the device from the front, where the speaker's range is at it's best. You might have seen HTC's promo videos where they play music on the device in Times Square. That's not a media stunt. The One's speakers can easily be heard anywhere and the sound quality is unrivaled on a handset. 
The same goes for phone calls. They are clear and crisp provided you have a decent signal. And speaking of signal the HTC One has never dropped a call and has consistently held a steady connection averaging somewhere around 7Mbps down even in crowded radio-intense spaces.
Camera 
With 1080p HD screens, quad and octa-core CPUs, and more RAM than some low-end laptops most smartphones nowadays have pretty much plateaued when it comes to performance. However, the camera, is one part of the device that is still constantly evolving and becoming better. Apple's iPhone is pretty much the de facto standard  when it comes to mobile photography while Nokia has introduced some awesome advancements when it comes to low-light photography and optical image stabilization. 
HTC also tried to bring some innovation to the camera of the One. And this comes via "Ultrapixels", an approach that doesn't rely on a massive number of megapixels but rather on oversized individual pixels in the camera's sensor. These oversized pixels allow a lot more light to reach the sensor and should, in theory, allow for much better photographs, especially in low light. 
Unfortunately this approach doesn't pan out too well for HTC. The One's camera is quite underwhelming by today's standards.  
The "ultrapixel" approach does indeed let a lot more light reach the sensor and when it comes to low-light scenarios I would say the One definitely has one of the better cameras out there. However, this still doesn't compare to the iPhone 5 or the Lumia 920. The iPhone has pretty much the same level of noise but much better color reproduction while the Lumia 920 beats both of these phones when it comes to clarity, noise levels and color reproduction. 

This is the best image I could take with the One in low light

This was taken with the flash and the colors are off

Very soft and very bad color reproduction here though light was ample
In day to day, normal outdoor shots come out noisy and soft. Now they are by no means horrible, but they are not impressive in any way. This is because of the relative low resolution of the sensor as well as due to a lot of post-processing that happens to each individual photo. The quality is decent when photos are resized for Facebook or Instagram and this will definitely be enough for most people. But if you're one of those people that prefers to save their full-resolution pictures to the desktop then prepare to be disappointed.

100% crop of the image above

Again, bad result though light was ample
The color reproduction is also mediocre. Most pictures are washed out even in ideal conditions: lots of light, contrast, static subjects. I'm not sure if this is because of the processing, the software or because of the sensor itself though I'm betting on the latter. 
One of the redeeming features of the camera is that the phone is so powerful that it saves images instantly. There's literally no waiting time between the moment you take a picture and the moment you can take the next one. In fact you can actually take multiple pictures at the same time by tapping the button repeatedly in a sort of improvised burst mode.
Another positive aspect of the camera experience is the software itself. HTC has integrated some very interesting and useful software features when it comes to taking photos and video with the One. 
Zoe, for example, is a weirdly named but very useful feature. It allows users to take a very short movie similar to what Vine does. But unlike Vine, users can then go and take out still frames from the movie and save them as individual full resolution images. The camera actually films and takes photos at the same time so the resulting shots look good and not like screenshots from a movie. The device saves one second of footage from before the shutter is pressed and three seconds afterwards. This may seem weird at first but it's actually incredibly useful when your subject is moving.

Image cropped from a Zoe still
A disappointing aspect when it comes to Zoe is that there's no way you can actually share the movie with someone. Sure, there's HTC's proprietary sharing service but a very limited number of people will actually use that. Users want access to the popular social networks such as Facebook and Twitter and so far there's no way to share a Zoe film on there.
Another annoying aspect of Zoe is that you usually end up saving hundreds or thousands of images to your PC. When a user transfers the images from the device every frame of a Zoe film is saved as an individual image so forgetting to turn of Zoe may eat up a lot of you storage space both on the device as well as on your desktop.
The HTC One is also capable of filming 1080 HD video. This works well though all the problems above still apply. The device has optical image stabilization and this reduces the camera movement that our jittery hands usually cause while filming or taking a long exposure image. On the software side of things the device has a "slow motion" mode that shoots at 60 fps and then relays that at the normal 25 fps speed creating slow motion movies. This feature in itself works well but the resulting quality of the video is sub par.
Another annoying feature is that all the camera options are in the same place. Sure, this might sound convenient at first but having all the photo and the video options in the same place can be a hassle especially when you're trying to change a setting fast and you have to scroll down through a long list of options.
All in all the camera left me disappointed. And that's very unfortunate as I really believe that HTC has some very good ideas when it comes to photography. The "ultrapixel" approach is definitely a good one but limiting the sensor to only 4 Mpx did a lot of damage to the image quality.
The badly-named Zoe feature is actually really useful and I wonder why it's not on every phone. Options such as 60 frames-per-second filming and "slow motion" are definitely interesting and I'm sure many enthusiasts would love to have this on their smartphones. But the resulting quality of the videos and images is bad. It's so bad that in my opinion it makes these great features almost unusable.  
Sense 5.0 
One of the virtues of Android in OEMs' eyes is that they can pretty much do whatever they want with it, including skinning it. For the sake of differentiation all manufacturers do this. HTC is no different and they always add a Sense layer on top of Android. Sense is their trademark skin but in this latest iteration, dubbed Sense 5.0, HTC has taken a step back and presented a much lighter and better theme. 
Sense 5.0 is considerably lighter that its predecessors and the HTC One is considerably more powerful so the addition of the skin has finally stopped having a negative impact on the performance of the phone.
That said, Sense is still a useless add-on and does absolutely nothing for the user. Android has finally got to a point where its design is decent; no longer cartoony or inconsistent, it does present a fairly beautiful UI across the operating system. Sense 5.0 is here to mask that, and replace it with a colorful, "Fisher Price UI " that is inconsistent and makes little sense. 
The place where this is most obvious is in the Settings menus. Rather than present the classic Android settings that users know, we now get a completely redesigned and rearranged Settings menu where things are never where you expect them to be. 
It took me a long while to get used to this but what's even worse is that you occasionally end up in the classic Android design. I'm never exactly sure how I get there but HTC seems to have forgotten to skin some of the menus. This inconsistency is seldom encountered but it's annoying nonetheless. It's a rare bit of skimping out on an otherwise very polished device. 
Blinkfeed is the newest addition to the Sense skin. Blinkfeed is a much touted feature that lets users glance at their homescreen and find out the latest news from news sites and social networks. It's sort of a mashup between Microsoft's Live Tile concept and Flipboard's design. It looks very well on the phone's screen and the black and white minimalist design is very beautiful. However I don't think it's a good feature. 
Though it might appeal to some users, the limited news sources and cumbersome, inconsistent way it displays info makes this feature pretty useless and occasionally annoying. What's more you can't even turn it off. The best you can do is switch it over to a sidescreen and keep your homescreen clean.
Another bit of new software is the TV app that's bundled. You can use it to control your TV or set top box via the phone's power button that doubles as an IR blaster. The setup is fairly easy in the app, you just have to go through a few screens and select your country, service provider and your TV's brand. The TV app also doubles as a TV guide and you can search for your favorite shows. It's simple and works decently but this isn't a noticeable feature in any way and only very few users will actually use this.
In the end Sense has become much better than it used to be. It's lighter and it no longer hampers the user or the device. That being said it's still a useless and inconsistent addition that may confuse some users. Blinkfeed is an interesting feature but a pointless one. HTC should have touted the strengths of this device, of which there are many, instead of going on with this useless marketing spiel.  
Battery Life 
When it comes to battery life the HTC One does not impress. The device does come with a 2300 mAh battery which is pretty big by smartphone standards but that doesn't last very much. The 1080p HD screen and the very powerful quad-core processor use up a lot of power. Same goes for the LTE radios, all the connectivity and so on.
I've never had the One die out on me but that's mostly because I always had a charger present. For the two weeks that I used the device I never used LTE because it's not yet properly available here. But even so I had some pretty mediocre battery life. 
A typical day would consist of sorting through e-mails, listening to a lot of music on headphones, some texting, a bit of calling and some decent amount of web surfing though that usually happened via Wifi. I usually set the brightness somewhere around 60% or just hit the Auto switch.   
By noon I'd have somewhere around 50% battery left and by 5'o clock in the evening I would be reaching for a charger. If the charger was absent I would be getting really nervous because there was basically no way I could go out without the phone dying on me. And keep in mind this is without LTE or gaming. 
I also did a few video tests where I'd watch movies and the phone and see how long I could go for before needing a charge. Something long and graphically rich such as a Lord of the Rings movie looked incredible on the 469ppi screen but by the end of a 3 and a half hour run the phone would only have around 30% battery left. 
In our official battery benchmark the device fared somewhat better though it's still far from impressive. The test consists of continually looping a 720p video at 75% brightness and Airplane mode turned on.  As you can see the device is pretty much on par with the Sony Xperia Z that also has an 1080p screen.
| Device | Movie Playback Life |
| --- | --- |
| Samsung Galaxy Note II | 12:47 |
| Motorola RAZR HD | 11:49 |
| Motorola RAZR | 9:31 |
| HTC One XL | 9:03 |
| Samsung Galaxy S III | 8:41 |
| Motorola RAZR V | 8:32 |
| HTC Windows Phone 8S | 7:28 |
| HTC Windows Phone 8X | 7:15 |
| Nokia Lumia 920 | 6:57 |
| Sony Xperia S | 6:50 |
| Sony Xperia Z | 6:30 |
| HTC One | 6:27 |
| LG Optimus 4X HD | 5:16 |
HTC has added some software enhancements to preserve battery life. They mainly consist of turning on the "Battery saving mode" that limits the connectivity of the phone and the ability of apps to get data while closed. Of course this does make a noticeable difference in battery performance but it also limits the capabilities of the phone so it's up to users to decide whether this is worthy trade-off. This mode seems to turn itself on by default once your low on battery life and I couldn't find a way to turn it off. What I did find was a way to limit what it does rendering it into a dummy setting. 
There's also a "Fast Boot" option which should preserve battery life when it's turned off though I don't understand how this works nor have I seen any difference when I toggled it on and off. 
All in all the battery life is pretty mediocre and the HTC One will have users reaching for a charger more often than not. This is unfortunate as battery life seems like a secondary trait but it greatly influences,  both in positive and negative terms, the way folks use their devices and how happy they are with them. 
Conclusion 
The HTC One is a great device. It is by far HTC's best smartphone both in terms of design, build quality and specifications. And right now, I believe it is the best Android smartphone out there. The Samsung Galaxy S4 will challenge that soon enough but from everything we've seen Samsung's new phone is nowhere near the One in terms of design and build quality. 
That being said I believe HTC made some major mistakes with this device. And these are mainly focused on the way they are trying to market it. The have added some interesting software features and some "real innovation" when it comes to the camera but those are not this phone's strengths. 
HTC has raised our expectations with the "ultrapixel" camera and Sense 5.0 but both of those features are disappointments. As noted above the camera, though better in low light than most other smartphone cameras, is still a wild disappointment. The photos are soft, noisy and have bad color reproduction. The 4Mpx sensor simply isn't up to the job and the over processing of the images leaves them looking bland and uninspiring. 
The same goes for Sense 5.0 which unlike its predecessors doesn't do any harm, but it doesn't do any good either. It's just a useless, cartoonish skin that confuses Android users. And Blinkfeed is nothing more than a glorified, though less customizable, Flipboard which users can't turn off. 
These are not strengths, these are annoyances and marketing spiel. And it makes me very angry that HTC has put so much effort and has created what is literally the best Android smartphone I have ever used, and then they sabotage themselves with idiotic marketing and focusing on the wrong features. 
Instead of talking about those so called features HTC should have focused on what makes this phone so good. The incredible screen that's 1080p HD and crisper than anything you've ever seen with outstanding viewing angles and great color reproduction, the innovative speakers that are never mentioned in the marketing material but that are simply the best speakers on any smartphone and they make for a great multimedia experience.
They also should have shown how the very powerful internals rip through most benchmarks and that normal day to day users will never see any instance of lag or of dropped frames and that games run better than on any other Android handset. And finally they should have showed again and again how awesome this phone's build quality is. How great the design and how beautiful the finished product really is. I
Though the company may have changed its motto, but "quietly brilliant" perfectly defines this phone and HTC's efforts with it. 
Should you buy it? It depends. The HTC One's price varies from market to market and it occasionally comes with a hefty premium on top. If you're just looking for a great Android phone there are quite a few other options at lower price points.  But if you're in the market for the best Android handset this might be the one for you. The battle will be fought out between the HTC One and the Galaxy S4 and you should wait until both phones are on the market so you properly shop for the best price. 
If you care a lot about build quality, design and consuming media on your device than the HTC One is probably the best one you can get. Unfortunately it comes with two important caveats: a mediocre camera and the not so great battery life. If those two are important to you then you might look somewhere else.