Sometimes you only need to tweak a formula to hit the right combination, which is Nokia's mentality when it comes to their flagship Lumia 920 smartphone with Windows Phone 8 on board. Nokia already had a winning design that had been used on the Lumia 800 and Lumia 900, plus a decent portfolio of exclusive apps, so when it came to a new device a mixture of old and new would theoretically do well.
While plenty of things from previous Lumias have made it to the Lumia 920, new features are abundant and interesting. There's a brand new rear camera with optical image stabilization, giving it the "PureView" name; a "PureMotion HD+" IPS LCD display with a high-sensitivity touchscreen; Qi wireless charging alongside near-field communication (NFC); and the now-standard Qualcomm Snapdragon S4 dual-core chipset.
Before I get straight into the reviewing, a big thanks needs to be made to MobiCity who once again were able to ship out a Lumia 920 to me before they became officially available here in Australia. I'm glad that, thanks to them, I can finally share my opinions on perhaps the most prolific flagship Windows Phone ever made, so let's get started.
Specifications
Everything you'd want in a flagship Windows Phone, bar a few features, is available right here in the Nokia Lumia 920. There's a tried-and-true Qualcomm Snapdragon MSM8960 dual-core chipset inside, packing two 1.5 GHz Krait CPUs and an Adreno 225 GPU alongside 1 GB of RAM, plus 32 GB of on-board storage, Cat. 3 LTE, NFC, dual-band Wi-Fi and Qi wireless charging for the 2,000 mAh battery.
As previously mentioned the device packs a 4.5-inch 1280 x 768 IPS LCD display protected by Gorilla Glass 2, and the camera is an 8.7-megapixel sensor with Carl Zeiss optics, dual-LED flash and frequently-touted optical image stabilization.
Out of all the features the two that jump out to me as negatives are the weight - surprisingly heavy at 185 grams - and the lack of a microSD card slot for expanding the storage. The good news is that with 32 GB of on-board storage, unlike the HTC 8X, this should be less of an issue as you'll be able to fit a lot of content in the already present storage.
 
Nokia Lumia 920
Product Codes
Lumia 920
3G/4G
HSPA+: 42 Mbps ↓ 11 Mbps ↑
LTE Cat. 3: 100 Mbps ↓ 50 Mbps ↑
Display
4.5-inch IPS LCD at 1280 x 768
332 ppi pixel density
Corning Gorilla Glass 2
Processor
Qualcomm Snapdragon S4 MSM8960
1.5 GHz dual-core Krait CPU
Graphics
Adreno 225
RAM
1 GB
Storage
32 GB internal user storage
Connectivity
Wi-Fi 802.11 a/b/g/n (dual-band)
Bluetooth 3.0
A-GPS and GLONASS
NFC
Camera
8.7 MP rear camera with Carl Zeiss lens, dual LED flash and OIS
1.3 MP front camera
1080p video recording (rear) and 720p recording (front)
Ports
MicroUSB
Micro SIM
3.5mm audio jack
Battery
Li-ion 2,000 mAh non-removable
Qi wireless charging
Launch OS
Windows Phone 8
Launch Date
November 2012
Size & Weight
130.3 x 70.8 x 10.7 mm
185 g
Price
Unlocked & Outright: AU$799 (Buy now!) | £499.96 ex. VAT
Design
Nokia are not afraid of recycling their old designs, which is exactly what has happened with the Lumia 920: the rounded polycarbonate unibody first seen on the N9, and then the Lumia 800 and Lumia 900, has made its way once again to the top-of-the-line 920. Even though the phone I received was a black model, it's also available in striking colors such as yellow, red and cyan.
The choice of plastic used by Nokia in this phone's shell is relatively low-friction and barely textured, but due to the soft-ish matte nature feels considerably better than the cheap glossy plastic turd used by Samsung in their devices. The seamless design that curves side to side adds to the ergonomics of the phone, while the flat top and bottom panels ensures that the 920 doesn't look like a giant blob of plastic.
When the Lumia 920 first lands in your hands it feels incredibly tough and unforgiving; not only is the plastic strong and complemented by tough Gorilla Glass 2, the device is also thick, large and heavy. It seems that, for better or worse, Nokia hasn't seen the importance of slimming down their designs, as the 920's 10.7mm thickness looks visibly bloated due to the large profile the phone carries.
While the curves do a tad to help, the Lumia 920 also feels thick as for some reason it comes in at a whopping 185 grams - heavier than the far larger Samsung Galaxy Note II. Hold basically any other phone in your other hand and you'll notice the heft that accompanies the Lumia 920 is considerable and perhaps unnecessary: I seriously doubt that the extra technology packed into the Lumia, such as the floating lens assembly, needs to add an extra 55 grams compared to the HTC 8X or 50 grams compared to the larger Samsung ATIV S.
That said, after using the phone for a week you get used to the size and weight so it becomes of little concern apart from the fact you'll always notice you're carrying it. I suspect Nokia was somewhat lazy in not trying to slim down or lighten the Lumia 920 during the development phase, but at least the phone isn't a ridiculous size.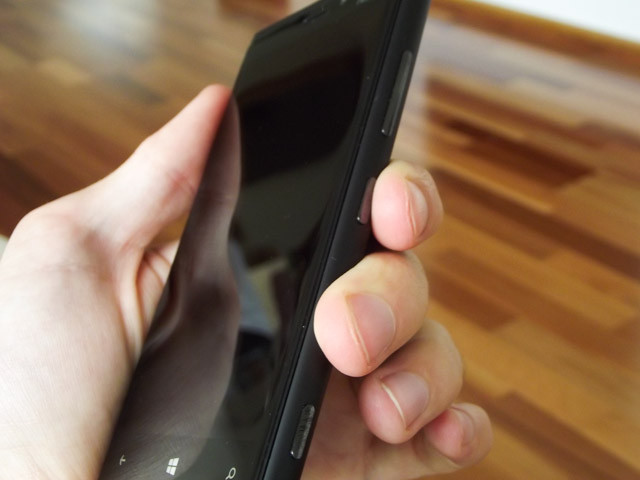 Around the device you'll find all the physical buttons on the right hand side, starting with the volume rocker before the power button and the two-stage camera button further down. The bottom sees two speaker grills plus the microUSB charging port, while the top has the SIM card tray and 3.5mm headphone jack. Nothing really to complain about here.
The front sees the 4.5-inch IPS LCD display covered by a thick slab of smooth Gorilla Glass 2, with the traditional Windows Phone buttons below, and the usual speaker/front camera/sensors above the display. The back of the device has minimal points of interest, the main one being the centered and reasonably low camera module surrounded by a fingerprint-attracting glossy metal strip.
There's no doubting that the Lumia 920 looks great and can even feel great, but the bulkiness detracts from the overall package enough that it's of a concern, especially when pitted against other flagship Windows Phones. Hopefully next time Nokia can focus a little less on adding a huge slab of new tech and a little more on refining the package this tech is held together with.
Display
The Lumia 920 uses one of the two new screen resolutions supported in Windows Phone 8: 1280 x 768, bringing 322 pixels-per-inch to its 4.5-inch "PureMotion HD+" IPS LCD panel. The advantage to using this resolution that carries a 15:9 (or 5:3) aspect ratio, is that apps can properly scale to fit the display from the 480 x 800 15:9 displays of Windows Phone 7. This avoids having unnecessary black bars above legacy apps, which you can often find while using the 16:9 panel on the HTC 8X.
Nokia has branded this type of display "PureMotion HD+", referring to a combination of new and improved technologies used in their TFT IPS LCD panel. The easiest part to explain is the "HD+", which references the WXGA resolution with an RGB stripe subpixel arrangement, but the "PureMotion" refers to many other things. Nokia's white paper reveals that the term covers the super sensitive digitizer, high sunlight visibility and panel overdrive mode that increases responsiveness.
Let's start with the panel overdrive technology that supposedly improves the pixel transmission time, resulting in consistently clear 60 frames per second rendering. Compared to some other phones I had lying around with LCD displays, the 4.5-incher in the Nokia is marginally smoother to view while scrolling content such as webpages, but I doubt you would notice the difference unless you were specifically looking for oddities in rendering times.
Side-by-side against the HTC 8X with its Super LCD 2 panel, the Lumia 920 doesn't have enough of an advantage for me to specifically say the Lumia's display is smoother; rather both panels are perfectly smooth in normal usage.
The PureMotion display does have a clear advantage in outdoor visibility though, producing a strange effect that enhances how you can see the display in direct sunlight. The edges of certain elements on the display appear to glow slightly white when outdoors, which allows for greater clarity in pictures and on the Start screen. The panel is also reasonably bright and not particularly reflective, so white areas such as text on the keyboard stay always visible.
The Lumia 920's display is still visible outdoors
Overall I found the display to lean towards the warmer side of the color scale, with whites occasionally appearing slightly yellow when placed beside a pure white object. Blacks are impressively deep, rivaling the great quality of a Super LCD 2, although overall viewing angles were not as good - they're definitely not bad by any means, but a Super LCD 2 panel is clearer at acute angles.
Colors from the IPS panel are brilliant as expected, delivering vibrant scenes where necessary without being over-saturated like some AMOLEDs can be. Reds and blues are particularly strong in the PureMotion HD+ display, with greens appearing a tad under-done when directly compared with class leading (and frequently mentioned by me) Super LCD 2 technology. However using WP-Bench's display test reveals the Lumia's IPS display as the better when it came to darker color bands, perhaps a byproduct of outdoor clarity enhancements.
It should be clear if you've been reading my previous reviews that crispness is key to the quality of a smartphone display. At a previously mentioned 322 ppi, it falls above the magical 300 ppi invisible pixel barrier and so there's nothing to complain about in this department. The RGB Stripe subpixel arrangement also draws no complaints, as it's the ideal method for producing colors in LCD panels.
Finally, praise should be given to the super sensitive capacitive touch digitizer embedded into the display unit, allowing easy touchscreen use with wearing gloves. Even with four layers of cloth separating my fingers from the display, set on high sensitivity mode the Lumia 920 was still easy to use as if my finger was directly contacting the Gorilla Glass 2. To save battery when it's not cold, you can turn high sensitivity mode off in the settings, which adds flexibility for those who don't require the setting.
Once again Nokia proves that their flagship technology is among the best, as the PureMotion HD+ panel incorporates new, useful features that makes using the Lumia 920 so great.
Software
The main OS that is running on the Nokia Lumia 920 is Windows Phone 8, and we already have a full review dedicated to all the wonderful features you can find within. If you want to get an in-depth idea of what the software is like, I highly recommend giving it a read.
Along with Windows Phone 8, Nokia has bundled a number of great, exclusive bits of software onto the Lumia 920 that enhance the experience even further. One of the most critical ones is Nokia Maps, which fixes many of the issues present in Bing Maps in standard Windows Phone. With Nokia Maps, you'll actually be able to accurately find places near you (at least here in Australia) along with useful information such as opening hours and phone numbers.
It actually finds the correct amount of KFC joints in my city!
Nokia Maps is complemented by Nokia Drive, an app which you can use for free turn-by-turn GPS assisted navigation. Throughout the course of my Lumia ownership I've used Nokia Drive a couple of times, and every time it's been accurate in it's directions and includes cool features such as speed limit warnings even when the app is running in the background. One downside is that it can use more than a desired amount of battery, but this can be rectified by simply closing the app properly.
There's also a number of other bundled apps, including Nokia Transit (there was no transport info available for my city), Nokia Care (phone tutorials) and App Highlights. A number of Lenses were also included for the camera app, including Smart Shoot - which allows you to choose the best face for your photo - and the self-explanatory Panorama app.
Nokia's exclusive software doesn't end with bundled apps, as there's a whole section of the Windows Phone Store dedicated to exclusive apps. Many of them are very good and worth adding, including the Cinemagraph camera Lens and City Lens augmented reality app, plus a smattering of games such as Words With Friends and Mirror's Edge.
If you're after the best software experience on Windows Phone then you should be looking at a Nokia Lumia app, as the sheer number of exclusive apps including the very useful Nokia Drive app really add to the Windows Phone experience.
Performance
Once again in recent times I'm reviewing a phone with a dual-core Qualcomm Snapdragon S4 chipset inside, which is one of the few approved choices for Windows Phones. The chipset in question is the Qualcomm Snapdragon MSM8960, featuring a 1.5 GHz dual-core Krait processor, Adreno 225 graphics chip, a smattering of cell radios including LTE, dual-band 802.11n Wi-Fi and Bluetooth 3.0. The chipset is paired with 1 GB of RAM, 32 GB of on-board storage and an NFC chip.
Thanks to the way Windows Phone delegates UI rendering to the GPU, there are really no complaints to be had in the performance around the operating system. All animations (bar one or two) are fluid and smooth, while scrolling never seems to get bogged down even when you're trundling through thousands of messages. App launching is particularly speedy with third-generation Windows Phone hardware like this, especially if the app in question is optimized for Windows Phone 8.
Even in potentially intensive applications, such as browsing graphics-heavy websites or using Nokia's City Lens augmented reality app, the Nokia Lumia 920 shows no signs of slowdowns even though it's not technically running the fastest mobile hardware. With the available selection of things you can do on Windows Phone, the Lumia 920 is more than capable.
It's also more than capable in the storage department, which sees 32 GB of on-board memory, of which 29.12 GB is available for your content. Unlike the HTC 8X's fixed 16 GB of storage, my entire music collection happily fits on the Lumia 920, which is indication (at least for me) that this phone has enough storage. Ideally a microSD card slot would be great for expansion, but it's not a huge deal when Nokia gives a decent amount of storage right out of the box.
Through the entire duration that I've had both the HTC 8X and Nokia Lumia 920 in my possession, the former phone has never crashed or rebooted on me once, while the 920 has thrown a tantrum twice causing me to force a shutdown. I'm not entirely sure what is causing this behavior, but two full system panics is never a good thing in a phone I've only had for just over a week. Hopefully an update will fix this, along with other reports I've heard of spontaneous reboots (which I have yet to experience personally).
Apart from that, the good news is the Lumia 920 performs essentially identically to the Windows Phone 8X, naturally due to the fact that both smartphones use basically the same internal guts. The two benchmarks I performed just confirm that the two systems are performance equals.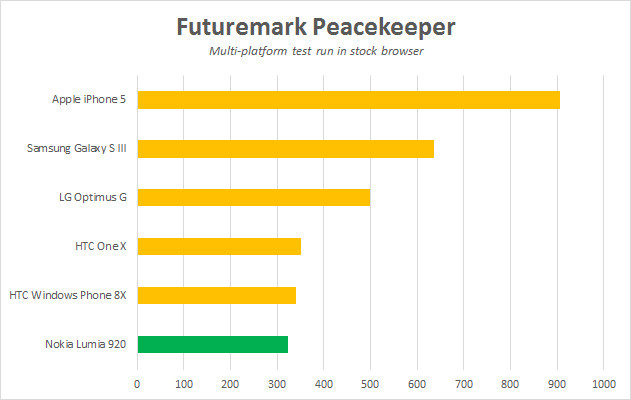 The very slight difference in scores can be attributed to the different screen resolutions on the two Windows Phone 8 devices I've tested: the Lumia 920 has 6.25% more pixels to render than the HTC 8X, which will see it perform marginally worse in games.
Unfortunately one of the main connectivity features of the Lumia 920 - LTE - I was not able to test in my location because Optus hasn't as yet rolled out 4G coverage here. The good news is the pentaband LTE radio (800/900/1800/2100/2600) allows it to run on the vast majority of LTE carriers in Europe, Australia and parts of Asia; the exclusion of the 700 and 1700 MHz bands in this particular unlocked model means another, slightly different Lumia 920 is required for North American markets.
I had no issues with my Lumia 920's Wi-Fi or Bluetooth, save for the strangeness of only Bluetooth 3.0 support when the Qualcomm chipset includes Bluetooth 4.0. The "Portico" Windows Phone 8 update should be coming soon, which will address the issue of no persistent Wi-Fi by adding said feature.
Camera
You may not like to hear it, and you may not even believe what I'm about to write, but after all the hype surrounding the Nokia Lumia 920's camera I'm disappointed with some of the end results. Stated to be an 8.7 megapixel backside illuminated (BSI) sensor with a Carl Zeiss, f/2.0 lens, dual-LED flash, 1080p recording and optical image stabilization (OIS), there's a lot to love on paper - but often what's on paper doesn't necessarily turn out to great real-world results.
I'll get to low-light imagery a little later, but first I have to look at photos taken in adequate lighting. I often had mixed results using the Lumia 920's camera in these conditions, either giving beautifully vibrant photos with more color than real life, or - more frequently - photos with strange white balance and odd desaturation. Below you can check out some of the better shots...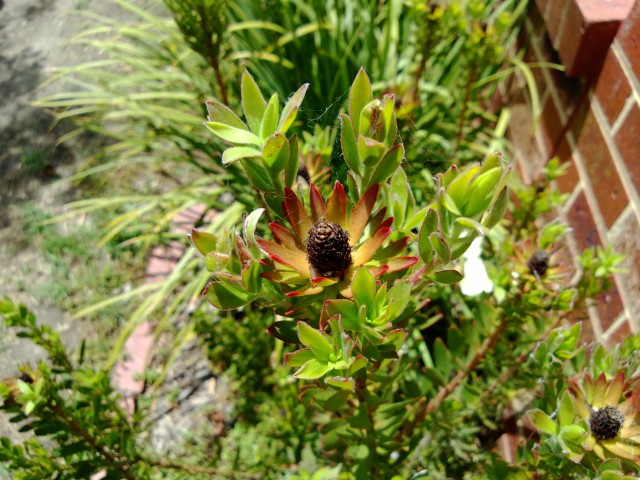 ...and here are some of the strange ones:
This one's cold, almost tinted blue with yellow desaturated to an extent
Upon initial inspection this photo looks great, until you notice the normally grey fence on the right is tinted very green
This photo is tinted very warmly, saturating cream colors towards yellow while accentuating oranges
While the good photos are indeed great, the strange ones don't accurately capture the scene at all, with the scene tending to look worse thanks to strange software decisions. The good news is that the Carl Zeiss lens provides extremely crisp photographs that look somewhat decent when zoomed, and the automatic focusing is quick and accurate even with tricky foreground objects.
You can see the furry detail of these leaves in a 100% crop
Another area where the Lumia 920's camera can be praised is in the decent (for a smartphone camera) dynamic range, which can deliver detail in a scene that features both shadows, well lit areas and the sky.
This photo isn't the best as it's warmly tinted, but it does show detail across shadows and the sky
The one area where the Lumia 920 is the undisputed champion is in low-light performance. Thanks to a large aperture lens and optical image stabilization, you can get some truly fantastic results in low-light, occasionally brighter than the actual scene you're photographing. OIS facilitates a long exposure time without significant blurring, as you can see in some of the photos below.
This photo was taken around 10 PM, portraying accurate light levels
This photo of my messy garage is significantly brighter than "real life"
This shot, while dark, accurately reflects the scene in terms of lighting
That said, often you'll still need a steady handy while photographing with the Lumia 920 in low light, as blurring can occur even with image stabilization. Also, even though the camera is very good in low-light, the general rule is that if you can't see the subject, the 920 also won't be able to see it. I tried once to photograph my friend in near pitch-black outdoor lighting, and it just came out black like many other phones (without using the powerful dual-LED flash).
Stabilization isn't perfect
For video recording from the rear camera, at 1080p the quality is somewhat disappointing with many artifacts present when there's lots of detailed motion. Optical image stabilization facilitated by floating lens technology helps keep the footage reasonably stable, but it doesn't remove every single bump caused by walking with the camera. Autofocus and exposure adjustment happens quickly, and the audio quality is decent, but overall it's not the best recording I've seen from a smartphone.
Nokia has been touting the camera as one of the key features of the Lumia 920, and while it can take spectacular low-light photos thanks to OIS, it often falls short in other areas with adequate lighting. I am disappointed that the 8.7-megapixel "PureView" shooter isn't as all-round great as, say, the Galaxy S III; but hopefully in a second generation of similar hardware the kinks will be worked out and we'll have a new photography champion
Media Playback
With services such as Nokia Music and Xbox Music at your disposal, plus 32 GB of on-board storage, there's a very good chance that you'll be using your Nokia Lumia 920 as a portable music player. There's also that beautiful PureMotion HD+ display, which, despite the less than ideal 15:9 aspect ratio, is a crisp way to view your favorite movies.
For music playback there really is nothing to complain about with the Lumia 920: through headphones audio is crisp and loud, although it can lack the vibrance that some of the best music players can deliver. After listening to tunes through earbuds for around an hour I got used to the way the Lumia delivers music, and I am perfectly happy with the way it sounds. Nothing amazing, but certainly nothing bad.
The Lumia 920 features Dolby Headphone audio enhancement, which is one of those pieces of audio enhancement software that is more suited to movies than music. I highly recommend leaving it off unless you are watching a film, as the echo effect it uses ruins the clear studio recordings of many modern tracks, and was particularly unbearable during the fast drum solos of DragonForce (yes, my test audio suite includes power metal). There is a separate audio enhancement section that features a customizable equalizer, which should be used over Dolby Headphone if you want to improve the sound of music.
Like the HTC 8X, there is significant room for amplification in the Lumia's volume range, with around half way to two thirds being comfortable in everyday listening patterns. Occasionally you'll come across a quiet track or film, and that's when you might want to bump up the volume to the higher levels.
Speaking of loudness, I also found the in-call speaker on the front of the device to be loud enough for chats in relatively loud environments. The other external speakers, located on the bottom of the phone, are moderately loud but adequate for your ringtones; as a reminder, never play music through your phone speakers because it sounds awful and annoys people on buses.
For videos, I loaded a bunch of different formats onto the device to see what would play, and I was disappointed to discover that both H.264 MKV and high-bitrate MT2S files were not recognized by the Xbox Music+Videos Hub. DivX encoded AVI files played back perfectly, as did some H.264 encoded MP4 files I ripped from YouTube, and I was glad to see that the stock video player had no troubles with 6-channel audio in another MP4 file I tried.
This means that, out of most people's video collections, the most popular formats will play back fine without any re-encoding necessary, including 1080p content which is now possible with Windows Phone 8. There's no need to downcode 6-channel audio to 2-channel for playback, and you'll only come into encoding problems if you want to play an MKV file or other more crazy formats.
Battery Life
Generally speaking I found the 2,000 mAh battery tucked inside the Lumia 920 to be adequate for my usage patterns, although it's nothing special or amazing like I've seen in some phones such as the Motorola RAZR HD.
With typical moderate usage, which during my testing included sending several text messages, making a phone call, around 45 minutes of web browsing, general app usage for Twitter/Google Reader/Facebook/etc. and a few shots using the camera, I ended the day with around 35% battery remaining. This definitely leaves some leeway for more intense usage in a day, but not enough that you could make lengthy three hour calls without needing a midday charge.
With wireless charging, this port mightn't get used all that often
Where other Windows Phones fall short (looking at you, 8X), not once during my time with the phone did I fully drain the Lumia 920's battery, even when I was intensively trying out the features of the device. The biggest drain I experienced outside of 3D gaming was using Nokia Drive with turn-by-turn navigation, which killed 20% of my battery in just under an hour, but the Lumia still managed to have enough charge for the rest of the day.
See how the Lumia 920 compares to other devices in the battery life department below. In this test, I play a 720p movie on repeat until the battery dies, with the phone in airplane mode and on medium brightness.
| Device | Movie Playback Life |
| --- | --- |
| Samsung Galaxy Note II | 12:47 |
| Motorola RAZR HD | 11:49 |
| Motorola RAZR | 9:31 |
| HTC One XL | 9:03 |
| Samsung Galaxy S III | 8:41 |
| Motorola RAZR V | 8:32 |
| HTC Windows Phone 8X | 7:15 |
| Nokia Lumia 920 | 6:57 |
| Sony Xperia S | 6:50 |
| LG Optimus 4X HD | 5:16 |
One of the cool new features that comes with the Nokia Lumia 920, and probably adds to the heft of the phone, is wireless charging using the Qi standard. While my review unit didn't come with a wireless charging pad, I had a short hands on experience with one to see how it worked. It's definitely awesome to be able to simply chuck your phone on a small pillow and have it charge, removing the hassle of having to plug it in every time.
My main concern with wireless charging at the moment revolves around the price of wireless charging pads. For the entry-level simple Nokia wireless charging plate expect to pay over $70, while a third party Energizer single-position inductive charger costs nearly $50 on Amazon. I might feel comfortable buying one of these optional accessories if the price was $20-30 less, but at the current prices to remove the small hassle of plugging in the phone, I'll have to pass. Perhaps in the future we'll see these types of chargers come in the phone's box, which would be ideal.
Conclusion
With the Lumia 920, Nokia is close to hitting the winning formula, but not quite there just yet. There's no doubt that the phone is a huge improvement from it's predecessors in a number of ways, including major technology improvements such as the fast dual-core processor, PureMotion HD+ display and PureView camera; but there are also some annoyances that could be dealt with.
I love the base design of the Lumia 920 and the solid materials used, but Nokia has delivered a final product that's inexplicably more cumbersome than its rivals when really it doesn't need to be. Sure, wireless charging is a great addition and so is the beautiful 4.5-inch IPS LCD display, but it definitely comes at a portability cost.
Then there's the heavily marketed "PureView" camera, which does indeed perform wonderfully in low-light conditions and is remarkably stable during video recording. On the other hand, the hit-and-miss normal lighting performance leaves a lot to be desired, and doesn't complete what could have been a fantastic camera package.
There's definitely a lot to love about the Lumia 920, but it's not the perfect winning Windows Phone 8 flagship that everyone (including Microsoft) was hoping for. In fact the competition between this and the Windows Phone 8X by HTC is wide open, and even though Nokia has more brand power behind it, it's not a definitively better device.
Should you buy the Nokia Lumia 920? Again, if you're considering this smartphone or any Windows Phone, you must be willing to buy into an immature ecosystem; Nokia's bunch of exclusive apps helps in this respect, but it doesn't solve everything. The hardware of the 920 certainly contains some fantastic, innovative features, but there are trade-offs that have been made to cram all the technology in. HTC has aggressively priced their 8X, so make sure you're comfortable with the downsides of the Lumia before paying a premium.
→ Windows Phone 8 review
→ Buy the Nokia Lumia 920 unlocked and off contract with MobiCity AU or UK!
→ Nokia Lumia 920 official website
→ Follow me on Twitter