AMD is replenishing its ranks with five "new" processors which include an ultra affordable dual-core model and a modestly priced hexa-core processor.

While the Phenom II X6 1055T operates at 2.80GHz and the 1090T Black Edition at 3.20GHz, the new 1075T slots in-between them with an operating frequency of 3.0GHz. Along with this new hexa-core processor we also have the Phenom II X4 970 Black Edition, Phenom II X2 560 Black Edition, Athlon II X4 645 and Athlon II X2 265.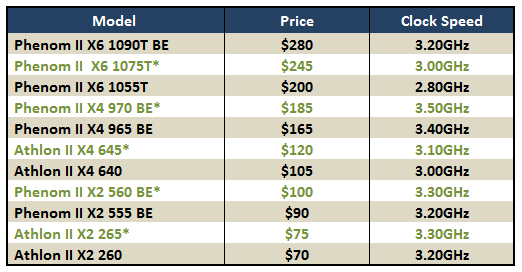 What we have here are five new AMD processors, none of which depart from what we had already. On the upside though, AMD has introduced all of these models at existent price points which will translate in small price cuts for older processors and overall savings to consumers.
Read: AMD CPU Refresh: 5 New Phenom II & Athlon II Models
These articles are brought to you in partnership with TechSpot.