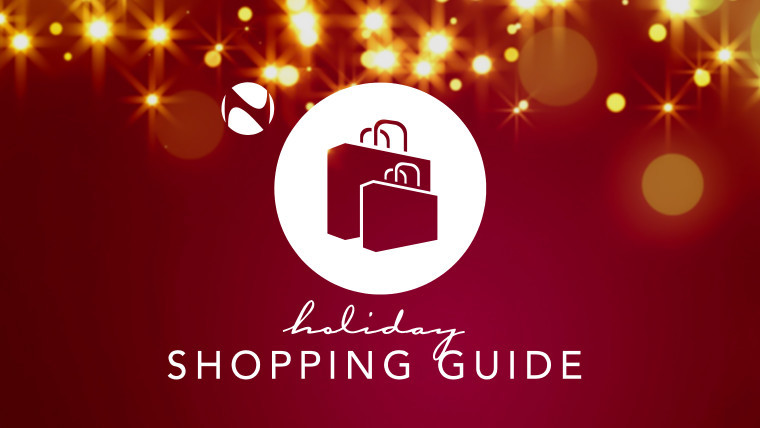 We get it. Picking out gifts might not be your thing, especially when it comes to tech-related stuff. Luckily for you, Neowin is here to make your life just a bit easier this holiday season. Here are some gifts that you can buy for anyone in your life, and we'll even tell you the best place to get them.
Almost anyone
NES Classic

$59.99
Sure, there's going to be a section for gamers below, and the NES Classic is sold out just about everywhere, but this is the gift of the season. You'll get 30 pre-loaded games - such as Punch-Out, Super Mario Bros., The Legend of Zelda, and many other classics - and a controller that looks and feels just like the original. I can't even imagine anyone that wouldn't love one of these.

Tablets
Tablets are always a great gift. If you're like literally anyone, you know someone that's always on their phone, but you can't buy them a phone, because they already have one. Tablets are your answer. They're bigger, and for most uses, better than a phone. That person in your life will certainly appreciate it.
| iPad Mini 4 - starts at around $380 | 9.7-inch iPad Pro - starts at $599.99, currently on sale for $549.99 |
| --- | --- |
| | |
| The iPad Mini 4 has a 7.9-inch display, and it's a great option for the iPhone owner in your life. But if $380 is more than you're willing to spend, go for the iPad Mini 2, which only costs $269.99. | If they need get a little bit more work done, the iPad Pro is the way to go. It features a 9.7-inch display, and it's available in silver, Space Gray, gold, and rose gold. The iPad Air 2 is a great option too, which is just $299.99 right now. |
| Surface Pro 4 - starting at $749 | Samsung Galaxy Tab A 10.1 - $229.99 |
| --- | --- |
| | |
| When it comes to a tablet that allows you to get work done, the Microsoft's own Surface Pro 4 is the way to go. The base model offers an Intel Core m3, 4GB RAM, and 128GB of storage, but you can get it in configurations up to a Core i7, 16GB RAM, and 1TB of storage. Also, the starting price is actually for the Core i5 model, but only for today. You might want to check out these accessories as well: | Samsung's Galaxy Tab A is a device that I've actually purchased for two people this year. The fact is that it's just a solid device and right now, you can grab it for a solid price. The 10.1-inch model is $229.99 at Best Buy right now, but if you're on a budget, you can get the 7-inch model for $89.99, the 8-inch model for $129.99, or the 9.7-inch model for $199.99. It's great for Samsung owners. |
| Kindle Oasis - starting at $289.99 | Fire 7 - starting at $49.99, currently on sale for $39.99 |
| --- | --- |
| | |
| You might call it "ridiculously expensive for an e-reader", but I call it the best tech purchase that I made in 2016. If you know someone who loves books, it simply doesn't get any better than this. I actually got the 3G model, which is $359.99. You can customize it when you add it to your cart. If your giftee likes reading, but maybe doesn't love it, check out these models: | It's a $50 tablet. If you're looking for something inexpensive, this is it. I've also found it to be useful in the kitchen. It's cheap, so you don't have to worry about messing it up. It's great for displaying recipes and such. The screen is less than HD and it's not too powerful, but it's nice to have around. For something a little better, check out the Fire HD 8, which includes Alexa. |

Fitness trackers and wearables
OK, so they've got the phone, and they've even got a tablet, so what else can you get them? That's right, wearables. The holiday season is right before the New Year, which means New Year's resolutions, which means that people are going to want to lose weight. That's why fitness trackers can make an excellent gift.
| Fitbit Alta - $119.86 | Apple Watch - starting at $269 |
| --- | --- |
| | |
| The Alta is among Fitbit's more stylish offerings, and it's available in five colors. It can be used to track fitness and sleep, but if the price is a bit too steep, check out the Flex 2 at $79.89, which is the sequel to one of the company's most popular products. | Apple just released the Watch Series 2, but it also released the Series 1 with a new processor, making the Series 1's lower price a bargain. Of course, if you're buying it for someone that needs it to be waterproof or needs GPS, check out the Series 2. |

Gaming
I'm not going to recommend any specific games, as those tend to vary based on the individual, but if you know someone that likes to play, here are some ideas.
| Xbox One S - starting at $249 | Kinect - $99.99 |
| --- | --- |
| | |
| The latest model of the Xbox One features 4K video streaming and HDR, but if you're buying it for someone that only has an Xbox 360, Xbox One will likely play most of their old games. Here are the bundles that are available: | Adding a Kinect to your Xbox One gives it superpowers. You get full access to Cortana with it, and everything becomes voice-activated. You might also want to check out these accessories: |

Streaming
| Amazon Fire TV - $89.99 | Roku Ultra - $119.99 |
| --- | --- |
| | |
| Everybody loves binge-watching their favorite shows, and the Fire TV is my personal favorite way to do it. Fire OS is a fork of Android, so it's also easy to side-load apps that aren't in the Appstore. You can stream in 4K and use a wired Internet connection, but if you don't need those, check out the Fire TV Stick for $39.99. | Roku is a favorite of many when it comes to set-top boxes. It has a universal search functionality, a headphone jack in the remote so you won't wake someone in bed next to you, and more. It supports 4K, but unlike the Fire TV, it also offers Google apps. Alternatives: |

Voice assistants
| Amazon Echo - $179.99, currently on sale for $139.99 | Amazon Echo Dot - $49.99, currently on sale for $39.99 |
| --- | --- |
| | |
| Amazon's Echo is becoming more and more popular as its Alexa voice assistant takes off. You can ask it to tell you the weather, the news, to play music, and more. There are also over a 1,000 third-party skills including my personal favorite, Jeopardy. | I probably could have included this as a budget alternative to the Echo, but that's not all that it is. Sure, it's an Echo with a far less powerful speaker, but if you have a preferred Bluetooth speaker that you want to use, you can. Also consider: |

PCs
| HP Spectre x360 - starting at $1,049.99 | HP Pavilion x360 - $729, on sale for $529 |
| --- | --- |
| | |
| Stay tuned for a review on this one. I've been using it for about a month and it's just a wonderful PC. If you're buying it for someone that you're willing to spend the money on, I can't recommend it highly enough. | The Pavilion x360 packs a seventh-generation Intel Core i5 processor. I thought it was an excellent 2-in-1 laptop when I reviewed it, and this deal in the Microsoft Store is just way too good to not list here. |

Stocking stuffers
| | Lightning Digital AV adapter - $39.99 |
| --- | --- |
| | |
| If you know someone with an old enough car that it doesn't have Bluetooth, but it has a 3.5mm headphone jack, that person will love you for this. | It's weird, but this is my favorite accessory for my iOS devices. It allows you to plug in an HDMI cable and mirror anything that's on the screen. |
| MicFlip | JBL GO |
| --- | --- |
| | |
| The MicFlip has become one of those cables that I can't live without. It's 6-feet long, so you have plenty of room, and it's completely reversible. | For anyone that likes to play music, a small Bluetooth speaker to carry around is a must. These little guys carry quite the sound for their size. |

Whatever you buy, make sure that you get a gift receipt. You can never know if someone else might get them the same gift, or if they might even already have it. Items that I've purchased this year for people include the Samsung Galaxy Tab A 10.1, Amazon Fire TV Stick, Kindle Paperwhite, Amazon Echo, and Fitbit Flex 2.
Have any other tips that our readers might enjoy or questions about the items on this list? Let us know in the comments!