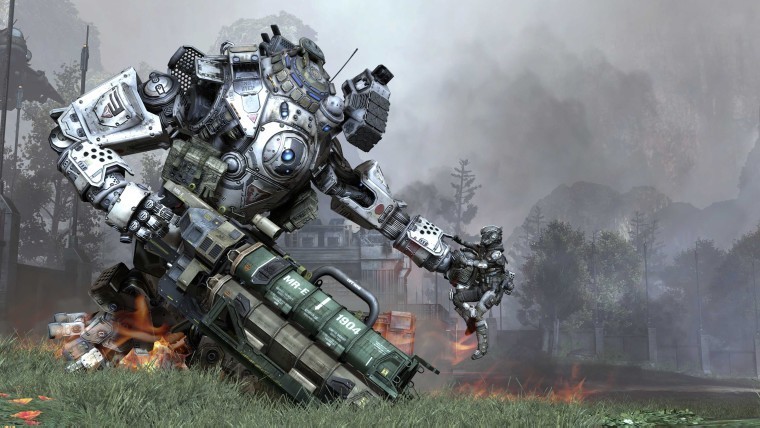 Titanfall made its debut on Xbox One and PC in 2014, championed as the most important Xbox One exclusive up to that point. The frantic shooter quickly found favor among gamers, but fell just short of classic status since the game was strictly online multiplayer. Respawn Entertainment, creators of the game, heard the criticisms of its players and are apparently taking action with the upcoming Titanfall 2.
In a conversation with Forbes, lead writer Jesse Stern discussed the shortcomings of Titanfall and how Titanfall 2 intends to improve upon its source material. Stern pointed toward a simple lack of resources as the reasoning for the original not having the big story mode that would explain "here's who you are, here's where you are and who's around you".
Because of that omission, many gamers were left wanting to know more about the world of Titanfall with no satisfaction. Fortunately, Titanfall 2 will not only include a full campaign mode, but there's likely to be a television show, produced with Lionsgate TV, in the works - It takes two years to make these things usually. Sometime late this year or early next seems like the right neighborhood (for completion). something that is also being done with the hotly-anticipated Xbox One exclusive Quantum Break.
As Stern explained:
"So we are doing our best to deliver a vision of grand global colonial warfare retelling the story of the American Revolution and the American Civil War in space. We imagined the next generation of immigrants moving out to the new frontier of an inhabitable planet. Rather than taking a traditional sci-fi approach to that we wanted to look at how that would happen practically, what the ships would look like and with machines that were designed for excavation and construction , demolition and working the land, and what happens when they are turned into instruments of war."
Titanfall surpassed 10 million games sold, a remarkable figure given that the game was not available on PS4 - something that is slated to change with Titanfall 2. The game's considerable success has enabled Respawn Entertainment to push for a bigger, better game with the next installment of the franchise. While the release date of Titanfall 2 still hasn't been officially confirmed, Stern felt that "sometime late this year or early next seems like the right neighborhood (for completion)".
Source: Forbes