On Mac or Ubuntu, every time you plug an external hard disk into your computer, an icon that represents the newly plugged hard disk added to the desktop. This icon will be automatically removed when the drive is unplugged. The same thing happens for CD or DVD. That is a simple but neat feature. With TweakNow DriveShortcut we try to bring this feature to Windows.

When a CD, a DVD, or an external hard disk added or removed from the computer, Windows will broadcast a message to all running programs to notify them about this new change. TweakNow DriveShortcut sits quietly on the tray area waiting for this kind of message. When the message received, depending on the message content, TweakNow DriveShortcut will automatically create or delete drive icon from the desktop.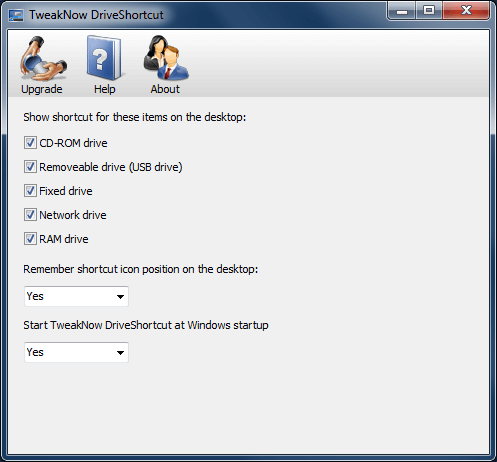 What's new in TweakNow DriveShortcut 1.1.0:
General: fixed function not found problem in Windows XP system.
General: now the program responds nicely to the WM_ENDSESSION message.
General: minor improvements and bug fixes.
Download: TweakNow DriveShortcut 1.10 | 2.0 MB (Freeware)
Link: Website