Viewsonic plans to unveil two more combatants in the iPad-killing competition this year at the annual IFA consumer electronics show in Berlin. According to Pocket-lint.com, Viewsonic will be releasing two tablets. The first one is the 7-inch ViewPad 7, an Android device with all the basic communications devices built-in (3G, Wi-Fi, Bluetooth, GPS), front and back cameras, and internal storage will be expandable via microSD. The second tablet is an as of yet unnamed 10-inch device that will dual-boot an Android OS as well as a Microsoft OS.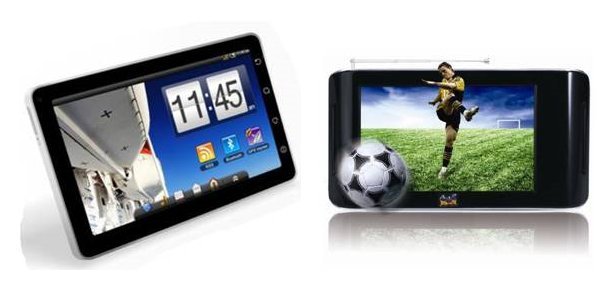 Image Credit: Pocket-lint.com
Ever since Apple deluged the tablet world with their now-ubiquitous iPad, manufacturers are all scrambling to catch up and release the first "iPad killer." This has become a well-rehearsed dance in the tech world for the most part; we saw the same exact sequence of events with the iPod and the iPhone. The iPod never really saw a challenger to the crown of portable media market dominance, and if it wasn't for Google making their Android OS open-source and available to manufacturers to tweak and release, the iPhone likely would be just as dominant. Manufacturers today are hoping that Microsoft and/or Google will be able to produce a mobile operating system that can run on a tablet and effectively compete with Apple's iOS. Viewsonic's announcement of a dual-boot Android/Windows device is a testament to that hope.  
As Google prepares their version of Android for tablets (3.0, codenamed "Gingerbread") and Windows 7 starts to see the light of tablet day, the showdown that will inevitably happen late this year will certainly be one to remember.