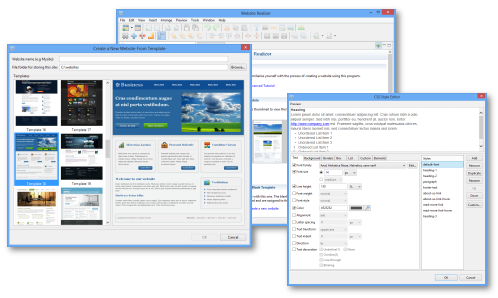 Website Realizer is a Windows website builder for building and designing websites. Website Realizer comes with free templates and includes all the necessary tools to create your websites easily. Drag and drop images to the pages and add text using a what-you-see-is-what-you-get (WYSIWYG) editor in this website builder. All HTML code will be generated automatically. Browse through some sample websites to see what you can create.

This website builder features WYSIWYG editors, so it is easy to insert text, tables, images, forms and horizontal lines, just as you would in your favorite word processing program. More than this, you can also add audio and video files, preset javascript effects and PayPal buttons to the web pages. All HTML code will be generated automatically. You do not need to write a single line of HTML code.

What's new in this version:
Starting from this version, Internet Explorer 8 (IE8) or above is required to be installed.
Add the link tag "a" to the "Elements" tab in the CSS Style Editor.
Add two new navigation bars, one horizontal and one vertical.
Fix the problem that when previewing a page in the internal browser for the first time on Windows 8, it takes very long time to load the page.
Fix the problem that when saving a navigation bar as a template, the screen shot of the navigation bar is not captured correctly.
Fix an error message is not displayed when an encrypted PayPal button is unable to be generated.
Download: Website Realizer 1.7.12 | 68.9 MB (Shareware)
View: Homepage | Online Manual | Screenshots