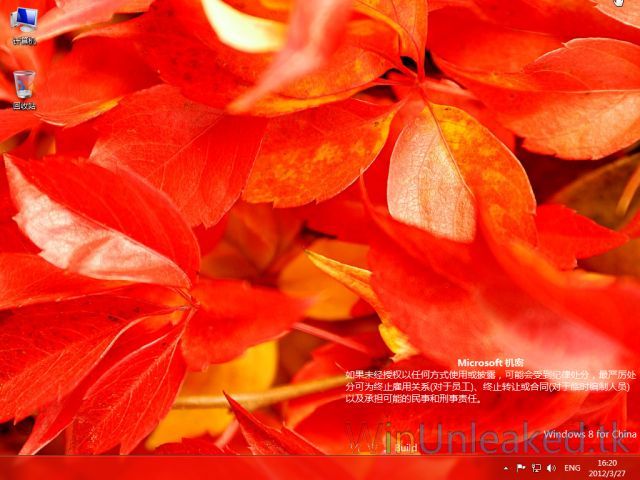 For the past few days, WinUnleaked.tk has been offering up a number of news posts and screenshots based on a leaked copy of a more recent internal Windows 8 build than the Consumer Preview version released just over a month ago. Today, that trend continued with its latest post, which may or may not indicate that Microsoft could release a special cheaper version of Windows 8 specifically for the Chinese market.
According to the article, the name of the SKU is 'CoreCountrySpecific', but it is labeled Windows 8 for China in the screenshots that accompany the story. The SKU can apparently be installed only with a Chinese ISO. The article adds that if you try to do so with an English ISO, a Blue Screen of Death alert appears with the error message "Bad MUI".
The article also says there is no Media Center support in this SKU version and, as you can see in the above screenshot, there are no pre-pinned applications located in the Windows 8 desktop taskbar. The article speculates that this SKU version could be cheaper than the normal Windows 8 version to prevent software counterfeiting, which is known to be rampant in China.
The news of a Chinese specific version is still speculation at this point as Microsoft has not confirmed anything about its SKU plans for Windows 8.
More images at WinUnleaked.tk