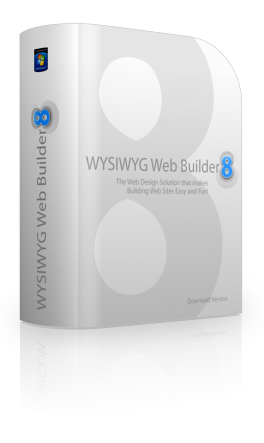 Web Builder is a WYSIWYG (What-You-See-Is-What-You-Get) program used to create complete web sites. WYSIWYG means that the finished page will display exactly the way it was designed. The program generates HTML (HyperText Markup Language) tags while you point and click on desired functions; you can create a web page without learning HTML. Just drag and drop objects to the page position them 'anywhere' you want and when you're finished publish it to your web server (using the build in Publish tool). Web Builder gives you full control over the content and layout of your web pages. One Web Builder project file can hold multiple web pages.
WYSIWYG Web Builder features:
- No HTML knowledge needed!
- Drag and drop objects from the toolbox on the page: Text, Lines, Images, Marquees and Tables.
- Site Management. Easily add, edit, clone and structure your web pages from a single file.
- Customizable menus, toolbars, keyboard accelerators, dockable windows, tabs, autohide windows.
- Form layout object to create forms, including actions, hidden fields etc.
- Supports Form fields: Editbox, TextArea, Checkbox, Radiobutton, Combobox and Button.
- Rich text support: text object can contain different fonts, colors, links and sizes.
- Option to add custom HTML for each object (Before Tag, Inside Tag, After Tag).
- Custom HTML object to insert your own HTML or Javascripts.
- ActiveX, JAVA, Flash, Windows Media player, Quicktime, Real Audio and other Plug-In support.
- Publish your entire web site, a single page or a group of pages (to local drive or a web server) .
- Build-in Photo Gallery maker, with lots of cool features like picture frames!
- Rollover images.
- Bulleted Lists: Circle, Disc, Square, Numeric (1, 2, 3), Alpha (a, b, c) , Roman (I, II, III) and custom images.
- Image maps.
- Customize scrollbar colors for Microsoft Internet Explorer.
- Navigation bars.
- Ready-to-use Javascripts.
- Template support. Already more than 100 templates available!
- Support for Cascading Style Sheet positioning (layered layout).
- Insert Symbols (special characters).
- Verify links tool.
- Rotating Image component (useful for Ad Banners).
- Support for third-party add-ons, using the Web Builder Component Developers Kit.
- Import existing HTML pages.
- Hyperlink Style Sheet, to customize the colors/formatting of hyperlinks.
- Show optional rulers.
- Page transitions in Page Properties.
- Inline Frame component (IFRAME).
- Go menu: easily create a drop-down navigation menus.
- Menubar: powerful menu script that can mimic complex menus found in popular GUI applications.
- Shape object (Rectangle, Round rect, Ellipse, Diamond, Hexagon, Octagon, Parallelogram, Triangle, Trapezoid, Arrows, Flag, Flower, Heart, Signs, Stars, Talk Bubbles and much more!
- Embedded OLE component.
- Embedded page object. This allows you to re-use objects from other pages (master page concept).
What's new in WYSIWYG Web Builder 8.2:
- Fixed: Grid does not have correct offset when scrolled.
- Fixed: Master page modifications can cause for crash closed pages using that master page.
- Fixed: + doesn't work properly if 'snap to grid' is enabled.
- Improved: Added 'background-color:transparent' for background images (useful for transparent images).
- Improved: First selection of GoMenu no longer generates error if user did not select a link.
- Improved: Replaced ereg() with preg_match() in PHP code. ereg() is not longer supported in newer versions of PHP.
- Improved: SiteTree object now also supports generic background styles (transparent, solid, gradient, image, pattern, texture).
- Improved: 'Error reports' now also verifies master frame objects for the current page.
- New feature: Added the ability to add custom code to a content place holder (only works if it has a border or background)
- New feature: Added support for background textures to Theme Manager.
- New feature: Added box shadow to text object.
- New feature: Added 'Synchronize with Site Manager' option to Go Menu.
- New feature: The 'core' of extensions is now built into the application. Reduces the overhead, quicker loading and less memory usage. Also it provides closer integration possibilities with WWB.
- New feature: Added 'Optimize inline styles' to HTML options. This is option attempts to cleanup the HTML code by moving inline styles to the page's style sheet.
Download: WYSIWYG Web Builder 8.2 | 5.9 MB (Shareware)
Screenshot: >> Click here <<
Link: Home Page | Templates | Free extras/addons