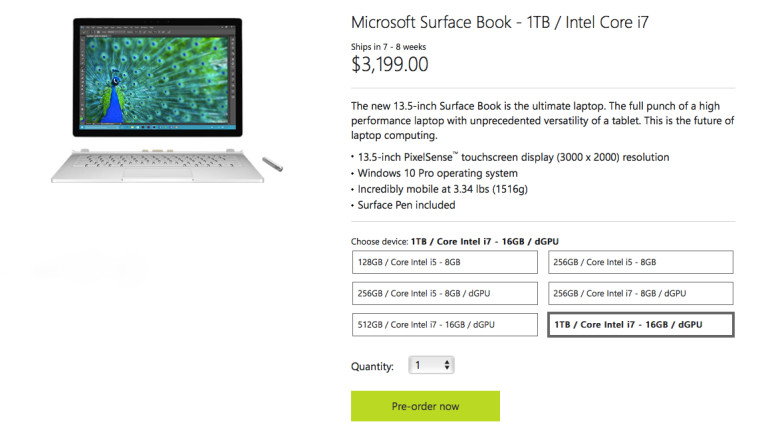 If you looked at the pre-orders right after Microsoft's October 6th devices event and were disappointed by the lack of a 1 TB option for the Surface Book, fret no longer. Microsoft is now offering this option complete with a Intel i7 processor, 16 GB of RAM, and the dGPU built into the keyboard. Of course, having the best-of-the-best comes at a price. Customers who want Microsoft's top of the line notebook will have to drop $3,199.
The $3,199.00 price tag means customers who want the most storage out of Microsoft's "ultimate laptop" will have to shell out an extra $500 to double their space over the 512 GB model. The $3,199.00 price tag rounds out the Surface Book tiers as the most expensive option Microsoft has ever offered. Only the $2,699.00 512 GB Surface Book and the 1 TB Surface Pro 4 come even close to the 1 TB Surface Book in terms of cost.
While a mark up of $500 for only double the storage alone may deter potential buyers, if you were planning on picking it up on October 26th you will have to wait it out quite a bit longer. Currently, the Microsoft Store website is showing a ship date of 7-8 weeks, putting it in consumers' hands around the 2nd week of December. While it is admittedly pricey, we can't say that we don't appreciate having options - even if those options can break the bank.