Introduction
I have been a long-term fan of ultra-wide monitors, especially because they offer many benefits over a conventional 16:9 panel, such as extra immersion in games and media, as well as a productivity boost in multi-tasking and professional workflows like photo editing. With a resolution of 3440x1440, you can have a single monitor on the desk with screen real-estate that's almost that of a dual-screen setup.
My first, an LG 34UM95-P, still remains in service to this day and will form the basis of comparison to the Huawei in this review. I actually ended up leaving the LG mounted to my desk behind the MateView GT just to make a comparison easier.
Huawei do not have a large monitor range, in fact, at the time of writing there are only four monitors listed on its website, a MateView GT 34", MateView GT 27", MateView 28.2" and a Display 23.8". This makes the MateView GT 34" price of £449/€469 seem compelling for a display in what seems to be its top of the range category.
It is worth noting that the ultra-wide monitor market is very crowded these days covering nearly all budget ranges. As a consumer it is sometimes hard to keep up with what is good and what is not. So let's check out the specifications for the MateView GT 34" next.
Specifications
| | |
| --- | --- |
| Model number | ZQE-CAA |
| Size | 34" curved ultra-wide (21:9 aspect) |
| Panel type | VA |
| Resolution | 3440x1440 @ 165Hz (8-bit, SDR) |
| Brightness | 350 nits |
| Colour range | 90% DCI-P3 wide gamut, 100% sRGB, Delta E |
| Contrast ratio | 4000:1 |
| Response time | 4ms |
| HDR | HDR10 technology |
| FreeSync | Supported but only after enabling through hidden menu |
| Audio | Soundbar stand with 2x5w stereo speakers |
| Ports | USB-C x1 (power input), USB-C x1(display, data, 10w charging), HDMI 2.0 x2, DisplayPort 1.4 x1, 3.5mm headset/mic 2-in-1 jack |
| In the box | 135w USB-C power adapter, USB-C to USB-C cable, USB-C to USB-A cable, DisplayPort cable, soundbar stand |
| Price | £449 / €469 |
Initial impressions
Right after unboxing, what struck me as impressive was the heft and quality of the monitor and the stand. The stand also functions as the soundbar-style speaker setup with a touch sensitive light-bar to adjust the volume
The multifunction joystick controls everything. A single press turns the MateView on, whilst holding it in for several seconds turns it off. You can also customise some functions to the directional buttons on the joystick through the on-screen display (OSD) as shortcuts to most often used settings pages.
The lighting options can be changed within the OSD. Personally I am not an RGB kinda guy, so the light remained off most of the time, and I only turned it on for photos.
The connectivity options are fairly standard but a nice addition to this model is the inclusion of a two-way USB Type-C port which allows input for display, as well as data transmission and device charging (albeit at 10 watts). You could effectively plug in a tablet or smartphone and use the monitor as a secondary display whilst charging it, or connect a laptop for secondary display use only as 10 watts would simply be too slow to charge whilst in use for most laptops..
The stand is quite heavy and with the monitor combined we see a total weight of around 13kg. It certainly feels premium though and that it won't be sliding about with the rubber contact pads on the underside.
A point to make here is that there is no way to manage cable clutter which is a shame. Once you start connecting devices to it, you will end up with a mess of cables dangling from the bottom facing connections. This is an aesthetics oversight in my eyes. I could cable tie them to the back pole of the stand, but that would then put unnecessary strain on the cable plugs. This point alone could be a major turn-off for some buyers who prefer a minimalist desktop environment.
The stand-soundbar is genuinely a really well thought out feature, I have to say. It feels high quality to the touch, and the touch-sensitive bar to adjust the volume works exactly as expected. My only complaint about it is that if you were to mount the monitor on a VESA arm, then you lose all soundbar functions because the back of the stand contains the direct pin connections to communicate with the monitor.
This is another oversight on Huawei's part since it included VESA mounting holes, but did not offer up any options to detach just the soundbar and use it with the MateView GT in any way.
There are no USB-A ports on the MateView GT, so connecting peripherals will have to be done directly on a laptop or desktop computer unless a USB desktop hub is connected to the Type-C port via a Type-A to Type-C adapter, which then adds further cable clutter. The lack of an integrated USB hub is a shame especially since other monitors in this class do have at least two USB-A ports.
Performance and observations
With 165Hz at its disposal, I found the MateView GT to perform amazingly in games. and general usage in Windows and applications. The mouse cursor is silky smooth and everything just feels much snappier than 60Hz.
My RTX 3080 Ti Founders Edition, for example, whilst giving above 60fps in games like Cyberpunk 2077 with raytracing on and Ultra settings at 3440x1440, was not powerful enough to exceed 100fps at these settings. Sure, the gaming experience was still excellent and there is a fair argument to be made on whether 165fps is needed for many games when you could use V-sync/FreeSync/G-Sync at a lower framerate lock and still enjoy super smooth gameplay.
A drawback I did notice, however, was motion ghosting in dark scenes in games. It is hard to picture this in a still image but I did further research and found that other reviewers experienced the same thing. Changing the Overdrive modes in the OSD didn't make too much of a difference, although level 3 seemed to be the best balance.
Sadly, the VA panel shows its flaws the moment you start to move your head side to the side, even a few inches is enough to shift colours slightly, making dark shades especially look washed out. This is a phenomenon that I have experienced with many VA panels over the years and is a trait of this type of panel, something that does not exist with an IPS panel. In the photo above, you can see that the game looks more washed out than the comparable photo a bit above it which is head on.
FreeSync is also supported, but not officially enabled or mentioned by Huawei. I asked Huawei to explain what the situation was and learned that whilst the MateView GT supports FreeSync Premium, it needs to be turned on by holding the joystick forwards for 10 seconds.. This is because the feature is still in active development for this monitor and further communications will be released in the near future.
Once enabled, FreeSync works on both nVidia and AMD graphics cards. nVidia users will need to enable the adaptive refresh rate in the nVidia Control Panel and go from there.
HDR10 is also supported, but I was unable to enable it on my nVidia gaming PC whilst it was perfectly fine on an AMD system. This may be a driver compatibility issue on the nVidia system since it is a new Intel 12th gen build on Windows 11, whilst the AMD system is on a Ryzen platform running Windows 10.
The panel's visual quirks continue into productivity work whereby photos will look slightly off. Even though Huawei's website markets this monitor for its wide gamut DCI-P3 specifications, the VA panel used has a shortfall in this area such that any colour accuracy is diminished by simply using a VA panel when you are not looking at any area of the panel from a direct head-on angle.
Take a look at the below photo in comparison to the one above. Notice how the colours are more vibrant and contrasty in the above when looking head-on. This is not something that can be fixed with further calibration sadly.
If an IPS panel was used instead, then it would be very unlikely that there would be a 165Hz refresh rate on offer as this is not something you see with IPS panels. Likewise the price would be higher.
The MateView GT has built-in stereo microphones, but in order to make use of them, you must use the USB-C to USB-A cable and connect that to the computer. What this means is that you lose any further use of the USB-C port for a laptop connection as a secondary display, for example. This is not mentioned on the Huawei website and I had to dig through the user manual online to find this detail.
The soundbar functions did work really well. The touch-sensitive area responds quickly and is nicely implemented. Whilst the 5w stereo speakers might not impress hardened gamers and media lovers, they are adequate for general use and are better than most onboard monitor speakers, but will not be competing with dedicated speakers.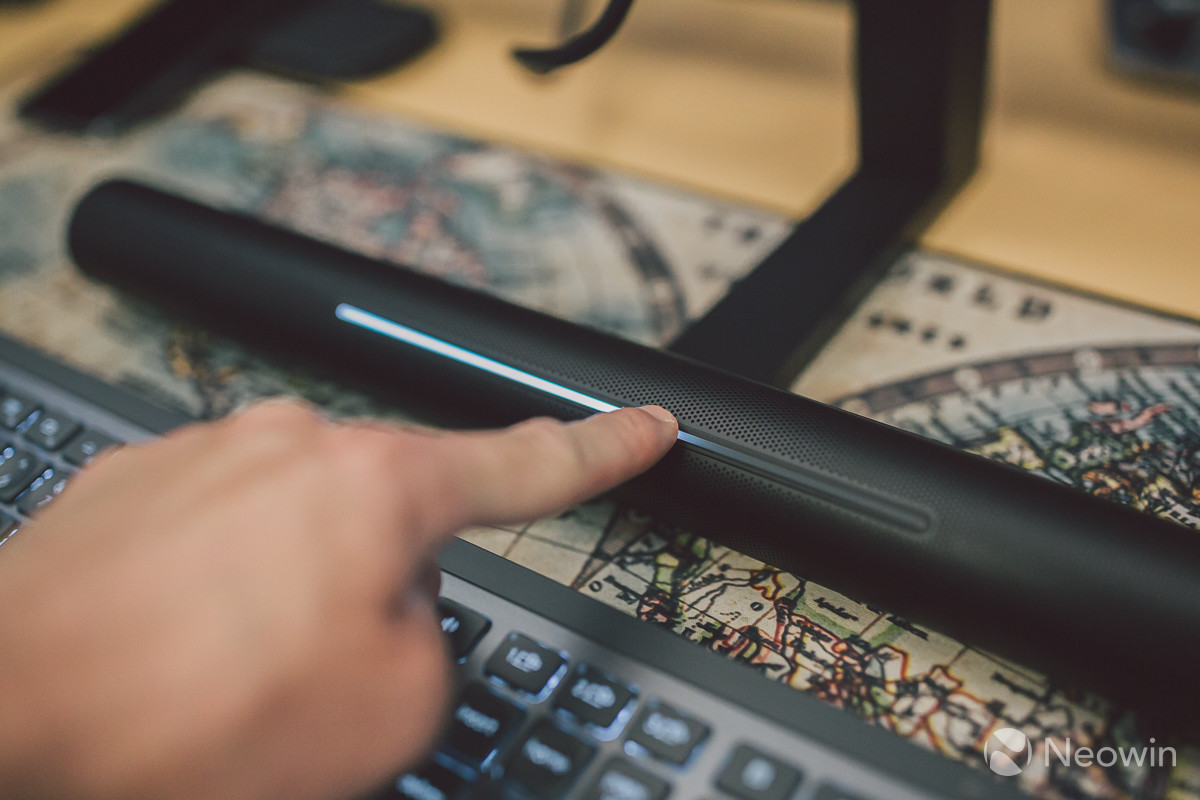 Verdict
I really like the design of the MateView GT. Huawei's first foray into gaming monitors has started off with a nice addition for consumers to check out. Granted there are some obvious problems that I've mentioned that may make of break the deal for some, the biggest of which is the use of a VA panel which reduces the visual fidelity somewhat when not viewing headon.
The ghosting in games is an issue too of course. In survival horror gamers will notice it the most where scenes are generally dark, but if you're playing brighter, fast-paced games, then it may not be something you notice or even care about.
As it stands, I don't feel the MateView meets the multi-tasking productivity abilities it sets an expectation of from the Huawei website. That sort of workflow is typically ideal for an IPS or OLED display where the full area of the display can be viewed without much (if any) colour shifting.
That said, hats off to Huawei for including every major cable needed. The only thing missing was a HDMI cable but I'd hazard a guess that every household has one kicking about somewhere anyway.
The lack of a USB hub is a downside, I feel. Without any USB-A ports. you must use the USB-C port to connect to a computer to use the microphones so the Type-C port cannot then be used for anything else. Likewise, the soundbar can only be used when the stand is connected to the monitor so you will need separate speakers if using a VESA mount.
As a long-term IPS panel user, I cannot recommend a VA panel for productivity work where colour accuracy across the whole panel is important from any angle. For gaming however, a VA panel like this is great and offers 165Hz HDR, but the 4ms response time may not appeal to hardcore competitive gamers when considering the 1ms offered by the competition. The ghosting in darker games as mentioned could also be a sticking point for some gamers.
A nice first attempt I would say, but certainly could have been better especially when it comes to transparency on certain features like FreeSync.
Pros
Soundbar Aesthetics Stereo microphones 165Hz HDR10
Cons
FreeSync option hidden Mic usage hogs USB-C port Ghosting in games Colour shifting VA panel No cable management