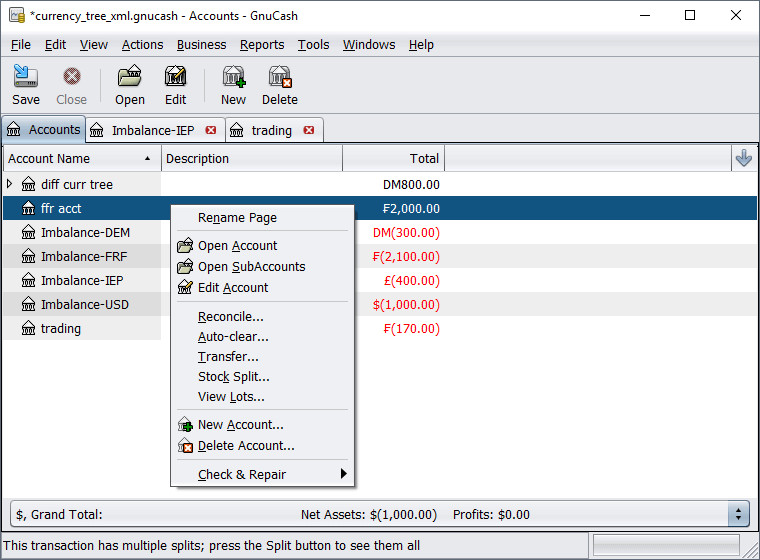 GnuCash is a personal and small business finance application, freely licensed under the GNU GPL and available for GNU/Linux, BSD, Solaris, Mac OS X and Microsoft Windows. It's designed to be easy to use, yet powerful and flexible. GnuCash allows you to track your income and expenses, reconcile bank accounts, monitor stock portfolios and manage your small business finances. It is based on professional accounting principles to ensure balanced books and accurate reports.
GnuCash can keep track of your personal finances in as much detail as you prefer. If you are just starting out, use GnuCash to keep track of your checkbook. You may then decide to track cash as well as credit card purchases to better determine where your money is being spent. When you start investing, you can use GnuCash to help monitor your portfolio. Buying a vehicle or a home? GnuCash will help you plan the investment and track loan payments. If your financial records span the globe, GnuCash provides all the multiple-currency support you need.
GnuCash 2.6.19 changelog:
Bug 787497 - Disabling OFX, AqBanking or python-bindings support cripples the dist build target. (Partial: The requisite files for AQB and OFX are provided. There remain ways to break the distribution.)
Bug 789928 - FTBFS with libdbi 0.9.0-5 on Debian
Bug 771246 - Failed to create file "/usr/share/glib-2.0/schemas/gschemas.compiled.XY789Y".
Some other fixes not associated with reported bugs:
A better way to handle MySQL's 0000-00-00 invalid date indicator.
Fix python build and test errors on Mac.
Add translator hint comments to C and glade files.
Improve type of bank accounts in SKR03
Stop testing GObject's handling of invalid parameters
Translation Updates: Dutch, German, Serbian
Important update notification
If you are updating from gnucash 2.6.0-2.6.4 on linux, you are advised to remove the guile user cache or several parts of gnucash may fail to work properly. This user cache can be found in .cache/guile/ccache/2.0-LE-8-2.0/ in your home directory. It's safe to remove the whole contents of this directory.
Note .cache is a hidden folder in your home directory. You may have to change your file manager's settings in order to view hidden files and folders.
Download: GnuCash 2.6.19 | 113.0 MB (Open Source)
Links: GnuCash Home page | Other Operating Systems
Get alerted to all of our Software updates on Twitter at @NeowinSoftware