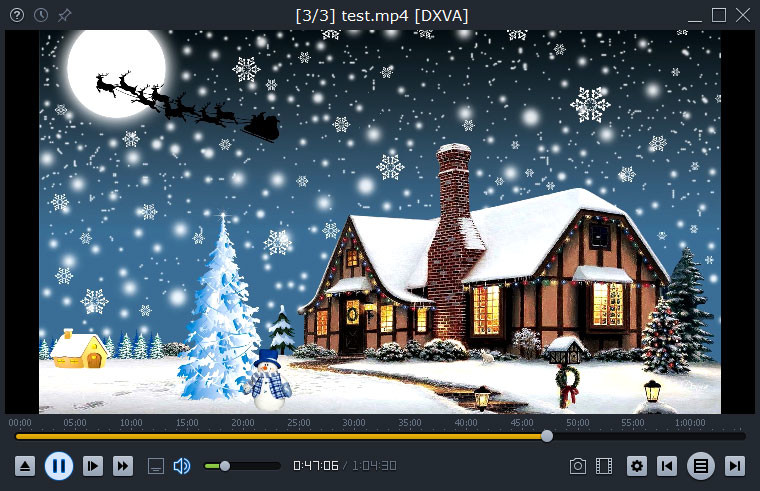 Light Alloy - is a completely free, compact multimedia player. It supports all popular multimedia formats. Player is optimized for quick launch and minimum load of the system resources. The main feature - it is very easy in use but at the same time has lots of configuration settings. Like fast video rewind, load subtitles, make bookmarks in the list or on the timeline, preview window on timeline, select audio tracks and subtitles in multilingual films, minimize to tray, infrared remote control (WinLIRC), make screenshots. The brightness/contrast/saturation of the image van be adjust, it supports multimedia keyboards and has full support for DVD/Blu-ray and MKV/OGM/MP4 features.
Light Alloy features:
Built-in video/audio codecs (but still can be configured to use system codecs), as well as custom codecs for the selected video formats, has full support for subtitles (with the ability to specify the time shift if the subtitles are behind or ahead); has minimal start time;
Full support for DVD/Blu-ray and MKV/OGM/MP4 features.
Support for WinLIRC to control the player remotely..
Configurable playback speed from 0.1x slow to 32x fast, frame by frame playback, adjustable rewind.
Volume control, timeline display on the control panel.
Additional audio features: sound amplification, normalization, audio shift.
Unrestricted display size with or w/o aspect ratio alignment.
Audio and video filters configuration.
Supports playlists with the possibility of placing bookmarks in the playlist or on timeline; can be configured to display or hide the duration, can generate a table from the playlist (for movie collectors), save/load a playlist, get screenshots from the video (including the DVD).
Drag-n-drop support; saving playing position on player close (to resume later).
Show detailed info about playing file, copy to clipboard any fields of data or all the info at once.
Rich reconfigurable mouse keys and keyboard, functional pop-up menu.
Easy to use media-oriented "add files" dialogue.
Video settings can be saved per file (brightness, contrast, saturation, sound volume level, the currently loaded subtitle, the currently selected audio track) that are reapplied next time the file is opened.
Ability to specify a folder to save screenshots, for creating thumbnails and full-size screenshots from the movie.
Timeline preview function, like on YouTube, with possibility to change preview window size.
Light Alloy 4.10.1 (build 3251) changelog:
Frontend
Now if you trying to delete from playlist currently playing file -- playback will be stopped. Previously, it was impossible to delete playing file until you manually stop it
Preferences->Interface->Appearance: remember panels state group of settings were rewritten, plus new options added. Hope now it makes more clear to use it for user.
Preferences->Interface->Appearance: tags for caption/playlist (actually - for caption, but playlist - as a side-effected) populated with 3 new tags - %R for playback rate, %Z for current zoom and %V for volume
Preferences->Interface->Playlist: added Custom Hint option.
Preferences->Keyboard: added "Add URL to playlist" command under "Playlist" section. (also in Playlist popup, "+"'s button popup menu, and File's sub-menu in general popup menu)
Preferences->Mouse: added option "Zoom point follow mouse cursor, instead of video picture center".
Preferences->Playlist: "When in the same folder multiple files of a series are found..." -- added an "On demand, in any place" and "On demand, in beginning or end of playlist".
Preferences->Playlist: added option "Do not show delete files dialog (F8)".
Preferences->OSD->Info Line: added 3 tags - {ZOOM}, {VOLUME} and {PLAYBACKSPEED}.
Internet Radio Stations List: automatically select in table current playing radio station.
Media Settings: now it remembers & applies speed playback value for current file.
"Audio language by default" and "Subtitle language by default" settings now respect order in which they written, also added arrow buttons to let you easily change audio/language order.
Auto Seek window (Alt+E): now it automatically enters the current playing time into the HH/MM/SS edit boxes. This is useful if you want to jump to an exact location, for example: press Alt+E, change the entered time and click on "Jump to".
Preferences: removed gradient for Languages/Skins sections, some other small UI refinements.
Preferences->Interface: removed "Hidden by default" option for Control Panel.
Preferences->OSD: OSD duration and OSD information line duration now can be configured separatedly.
History's filter category titles now populated from language files.
Reworked Caption Ticker: now ticker appears only when you mouse over on caption.
OSD Info Line now always can be shown manually (i.e. by pressing "I" hotkey).
Internet Radio Stations List window: highlight only that column which is sorted by right now. Seems pretty.
Internal Radio Stations List window: show default sorting in table header.
Make mouse cursor do not appear while in fullscreen and mouse time out is set to 0. Some people find it handy against accidental mouse move and cursor appear as result.
"Video options" (Shift+V) dialog: shaders now works for madVR too. [full release notes]
Download: Light Alloy 4.10.1 | 14.9 MB (Freeware)
Download: Portable Light Alloy 4.10.1 | 11.2 MB
View: Light Alloy Website