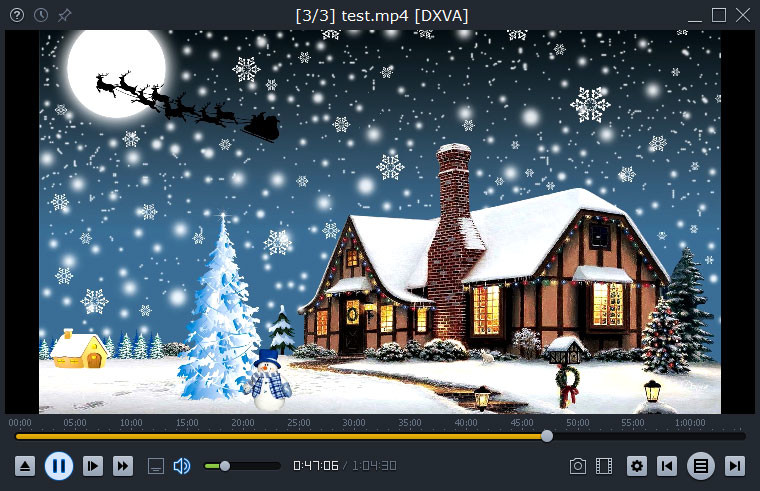 Light Alloy - is a completely free, compact multimedia player. It supports all popular multimedia formats. Player is optimized for quick launch and minimum load of the system resources. The main feature - it is very easy in use but at the same time has lots of configuration settings. Like fast video rewind, load subtitles, make bookmarks in the list or on the timeline, preview window on timeline, select audio tracks and subtitles in multilingual films, minimize to tray, infrared remote control (WinLIRC), make screenshots. The brightness/contrast/saturation of the image van be adjust, it supports multimedia keyboards and has full support for DVD/Blu-ray and MKV/OGM/MP4 features.
Light Alloy features:
Built-in video/audio codecs (but still can be configured to use system codecs), as well as custom codecs for the selected video formats, has full support for subtitles (with the ability to specify the time shift if the subtitles are behind or ahead); has minimal start time;
Full support for DVD/Blu-ray and MKV/OGM/MP4 features.
Support for WinLIRC to control the player remotely..
Configurable playback speed from 0.1x slow to 32x fast, frame by frame playback, adjustable rewind.
Volume control, timeline display on the control panel.
Additional audio features: sound amplification, normalization, audio shift.
Unrestricted display size with or w/o aspect ratio alignment.
Audio and video filters configuration.
Supports playlists with the possibility of placing bookmarks in the playlist or on timeline; can be configured to display or hide the duration, can generate a table from the playlist (for movie collectors), save/load a playlist, get screenshots from the video (including the DVD).
Drag-n-drop support; saving playing position on player close (to resume later).
Show detailed info about playing file, copy to clipboard any fields of data or all the info at once.
Rich reconfigurable mouse keys and keyboard, functional pop-up menu.
Easy to use media-oriented "add files" dialogue.
Video settings can be saved per file (brightness, contrast, saturation, sound volume level, the currently loaded subtitle, the currently selected audio track) that are reapplied next time the file is opened.
Ability to specify a folder to save screenshots, for creating thumbnails and full-size screenshots from the movie.
Timeline preview function, like on YouTube, with possibility to change preview window size.
Light Alloy 4.9.0 Build 2318 changelog:
Frontend
New official skin: Omega.
Completely new, fast XML parser. Should fix occasional issues when user settings are lost for no reason.
Completely new YouTube parser.
Video Properties: added ability to rotate picture the way you want by 90 degree, instead of limited "Flip Vertically" option.
Radio stations list: support for decoding html entities in station name / current song.
Open URL window: setting to monitor clipboard for web links.
Automatically load jpg/png/bmp cover for audio files if both names are same.
New language files: Hongkongese, Belarussian, Spanish.
Preferences: removed WinLIRC section. Hope to replace it with ability to control player via smartphone, in some future.
Preferences->Playlist: updated default colors for "always the same" option.
Preferences->Video: added hints for Renderer and Monitor.
Preferences->System: removed "High priority" option due to being rudiment nowadays.
Popup menu->Open Disk: section simplified, should eliminate problems with long popup menu opening while quering removable disc. Now it just shows drive letters from E to Z (if available) with corresponding volume label.
About box: removed donation page, removed captcha, removed subject field.
Some file loading optimizations.
Some player startup optimizations.
Upgrade from Delphi 2007 to Delphi XE 10.1, which leaded to major internal refactoring. Can cause some regressions as result, so report bugs please if any.
Media cache increased from 128 to 256 files.
Removed support for Windows XP and Windows Vista.
Changed OpenSSL dlls to v1.0.2j
Languages updated: Dutch, English, Polish, Russian, Turkish, German, Korean, Czech, Hungarian, Japanese, Ukrainian, Italian, Chinese, French, Slovak.
Fixed some crashes when player is running under guest account.
Fixed issue that player did not switched to last selected external subtitle.
Fixed visual glitch on timeline when using autoseek.
Audio Mode: fixed playlist repaint-over-videopanel glitch when non-standard sized borders are used.
Audio Mode: fixed OSD wasn't respecting playlist when aligning by center.
Fixed screenshot filename were broken, if movie filename contained something like "01. My Movie.avi", and "use title from tags" was enabled for screenshots, as result screenshot file name were incomplete (i.e. "01_[timestamp].jpg") so "My Movie" part was lost.
Fixed thumbnails & full-size screenshots could not be created if filename and/or title tag contains an invalid character, such as a slash.
LA-Renderer registry key was created even if LA was in portable mode.
Playlist Manager: fixed inproper way to stop media when creating new playlist, so fixed video panel glitches.
Playlist: Jump To File menu was broken, also adjusted layout to use playlist colors.
Playlist: fixed that files (with relative path) not added from M3U playlist if they were not available at the moment of adding.
Playlist: fixed playlist repaint issue for unavailable files that happened on player start and opened playlist.
Playlist: fixed Shift+LeftClick selection issue in playlist.
Skins: fixed blue color blinking on time and pos/dur elements
Skins: fixed crash on malformed skins file
Skins: fixed deadlock in font subsystem
Skins: player did not respect skin's minimum width/height when switching to one that has higher minimum dimensions than previous one.
Preferences->Interface: crash on malformed skin archives.
Preferences->Playlist: bookmark colors were not saved when "always the same" option is used.
Preferences->File Association: fixed file association issues under Windows 10.
Preferences->File Association: fixed extensions list drawing issue under Windows 10.
Preferences->File Association: fixed strange player behaviour when no icons in Icons folder
Video Engine
Fixed rare crash with subtitles & external network HDD.
Download: Light Alloy 4.9.0 | 22.0 MB (Freeware)
Download: Portable Light Alloy 4.9.0 | 12.6 MB
View: Light Alloy Website