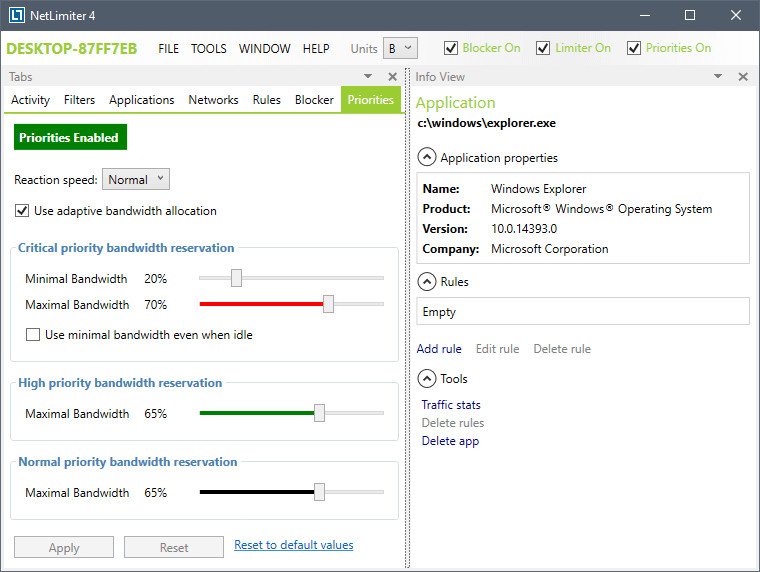 NetLimiter is an ultimate internet traffic control and monitoring tool designed for Windows. You can use NetLimiter to set download/upload transfer rate limits for applications or even single connection and monitor their internet traffic. Along with this unique feature, Netlimiter offers comprehensive set of internet statistical tools. It includes real-time traffic measurement and long-term per-application internet traffic statistics.
Main NetLimiter features:
NetLimiter shows list of all applications communicating over network it's connections, transfer rates and more.
You can use NetLimiter to set download or upload transfer rate limits for applications, connections or groups of them. With limits you can easily manage your internet connection's bandwidth (bandwidth shaper or bandwidth controller)
Statistical tool lets you to track your internet traffic history since you've installed NetLimiter.
Additional network information:
NetLimiter provides you with and additional information like WHOIS, traceroute etc.
Rule scheduler, Remote administration, Connection blocker, Running as WinNT service, User rights, Chart, Advanced Rule editor and scheduler, Zone based traffic management...
NetLimiter 4.0.33.0 new features:
New Dark and Black theme.
Accent color support.
Few new DPI friendly icons.
New docking windows. It's now possible to dock/undock window by dragging it by mouse.
Docked windows can now be grouped into tabs.
Bug fixes
Newly added firewall rules sometimes not working until system is restarted. Fixed.
Client crash with message "System.ArgumentNullException: Value cannot be null.Parameter name: filePath" fixed.
Can't set rule for application with too long file path fixed.
Problem when restoring maximized window position on client startup. Fixed.
Options dialog sometimes requires unnecessary app restart. Fixed.
Remote admin can't connect to localhost. Fixed.
Traffic chart: X axis label display fixed and improved scaling of Y axis.
Several other small fixes and improvements.
Download: NetLimiter 4.0.34.0 Beta | 5.9 MB (Shareware)
View: NetLimiter Homepage
Get alerted to all of our Software updates on Twitter at @NeowinSoftware