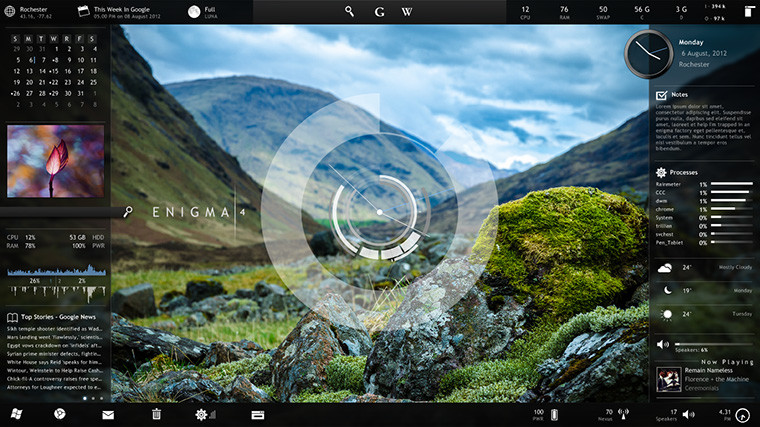 Rainmeter is a free, open-source platform that enables skins to run on the desktop. Rainmeter allows you to display customizable skins on your desktop, from hardware usage meters to fully functional audio visualizers. You are only limited by your imagination and creativity.
Rainmeter is the best known and most popular desktop customization program for Windows. Enhance your Windows computer at home or work with skins; handy, compact applets that float freely on your desktop. Rainmeter skins provide you with useful information at a glance. It's easy to keep an eye on your system resources, like memory and battery power, or your online data streams, including email, RSS feeds, and weather forecasts.
Many skins are even functional: they can record your notes and to-do lists, launch your favorite applications, and control your media player - all in a clean, unobtrusive interface that you can rearrange and customize to your liking. Rainmeter is at once an application and a toolkit.
Rainmeter is open source software distributed free of charge under the terms of the GNU GPL v2 license.
Rainmeter 4.5.15 (revision 3678) changelog:
Fixed
WifiStatus: Corrected an issue with a missing .dll Windows file that could cause crashing on Windows Server systems.
Histogram / Line meters: Corrected some issues with MinValue/MaxValue being properly applied to the meters.
Changed
Measures: In debug mode, display a warning log message when the MinValue and MaxValue are the same or if MaxValue is less than MinValue.
Platform detection: The "Version" value that is used for the About/Version dialog and the log has been changed to show the non-numerical "DisplayVersion" over the "ReleaseId" from the registry. (for instance: 21H2 rather than 2009). Also, added detection of "Windows Server 2022".
Languages: Updated localization strings for Finnish, Portuguese (Brazil), Italian.
Added
SysInfo: Added "SysInfoType=OS_PRODUCT_NAME". This retrieves "ProductName" from the registry from "HKEY_LOCAL_MACHINE\SOFTWARE\Microsoft\Windows NT\CurrentVersion". Note that this entry is currently incorrect in all versions of Windows 11, and Rainmeter will correct for this and return the proper value.
Changes in v4.5.16.3687:
Rainmeter: Fixed some crashing issues caused by the 4.5.15 release.
Fixed - NowPlaying: Corrected a crash issue and a SetPosition issue.
Changed - Languages: Updated localization strings for Ukrainian and Arabic.
Changed- Plugins: Only log the loading and unloading of plugins in Debug mode.
Download: Rainmeter 4.5.16.3687 | 2.4 MB (Open Source)
View: Rainmeter Home page | Rainmeter 4.5 Release Notes
Get alerted to all of our Software updates on Twitter at @NeowinSoftware