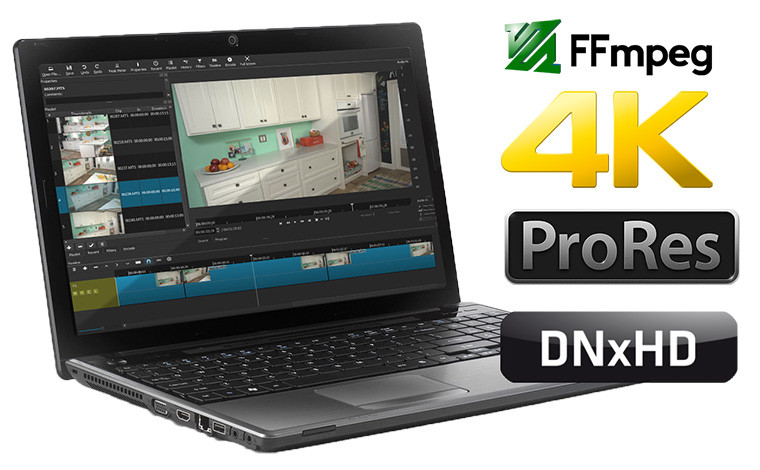 Shotcut is a free, open source, cross-platform video editor for Windows, Mac and Linux. Major features include support for a wide range of formats; no import required meaning native timeline editing; Blackmagic Design support for input and preview monitoring; and resolution support to 4k.
Editing Features
Trimming on source clip player or timeline with ripple option
Append, insert, overwrite, lift, and ripple delete editing on the timeline
3-point editing
Hide, mute, and lock track controls
Multitrack timeline with thumbnails and waveforms
Unlimited undo and redo for playlist edits including a history view
Create, play, edit, save, load, encode, and stream MLT XML projects (with auto-save)
Save and load trimmed clip as MLT XML file
Load and play complex MLT XML file as a clip
Drag-n-drop files from file manager
Scrubbing and transport control
Video Effects
Video compositing across video tracks
HTML5 (sans audio and video) as video source and filters
3-way (shadows, mids, highlights) color wheels for color correction and grading
Eye dropper tool to pick neutral color for white balancing
Deinterlacing
Auto-rotate
Fade in/out audio and fade video from and to black with easy-to-use fader controls on timeline
Video wipe transitions:
bar, barn door, box, clock (radial), diagonal, iris, matrix, and custom gradient image
Track compositing/blending modes:
Over, Add, Saturate, Multiply, Screen, Overlay, Darken, Dodge, Burn, Hard Light, Soft Light, Difference, Exclusion, HSL Hue, HSL Saturation, HSL Color, HSL Luminosity.
Video Filters:
Alpha Channel: Adjust, Alpha Channel: View, Blur, Brightness, Chroma Key: Advanced, Chroma Key: Simple, Contrast, Color Grading, Crop, Diffusion, Glow, Invert Colors, Key Spill: Advanced, Key Spill: Simple, Mirror, Old Film: Dust, Old Film: Grain, Old Film: Projector, Old Film: Scratches, Old Film: Technocolor, Opacity, Rotate, Rutt-Etra-Izer, Saturation, Sepia Tone, Sharpen, Size and Position, Stabilize, Text, Vignette, Wave, White Balance
Speed effect for audio/video clips
Hardware Support
Blackmagic Design SDI and HDMI for input and preview monitoring
Leap Motion for jog/shuttle control
Webcam capture
Audio capture to system audio card
Capture (record) SDI, HDMI, webcam (V4L2), JACK audio, PulseAudio, IP stream, X11 screen, and Windows DirectShow devices
Multi-core parallel image processing (when not using GPU and frame-dropping is disabled)
DeckLink SDI keyer output
OpenGL GPU-based image processing with 16-bit floating point linear per color component
Shotcut 22.03.30 changelog:
Fixes
Fixed converting full color range 10-bit video to limited MPEG range.
Fixed very choppy playback with certain weird or unreduced-fraction framerates.
Fixed Video Mode > Automatic when using a webcam/video-device input.
Fixed Position and Size in Crop: Rectangle video filter may become read-only.
Fixed Gradient video filter when a color alpha value is not fully opaque.
Fixed marker duration may change when dragging to change its starting time.
Fixed Size, Position & Rotate > Zoom may change when changing the player zoom level.
Fixed accidentally changing an unmodified clip-only project by opening a new media file.
Fixed changing Properties > Speed may overwrite and does not honor Ripple mode.
Fixed a transition may show "INVALID" after you undo removing it.
Fixed Presets for the Equalizer: 3-Band audio filter not working.
Fixed Blur: Box filter creates darker edges.
Fixed Reduce Noise: Quantization video filter overwrites alpha chnanel.
Fixed Properties > Audio > Sync not showing change after reloading properties (broke in v22.01).
Changes
Restored the Use Higher Performance Waveforms option in the Timeline menu.
Changed melt command line tool to no longer be locale-sensitive by default.
Changed Q in Equalizer: Parametric to Bandwidth in octaves.
Changed background capture jobs to use a high process priority.
Changed Paste Filters to not paste a clip-only filter onto a track.
Changed Paste Filters to not paste a filter that can only be added once.
Removed Timeline > Copy Timeline to Source (use Markers instead).
Stop showing the Convert to Edit-Friendly dialog when opening a HLG HDR video.
Upgraded libraries
FFmpeg 5.0
MLT 7.6.0
frei0r 1.8.0
Rubberband 2.0.2
VMAF 2.3.0
Qt 5.15.2 for Intel macOS - macOS 10.14 is now the minimum macOS version.
Improved A/V synchronization in Properties > Reverse.
Improved webcam/video-device capture on macOS.
Improved the accuracy of View > Scopes > Audio Peak Meter.
Improved speed of Old Film: Projector video filter.
New
Added Export > Advanced > Video > Color range.
Added multi-threading for all implicit video scaling including Settings > Preview Scaling.
Added multi-threading to some video filters:
Blur: Box
Blur: Gaussian
Color Grading
Invert Colors
Mask: From File
Old Film: Grain
Old Film: Scratches
Old Film: Technocolor
Reflect
Sepia
Sketch
Spot Remover
Threshold
Vignette
Wave
Added track reordering by drag-n-drop a track header and the Timeline menu:
Move Track Up: Alt+Shift+Up (shift+option+up on macOS)
Move Track Down: Alt+shift+Down (shift+option+down on macOS)
Added View > Notes panel with keyboard shortcut Ctrl+Shift+3 (shift+command+3 on macOS).
Added Convert to Edit-friendly when opening a HDV video file.
Added a Record Audio button to the Timeline toolbar:
It chooses an audio device based on either first found or last used in Audio/Video Device.
It uses the current track if it is audio and not empty at the playhead and beyond.
Otherwise, it adds an audio track.
It does not prompt for a save file name when a project folder has been established.
Added audio filter Stereo Enhancer.
Added tooltips to Timeline clips.
Added Markers > menu > Add Markers Around Selected Clips with keyboard shortcut Alt+M (option+M on macOS).
Added an option to the Windows installer to register the .mlt filename extension to open with Shotcut.
Download: Shotcut 22.03.30 (64-bit) | Portable | ~100.0 MB (Open Source)
View: Shotcut Home Page | Other Operating Systems
Get alerted to all of our Software updates on Twitter at @NeowinSoftware