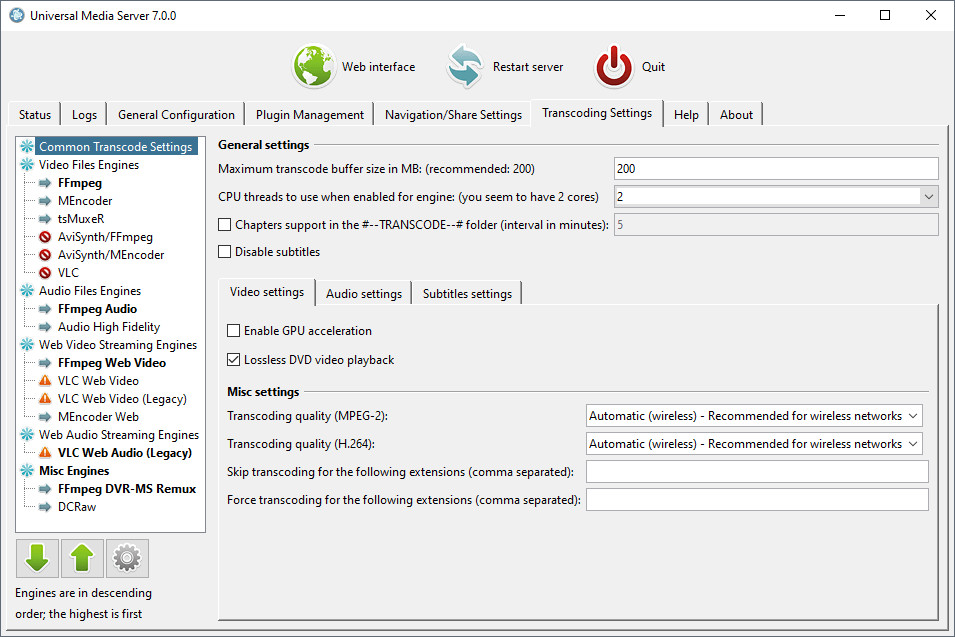 Universal Media Server is a DLNA-compliant UPnP Media Server. UMS was started by SubJunk, an official developer of PMS, in order to ensure greater stability and file-compatibility. The program streams or transcodes many different media formats with little or no configuration. It is powered by MEncoder, FFmpeg, tsMuxeR, AviSynth, MediaInfo and more, which combine to offer support for a wide range of media formats. Because it is written in Java, Universal Media Server supports all major operating systems, with versions for Windows, Linux and Mac OS X.
To see a comparison of popular media servers, click here.
Changes since 7.1.0:
General
Auto-updater no longer requires UMS to be run with admin rights on Windows
Improved support for ATRAC and DolbyE formats
Reduced size of local database dramatically
Increased maximum memory limit on macOS to match Windows
Disabled Chromecast Extension API by default
Improved documentation
Improved database referential integrity
Fixed bugs with the auto-updater on Windows
Languages:
Allow translation of more of the auto-updater

Updated translations via Crowdin
Changes since 7.2.0:
General
Fixed a database upgrade bug
Languages
Updated Bulgarian translation via Crowdin
Compatibility notes: These releases work on all versions of Java 7 onwards. The Windows releases work on Windows Vista onwards.
Download: Universal Media Server 7.2.1 | Other Systems | 82.5 MB (Open Source)
View: Universal Media Server Website
Get alerted to all of our Software updates on Twitter at @NeowinSoftware