Claim your copy valued at $18 for free, before the offer expires today, April 26, 2023.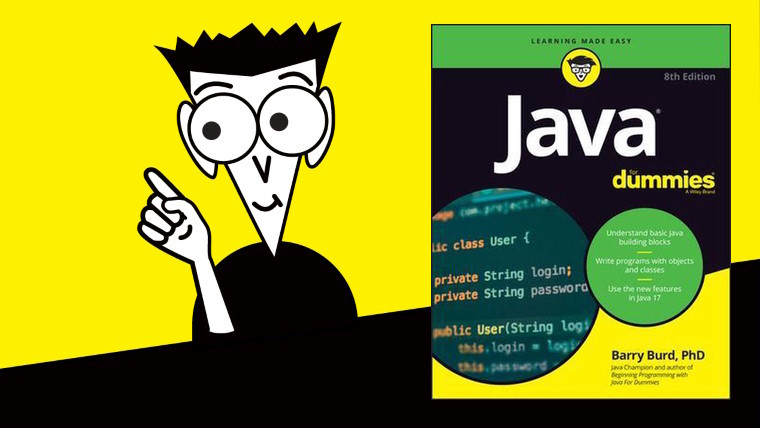 Learn to write practical, reusable code with the straight forward tutorials and tips in the newest edition of this For Dummies bestseller
Do you speak Java? No, we're not talking about your morning cup 'o joe. We mean the world's most popular programming language that runs on almost any computer!
If you're looking to get started—or up your game—with Java, then Java For Dummies is the guide you need.In this book, you'll:
Take control of your program flow
Program with classes, objects, and methods
Use Java's functional programming features
Explore Java 17, the latest long-term support release
This up-to-date handbook covers the latest developments in Java, including the new 'switch' statement syntax.
So, if you're ready to dive into one of the most practical (and coolest!) programming languages around, it's time you picked up Java For Dummies.
Free offer expires today, April 26, 2023.
How to get it
Please ensure you read the terms and conditions to download the this free resource. Complete and verifiable information is required in order to receive this free offer. If you have previously made use of these free offers, you will not need to re-register.
>> Download Java For Dummies, 8th Edition ($18 value) for free
Offered by Wiley, view other resources by Wiley.
---
We post these because we earn commission on each lead so as not to rely solely on advertising, which many of our readers block. It all helps toward paying staff reporters, servers and hosting costs.
Other ways to support Neowin
The above deal not doing it for you, but still want to help? Check out the links below.
Disclosure: An account at Neowin Deals is required to participate in any deals powered by our affiliate, StackCommerce. For a full description of StackCommerce's privacy guidelines, go here. Neowin benefits from shared revenue of each sale made through our branded deals site.