Technology may allow us to "go bigger", but maybe not necessarily be better when it comes to performance. Claim your complimentary copy (worth $29) free, before the offer expires next week.
What's it about?
Servers and Internet connections are getting more sophisticated, and as a result, we feel the need to keep filling them. However, this isn't the time to become lazy. This is the time to utilize the amazing tools that are available for making websites faster, and to learn how to improve user experience and satisfaction.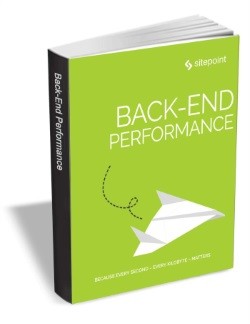 This is a practical collection of tutorials on back-end website performance for web developers. It's packed with useful, real world hints and tips that you can use on your sites today. It contains:
How to Optimize MySQL: Indexes, Slow Queries, Configuration by Bruno Škvorc
How to Read Big Files with PHP (Without Killing Your Server) by Chris Pitt
WordPress Optimization by Tonino Jankov
HTTP/2: Background, Performance Benefits and Implementations by Tonino Jankov
Apache vs Nginx Performance: Optimization Techniquesby Tonino Jankov
An In-depth Walkthrough of Supercharging Apps with Blackfire by Reza Lavaryan
How to Boost Your Server Performance with Varnish by Tonino Jankov
How to Process Server Logs by Daniel Berman
How to get it
Please ensure you read the terms and conditions to claim this offer. Complete and verifiable information is required in order to receive this free offer. If you have previously made use of these free offers, you will not need to re-register. While supplies last!
>> Back-end Performance ($29 Value) for free
Offered by SitePoint, view their other free resources.
Limited time offer, must end October 17
---
Not for you?
That's OK, there are other free eBooks on offer you can check out here, but be aware that these are all time-limited offers. If you are uncomfortable sharing your details with a third-party sponsor, we understand.
Or via our preferred partner, you can Save 58% off a 2-year subscription to Private Internet Access. Get it for the equivalent of just $2.91 a month!
How can I disable these posts? Click here.
---
Disclosure: A valid email address is required to fulfill your request. Complete and verifiable information is required in order to receive this offer. By submitting a request, your information is subject to TradePub.coms Privacy Policy.